Silk Flyers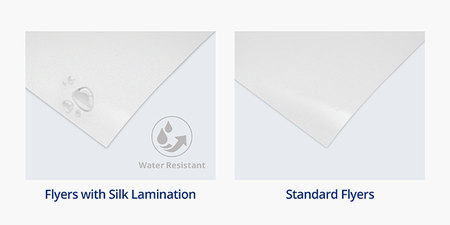 A classy way to get important details to your prospects.


Smooth matte surface feels silky to the touch
15 sizes available to suit your specific needs
Add spot UV accents for more contrast
Product Features
Great Quality

Fade Resistant
Water Resistant
How do you want to continue?

Design Your File Online from your desktop

You will receive a link to design your file online using the specifications you created here.
Link Sent
Check your inbox for the link so you can get started on your design project. Good luck!
Spread the Word on Your Next Event Elegantly With Silk Flyers
Get your events noticed by the right people right away with silk flyer printing. Distribute them for your next seasonal sale, a new store opening, or an upcoming music festival. These silky-smooth handouts get your message across and set the tone for your big day.
More Reasons to Hand Them Out
More reasons to use silk flyers as part of your next marketing plan:
More sizes available – Explore more silk flyer applications with these various sizes 3.5" x 8.5" to 6" x 11", and the popular 4" x 6."
More durable – A thin plastic coating is applied to the 16 pt. cardstock to give it a soft, supple texture. This also makes the surface of your flyer water and tear resistant so it can withstand prolonged handling.
More contrast – Add spot UV design elements for an engaging tactile experience and to highlight important features in your design. The added shine creates an interesting contrast when light hits it.
More printing space – Put your message, graphics, and spot UV accents on one or both sides.
Get your professionally made silk flyer printing today by downloading our free templates or uploading your finished artwork to our website.
Guidelines for Setting Up Your Artwork for Spot UV Printing
To set up your file for spot uv printing, follow these important steps:
Your file should contain two layers.

One layer contains your artwork in CMYK
Another layer to show where the spot uv will be applied

The artwork and spot UV layers should align properly.
Use 100% K or black to elements for spot uv, and 0% K where spot uv is not applied.
Minimum font size is 8 pts.
Minimum strokes or borders should be 1.5 pts. thick.
Download our free file template.
If you need help setting up your file, call our customer service at 888-296-5760 or use our Live Chat.
What Material Is Available for Silk Flyers?
All silk flyers are printed on thick cardstock.
Thickest cardstock option for flyers
Recommended for special, premium printing
Silky, smooth coating increases thickness to 18 pt.
Writability limited to some pens and permanent markers
Download Blank Silk Flyer Print Templates
Set up your print file with correct trim and folding lines by downloading a blank template for your preferred design software.