Clear Stickers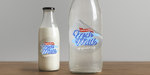 For that transparent sticker look

Comes in rolled sticker format

Custom shapes and sizes
Product Features
Great Quality

Sticks on most surface

Fade Resistant

Custom Shape

Custom Size
Show Off Your Products With Clear Stickers in Matte and Gloss
Print clear stickers and bring your branding to a whole new level. Clear sticker printing lets you create designs with a transparent background that can elevate your product presentation.
Printed on biaxially oriented polypropylene (BOPP), clear stickers have similar characteristics to plastic film. This makes them moisture-resistant, tear-proof, and very durable. BOPP material is also UV-safe and can withstand freezing temperatures. They come with permanent self-adhesive backing, so you can be sure that they will last for a long time.
PrintRunner's sticker printing services let you get creative and customize your product to suit your need. You don't need to worry about your logo looking washed out. Even if clear stickers are transparent, we start with a layer of white ink then print your design on top. This creates an opaque layer for color accuracy and vibrance.
Print stickers in any shape or size you and amplify your design with a protective matte or gloss coating. Our clear stickers come in roll form which fits most dispensers for easy and rapid application.
Shop clear stickers today. Get started by uploading your design or try our easy online design tool. Request for a free file review and our dedicated pre-press team will check your design and make sure your prints turn out exactly how you want them to.
Clear Stickers for Any Purpose
Clear stickers look their best when applied on transparent surfaces such as windows, windshields, glass containers, bottles, and more. You get to show off the contents of a container without obstructing your view. Their see-through quality also offers more unique packaging opportunities. Clear stickers are popular among breweries and food distributors because they're non-toxic and help showcase how appetizing their products look. Their resistance to oils and most chemicals makes clear stickers a top choice for many industries.
If you're selling a variety of products in the same package, clear stickers help shoppers immediately see the color and contents from a distance. You can even give stickers as freebies. Their clean, transparent effect makes them perfect laptops, notebooks, and sporting equipment. When designed effectively, clear stickers could just be what your brand needs to capture your target market.
Want to order clear stickers for your business? Here are some printing tips to keep in mind.
Consider your product. When printing clear stickers, be sure to design in colors that stand out against the background. Lighter hues such as white, orange, or yellow look prominent against a jar of blueberry jam. Dark colors like blue and purple would disappear.
Finish with the right coating. Should you go for glossy or matte? Your sticker coating should match the intended look of your product. Gloss makes stickers look shinier and adds dimension to colors, while matte has a muted effect. Note that matte laminate creates a slightly opaque effect, so your stickers won't be completely transparent. This works best for surfaces that are not completely see-through such as frosted glass.
Save in CMYK color mode. This helps us print colors accurately in your design. Before submitting your file, check and see if it's set to CMYK color space with a minimum resolution of 300 dpi.
If you have questions or need assistance, call us at 888-296-5760 from Monday through Friday, 5 a.m. to 7 p.m. PT.
Choosing PrintRunner for Your Printing Needs
At PrintRunner, we ensure maximum customer satisfaction – from our top-notch customer service to the quality of print products that we offer. But in case you need more convincing, we have listed down some of the things that you can expect from us.
High-Quality Printing. The bread and butter of our business is printing. That's why we make sure that our customers are satisfied with their orders by selecting only the best materials for our products and using state-of-the-art equipment to produce our high-quality prints.
Quick Turnaround Times. The standard turnaround time for our print products is usually anywhere between 3 to 6 business days. If you are working on a tight schedule, you have the option to expedite the turnaround time to 1-2 business days.
Extensive Product Selection. Whether it's for business, school, non-profit work, or personal use, our extensive selection of print products can cater to practically every need. We offer custom business cards, stickers, labels, banners, posters, catalogs, brochures, and more.
Excellent Customer Service. We make customer support a priority at PrintRunner. If you need to reach us, there are multiple ways to do so. You can contact us via email at customercare@printrunner.com, phone at 1-888-296-5760, and through our Live Chat feature and contact form that can be found here.
Frequently Asked Questions, Guides, and More. Want to learn more about our turnaround time, accepted file formats, and shipping options? Don't know what bleed, safe area, and CMYK means? You can find all these topics in our Help Center page. There are also FAQs, glossary of print terms, video tutorials, and more.
Free and Downloadable Design Templates. You can get professionally designed templates for a wide range of products including brochures, stickers and labels, flyers, banners and signs, boxes, and more. Download them for free and edit them using professional editing software such Adobe Photoshop and Illustrator.
Easy-to-Use Online Design Tool. Create your own design in just a few minutes with the help of our intuitive online design tool. After selecting the specifications of your print product, there's an option below the product calculator to go straight to our online design tool. Use it to customize our free design templates or to create a design from scratch.
How to Apply Your Clear Stickers
Applying your clear stickers on most surfaces is a breeze. If you want to do it perfectly in your first try, be sure to follow these three easy steps:
Clean the Surface. Thoroughly remove any dust, dirt, and oil from the surface where you are going to apply your custom clear sticker. This helps ensure that the adhesive will stick on properly. You can use mild soap, warm water, and a clean, dry cloth to wipe off any particles from the surface before applying the sticker.
Use a Label Dispenser or Apply Your Stickers by Hand. If you are using a label dispenser to apply your clear sticker, you just need to make sure that the sticker is aligned with the item that you are labeling. If you are doing it manually or by hand, peel off the clear sticker and then apply it by pressing down on the edge without repositioning your fingers. This is to avoid leaving fingerprints underneath the clear sticker.
Smooth Out Your Sticker. Once applied on the surface, the final step is to smooth out the clear sticker. By doing this, you can remove or push out any air bubbles underneath the sticker. This can also help guarantee that your clear sticker properly adheres to the surface and cannot be easily removed.
Clear Sticker Printing FAQ
Which white ink option should I choose for clear stickers?
Choose the option that best matches with your final design. You can choose to make all white colors transparent, or just certain white sections, or only the background. Before printing, we also provide free file reviews to ensure your sticker designs appear exactly as you want them to.
Can I do a custom shape for clear stickers?
Yes, our die-cutting services let you upload any design and we can trim your sticker to that exact shape. Just click the Shape dropdown on the order calculator and select Custom.
How do I design my stickers?
We offer blank sticker templates to help you get started on your design. You can find these on our Templates tab. Just choose the sticker size you want to design and download your preferred file type. Be sure to your design in the proper PDF or PNG format. In the order calculator, indicate your printing specifications for the white ink in your design.
How do I get my sticker design checked before printing?
As soon as you upload your design, you can request for a free file review. This service is offered free at no extra charge. Our pre-press team can inspect your files and email you a PDF proof for your approval. If we find problems with your design, a representative will contact you to work on a resolution.
What is printing turnaround time?
This indicates how long it takes for us to get your order printed and ready for shipping. Printing turnaround times are only from Mondays to Fridays and don't include weekends, holidays, and delivery transit.
Download Blank Print Templates
Set up your print file with correct trim and folding lines by downloading a blank template for your preferred design software. 
Reviews
Great Deal
December 9, 2022
by Bruce Funderburk
( NC )