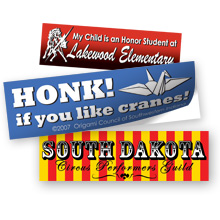 Bumper stickers are an affordable and fun way to market your company or business. However, they are not much use if no one wants to put them on their cars! In order to make your bumper sticker campaign effective, you need to take the steps to design bumper stickers that are worthy of being placed on a person's vehicle. The only time people will place a generic sticker on their cars would be if they had extreme loyalty to your company or some kind of personal investment. While developing those types of relationships is obviously a goal, for the majority of your consumers it will take a little more initiative to have them sport your sticker on their bumpers. Here are a few ways to encourage people to actually use your vinyl bumper stickers on their cars:
MindsetOne of the first things you need to consider when designing your bumper stickers is what you would put on your car. What types of bumper stickers would encourage you to affix them to your car? Would you ever consider putting a bumper sticker on your car? If you wouldn't, then what kinds of bumper stickers do you see on the road? Of the population that displays bumper stickers, what seems to be the common denominator for why they do so? Next time you see a bumper sticker on a car look behind the motivation for displaying them – does it seem to be politically-based, humor-based or design-based? These are the three most common reasons people put bumper stickers on their cars and now that you know that, you can figure out where your brand can fit into those categories.
Cool DesignWith the above in mind, you can choose to work with an already existing template or you can get a little creative help from the in-house graphic design team. Sometimes you already have a concept in your head that you are not sure how to best execute and a graphic designer can make that concept a reality. Other times you may not have any ideas yet and a graphic designer can help by giving you some choices. Whichever route you take, the design of your bumper sticker plays a major role in how it will be accepted.
Funny or Amusing SloganPeople like to laugh and they like to look clever. By using a little humor in your branding process, you allow your followers to feel like they are in on the joke. Make them look good by injecting humor into your bumper sticker campaign, where it is appropriate. A little laugh can go a long way.
No Blatant AdvertisingPeople are more likely to put a bumper sticker on their car that says "Where's the Beef?" than one that says "Eat at Our Steakhouse!" This is where the humor comes into play in your bumper sticker campaign. If you are blatantly advertising your store, product or event, many people will be turned off by the directness of the plea. By using a clever way to advertise, whether it is through words of pictures, will encourage more people to display your sticker.
High Quality StickersNo one is going to put a bumper sticker on their vehicle if it cheapens the appearance of the car. Bumper stickers that look tattered, faded and ruined are never appealing. Choose to have a glossy finish on your custom bumper stickers so that they can survive any weather elements that present themselves and so that your bumper stickers stand the test of time.
(Visited 234 times, 1 visits today)