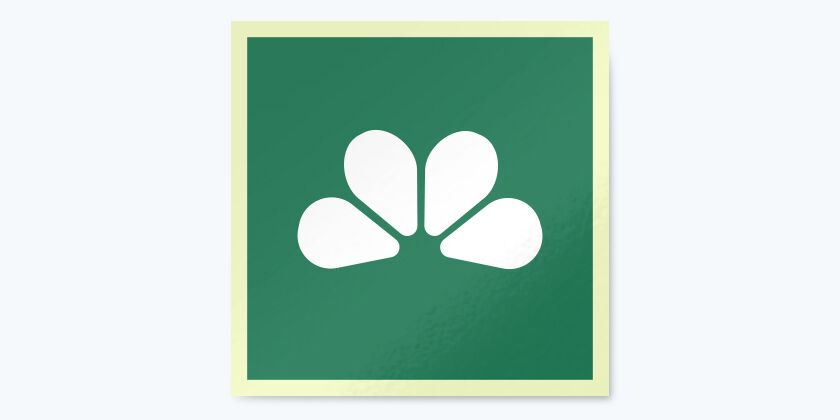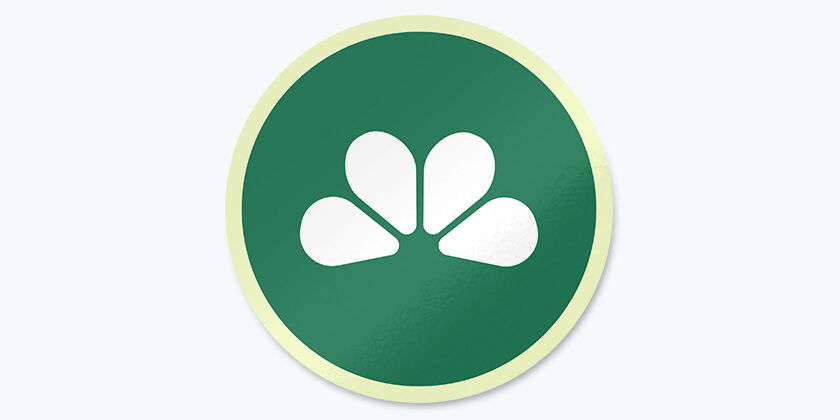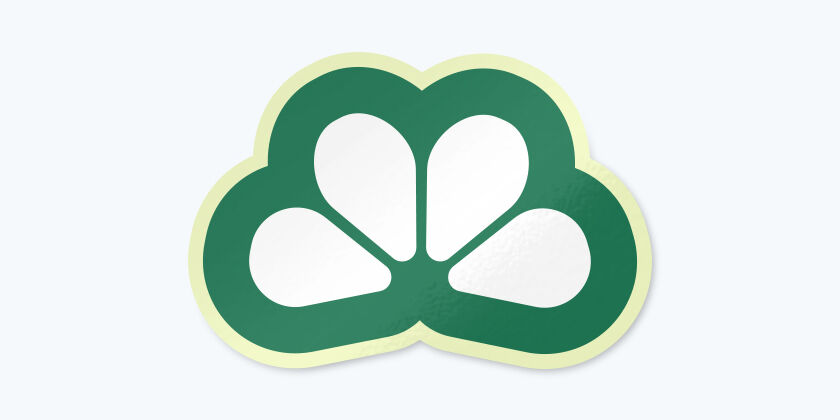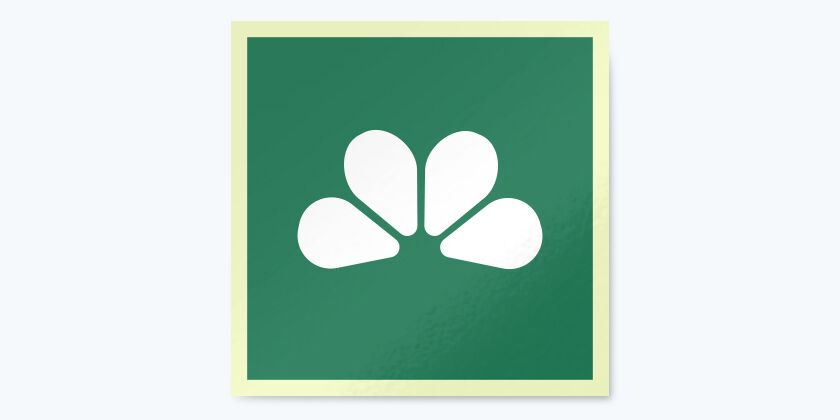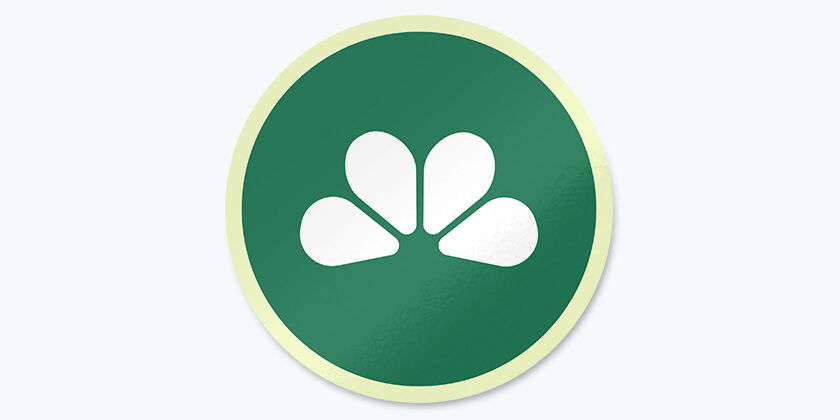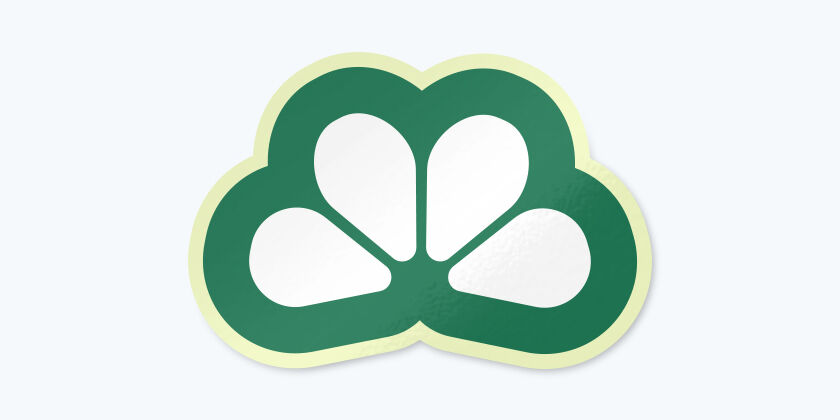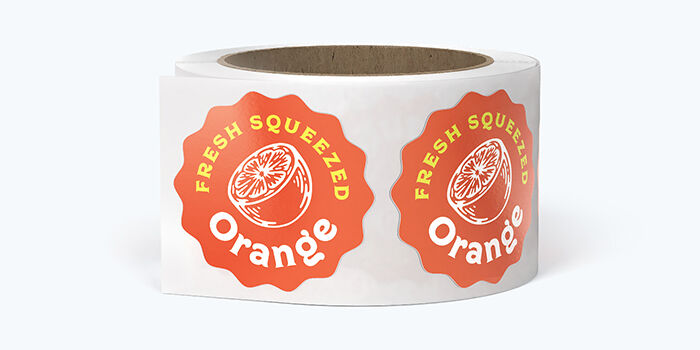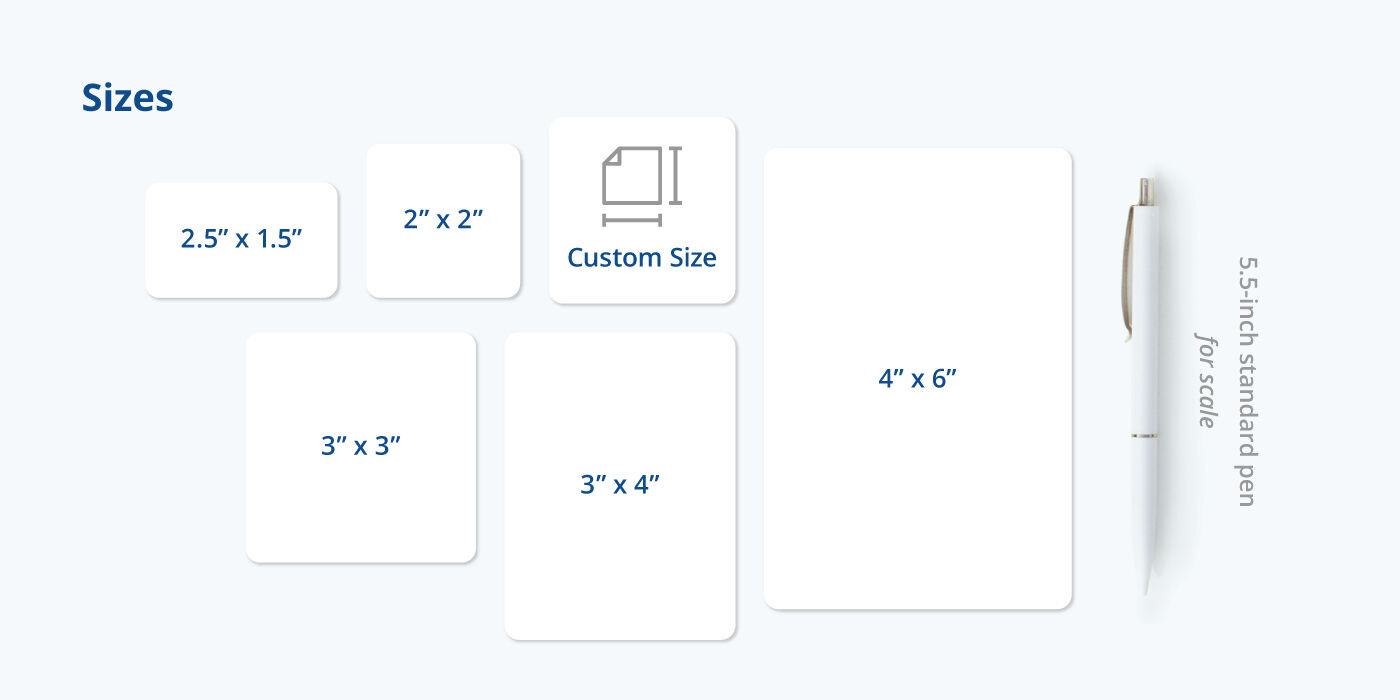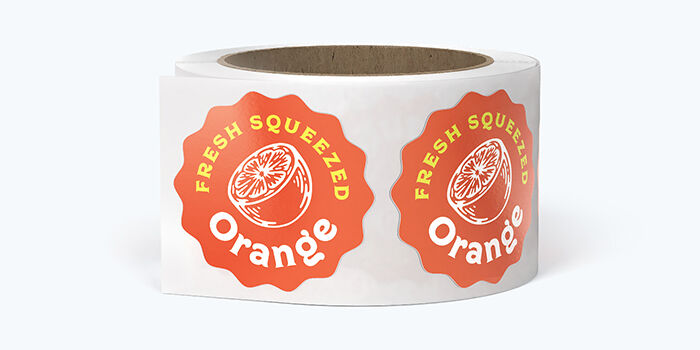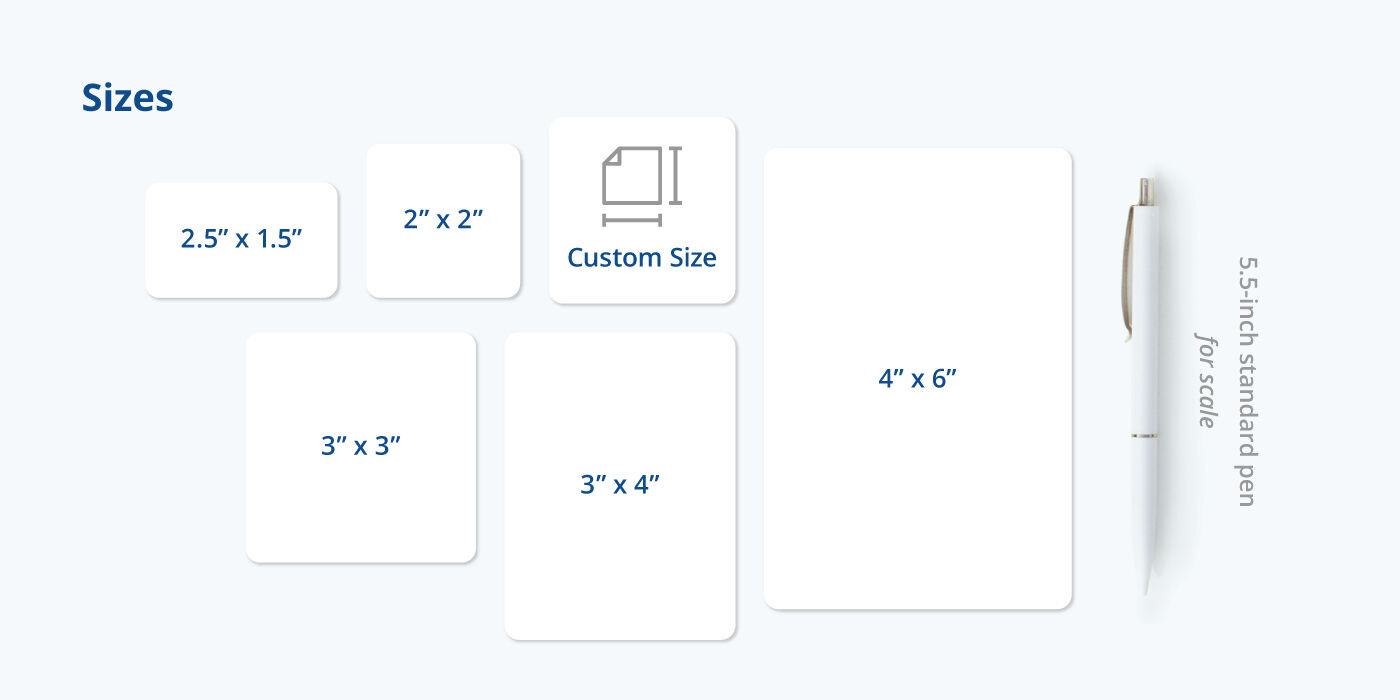 A tiny badge of loyalty you can stick on laptops, bottles, and more.
Use custom stickers as free gifts for brand promotions
Premium paper stock includes matte and glossy surfaces
Bend and peel backing on individual cut-to-size stickers
Product Features
Great Quality

Sticks on any surface

Fade Resistant

Roll & Cut-to-Size

Bend and Peel Backing

Custom Size
Tell Your Story With Custom Stickers
The sky's the limit with custom stickers. Whether it's for personal projects, gifting, events, or souvenirs, stickers offer an affordable way to communicate a message.
For business owners, stickers are a great tool to boost brand exposure and reach new customers.
Stickers in All Shapes and Sizes
Be as creative as you want when it comes to your sticker design! You can draw more attention to your brand with stickers in fun, new shapes. Custom-shaped stickers are available in all formats: choose among cut-to-size, roll, sheet stickers, and kiss-cut.
Create Custom Stickers for Any Purpose
There are many ways you can use sticker printing for your business.
Bumper stickers are among the most popular ways to advertise. Many businesses like to give them to customers for free as a way to encourage endorsement. They can also be used as car window stickers for exclusive club memberships.
Custom stickers work great for brand merchandise. Give them away as freebies with customer purchases, or use them as sticky business cards at events. Political candidates like to distribute them during campaigns because it helps them stay on top of mind with voters.
Custom stickers can enhance plain packaging, convey product information, and help lead potential clients to your website and social media pages.
Print custom stickers with PrintRunner today. Get started by uploading your file or use our online design tool and then check the proof for free.
Enhance Your Branding With Custom Stickers
How you present your products is a reflection of your business. The foremost purpose of packaging might be to protect the product inside, however, this doesn't mean that you have to settle for nondescript packaging.
To spice up your packaging game, you can use custom stickers. Not only will this help your product stand out, this will also reinforce your branding to your customers. You can use branded stickers to create a memorable experience for your customers when they see your product for the first time.
You can start enhancing the branding of your business through custom stickers by following these steps:


Choose colors that personify your brand

What are the colors that people associate with your brand? Use these colors for your custom stickers. This is to keep the color palette of your brand consistent across all your marketing materials.

Consider a custom shape for your stickers

The most common sticker shapes are square and circle, which look modern and professional. However, there's no doubt that unconventional shapes will attract more eyes to your product. This can be a good thing, too, if your brand colors aren't striking enough.

Contact PrintRunner if you're thinking of a custom shape for your sticker design. Our print specialists will be more than happy to help.

Choose what message to communicate with your stickers

The first thing that a customer sees, save for the actual packaging, is the sticker. If a customer were to see your sticker, how would you want them to feel? What message would you want to convey? How do you want your brand to be perceived? That is what you should build on when deciding what to include in your sticker design.

Make sure the text is readable

Use a large and legible font for the text. However, if it's not absolutely necessary, you can skip adding text altogether. It would be better if you could maximize the limited space in your design by using impactful imagery.

Include a way to reach you

You can accomplish this without too much text by using a QR code that leads your customers to your website or social media pages. This way, anyone who sees your stickers will have a way to contact you.
Using custom stickers to boost your branding is easier when you partner with PrintRunner, a trusted and reliable online printing company, for your business needs. We use high-quality materials for custom stickers at competitive prices, ensuring that your brand will look its best without you having to spend more.
Choose From High-Quality Sticker Stock
We offer premium materials no matter what type of sticker you choose.
We have four types of adhesives:
The matte white sticker paper offers a smooth, non-shiny finish. It's very similar to printer paper but with an adhesive backing. You can easily write on this material with a permanent marker. This material works great for products that will be used indoors.
Get gloss white sticker paper if you prefer a reflective shine. This material is also recommended for indoor use. You can write on the surface using a ballpoint pen or a permanent marker.
Choose high-gloss white sticker paper for an even shinier finish. The gloss finish offers added protection from scuffs and scratches and makes colors more vibrant.
White vinyl sticker with a high-gloss finish is waterproof, weather-resistant and the most long-lasting material out of our cut-to-size sticker printing.
Compare and choose which cut-to-size materials will work for you.
Paper Material Guide
Waterpoof
UV Resistant
Writable
Indoor Use
Outdoor Use

Gloss


White Paper
Sticker
✔
✔

Matte


White Paper
Sticker
✔
✔

High Gloss


White Paper
Sticker
✔
✔

High Gloss


White Vinyl
Sticker
✔
✔
✔
✔
We recommend roll stickers if you are ordering more than 250 stickers. They can be used with dispensers for fast and efficient sticker application. In addition to white vinyl and white premium sticker paper, the following material option are also available for printing roll stickers:
BOPP (biaxially-oriented polypropylene) is an adhesive popularly used for food and beauty products. This material lasts even when exposed to moisture, oil, and refrigeration. You can choose from three types of BOPP:

Opaque white for a solid background
Clear for a "no-label" look
Silver metallic for a foil-like effect

Estate paper is textured paper adhesive commonly used for wine bottles, food packaging, and other labels. You can easily write on this type of material when uncoated. Optional matte UV coating adds scratch and moisture-resistance to your stickers. Choose from three types of vellum adhesives:

Estate #8 warm white
Estate #4 plain white
Estate #9 cream
Get sheet stickers if you need to print the same information on your stickers. These are easy to store and mail, and can easily be slipped into your customers' shopping bag when they make a purchase.
Our sheet stickers are printed on 4" x 6", 3.5" x 8", 5.5" x 8.5", or 8.5" x 11" white paper sticker sheets. You can also input a custom sheet size on the product calculator.
Choose from high-gloss or matte coating, depending on how vibrant you want your sticker design.
Question & Answer
What is the most durable sticker?
We highly recommend white vinyl for long-lasting stickers. This material is waterproof and can be exposed to any type of weather and temperature. Vinyl material is typically used for bumper stickers, so you can be sure they last a long time.
Should I choose sticker paper or BOPP for my design?
Sticker paper is suitable for product packaging or items that will be displayed indoors. It's also a good choice if you're using your custom stickers as mailing address labels.

Used for roll stickers, BOPP material is great for items that will be exposed to moisture, oil, and refrigeration such as food jars and bottles.
What's the difference between cut-to-size and kiss-cut stickers?
Both cut-to-size and kiss-cut stickers are made in any shape and design you want. The main difference between the two formats is the cut-to-size process cuts through both the sticker and the paper backing. Kiss-cut stickers have a border surrounding the design and are cut through the adhesive only, not the backing.
How do I print my own custom stickers?
Follow these steps to create and print your own stickers with PrintRunner.

1. Select the type of sticker you need.
2. Use the order calculator to choose the specifications of your custom stickers. Choose a sticker format (cut-to-size, roll, or sheet), shape, type of paper, and quantity.
3. Upload your own custom sticker design or create your own with our design tool.
4. Submit your sticker design for FREE proofing.
5. Select "Checkout" to complete your order.
What file formats do you accept for stickers?
PrintRunner accepts the following file formats to upload your artwork:

• PDF
• JPG
• PNG
• TIF
• AI
• EPS
• PSD
• QXD

We require a minimum resolution of 300 dpi.
Does your printing turnaround time include shipping and delivery?
Printing turnaround covers the time it takes to have your custom stickers printed and ready for shipping. This begins once your print-ready artwork has been uploaded and your payment has been confirmed. If you request a PDF file proof, turnaround time begins when you approve the file. Printing turnaround does not include weekends, holidays, or delivery time.
Download Blank Sticker Templates


Set up your print file with correct trim and folding lines by downloading a blank template for your preferred design software. 
Rated

5

out of

5
by
Guy Icognito
from
Solid Work
My order came out just like I set it up, these guys did a fine job.
Date published: 2022-03-15
Rated

5

out of

5
by
Anonymous
from
Great product
Excellent processing time and quality product. Will do business with again
Date published: 2022-03-04
Rated

5

out of

5
by
Jcarrasco
from
Happy customer
Couldn't be any happier on the way these stickers came out .thank u guys
Date published: 2022-02-14
Rated

5

out of

5
by
WashingtonAl
from
First time buyer, won't be my last time!
First time buying labels for the office. I had to ask for help in an online chat and they were able to do better job of formatting of my label. Delivery was super fast too.
Date published: 2022-02-04
Rated

5

out of

5
by
Anonymous
from
Best stickers!
These stickers were honestly amazing. They had super fast shipping and the quality on the stickers was beyond great. They really do have the highest quality for the lowest price.
Date published: 2022-02-03
Rated

5

out of

5
by
TWill
from
Definitely Using This Service Again
Awesome price for awesome product. The stickers were delivered in a good amount of time and looked good.
Date published: 2022-01-18
Rated

5

out of

5
by
JPH Sales
from
Quick and easy!
Great quality, quick turn around. 2nd time ordering from Printrunner
Date published: 2022-01-13
Rated

5

out of

5
by
LauraT
from
Solid product
Stickers arrived looking great, according to our order, and on time!
Date published: 2022-01-03
Rated

5

out of

5
by
Brennan
from
Excellent!
Excellent! Great quality, came out perfect! They arrived in a timely manner also. Will definitely reorder!
Date published: 2021-12-17
Rated

5

out of

5
by
Roxanne
from
Been buying for a couple of years now
Quality custom stickers at a great price. Get exactly what we need
Date published: 2021-12-13
Rated

5

out of

5
by
Ivan the Red Pottery
from
Custom mailing labels
Quality product at a reasonable turnaround for a great price.
Date published: 2021-12-11
Rated

5

out of

5
by
Vistra
from
#1 In my book
The stickers came out amazing and the color was vibrant. I love the slit in the back for easy peel-off.
Date published: 2021-11-15
Rated

5

out of

5
by
Orange Blossom Bay
from
Sweet smell of success!
Easy process and quick turn around once design is agreed upon.
Date published: 2021-11-15
Rated

5

out of

5
by
J Rinehart
from
Will order again
Simple and easy to order and proof. Beautiful finish and easy to cleanly apply
Date published: 2021-11-09
Rated

5

out of

5
by
Qubabe
from
Stickers good. Delivery time longer than expected
The stickers I bought came as expected. Delivery was longer than originally told so didn't get them in time for what I needed them for. They will be useful in the future.
Date published: 2021-11-08
Rated

5

out of

5
by
Drew P
from
Pretty good product, overall
Final product is great, ink transfer and paper is great, customer service was amazing, turnaround was very reasonable, price is fantastic. The stickers themselves were not super sticky, I had some problems with sticking them to the plastic. Paper and cardboard seemed fine, but adhering them to smooth, plastic tchotchkes proved to be so-so. Easily removed, so be aware.
Date published: 2021-10-22
Rated

5

out of

5
by
Anonymous
from
Order & Excellent Customer Service!!
You guys are simply amazing!! I had an issue with my order and I contacted you guys and you got everything straightened out for me! I received my order and it looks perfect! I spoke to customer service reps via the websites live online chat, and spoke to two different reps on different days/time and both reps were WONDERFUL! I will definitely order from you guys again! Thanks so much!
Date published: 2021-10-18
Rated

5

out of

5
by
Karen H
from
Square Stickers
I'm pleased with my sticker order and the fast turnaround!
Date published: 2021-08-05
Rated

5

out of

5
by
WinsupplyRobin
from
PrintRunner for ALL YOUR PRINTING NEEDS!
PrintRunner always gets the job done! A huge benefit for both small and large businesses.
Date published: 2021-08-02
Rated

5

out of

5
by
the indie baker
from
Awesome all around!!
Great product!! Superb customer service! Even faster shipping then expected. Truly awesome complaint! Preparing my next order as we speak.
Date published: 2021-07-13
Rated

5

out of

5
by
Brass Castle Arts
from
Easy-application stickers
These stickers look really nice. I wasn't sure how "stable" they would be, for peeling off the backing and applying to plastic shopping bags, but they slide on just fine. They are thick enough not to wrinkle upon application. These are just what I need to personalize the bags.
Date published: 2021-06-25
Rated

5

out of

5
by
MDR16
from
OBSESSED
I ordered custom stickers & it was the easiest process ever. Affordable, fast shipping & they came out soo cute. Love!
Date published: 2021-06-18
Rated

5

out of

5
by
DanL
from
Great Quality
I ordered indoor/outdoor stickers and the quality exceeded my expectations.
Date published: 2021-06-10
Rated

5

out of

5
by
prince mince
from
Perfect Quality in Best Time!
The stickers I ordered came to me sooner than I thought they would. And the quality was top notch. Definitely will be ordering more in the future from print runner!
Date published: 2021-06-06
Rated

5

out of

5
by
Deb H
from
Great Choice
I first ordered of the Price; then I got fast service, and the labels and cards turned out great. Will be bringing my continual orders here!
Date published: 2021-05-30
Rated

5

out of

5
by
Anonymous
from
Great promo stickers!
Super simple website to navigate and order. Lightning fast delivery, quality vinyl stickers
Date published: 2021-05-25
Rated

5

out of

5
by
astrogirl
from
Fair Pricing
I on a lot of sites finding a good deal for a low price means sacrificing quality, usually the bulk of it. While there were some pricier options offered here, the quality of the stickers that I received (for choosing one of the cheaper options), exceeded my expectations and I didn't feel like I got cheated in any way. Will be ordering from you guys again.
Date published: 2021-05-22
Rated

5

out of

5
by
hannah
from
Great quality and price
Ordered custom stickers and was very happy with them. Spent time price comparing and found this to be the best!
Date published: 2021-05-16
Rated

5

out of

5
by
Nerd Dump
from
Top quality!
Really nice. No flaws. Great quantity for a great price! Thank you!
Date published: 2021-05-13
Rated

5

out of

5
by
Manda83
from
Amazing quality
I keep coming back to order more! Great quality and amazing turn around!! Highly recommend!
Date published: 2021-05-11