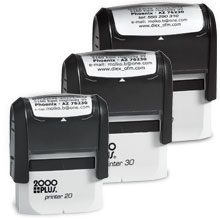 Rubber stamps have been an office supply standard for years, but required messy ink pads and frequent cleaning. Today, self-inking rubber stamps offer hassle-free convenience for a variety of different uses:
• "For Deposit Only" stamps with your account number make bank deposits more efficient
• Rubber stamps are perfect for shows and events, to mark the hands of ticketed guests or those of drinking age
• Stamp your return address on correspondence—rubber stamps are easier to use and cheaper than labels
• Contractors can use rubber stamps to mark water heaters, appliances or electric panels with 24-hour service information
• Rubber stamps with messages like "SALE EXTENDED!" can add extra life to a supply of expired promotional postcards and mailers
• Turn ordinary business cards into VIP discount cards by stamping the backs with a discount or loyalty promotion
• Vendors can use rubber stamps to mark their products or hang tags at arts and craft shows
Right now, you can purchase rubber stamps at PrintRunner.com for as low as $12.49. They offer 3 different sizes of self-inking stamps, perfect for customizing your own logo, design or message.
(Visited 159 times, 1 visits today)