St. Patrick's Day advertising, although originally known for the religious and cultural implications of holding a procession in tribute to St. Patrick in the 18th century, involves the consumption of copious amount of alcohols consumed by patrons in bars. Whereas it has become customary for people to wear green outfits and dye the rivers with the same color, it is the events and parties during the day that really gets the attention of the media.
Local bars hold promos and event organizers come up with great lineup of performers to gather people together and celebrate the Irish spirit in everybody, all while getting sloshed with grub.
As business owners, it is important that you capitalize on St. Paddy's Day advertising to turn in that extra profit to the benefit of your business. With that in mind, and also in promotion of our St. Patrick's Day Sale at PrintRunner (as high as 75% off on select items, mind you), below are ads and marketing campaigns held by different businesses with the hopes of sweeping people off their feet during the Irish celebration.
Disclaimer: We at PrintRunner have posted images on this post mainly for design inspiration purposes. We may not be able to produce the exact options and material used on the featured product. Call 1-888-774-6889 to learn what design choices you can select for your print order.
Yuengling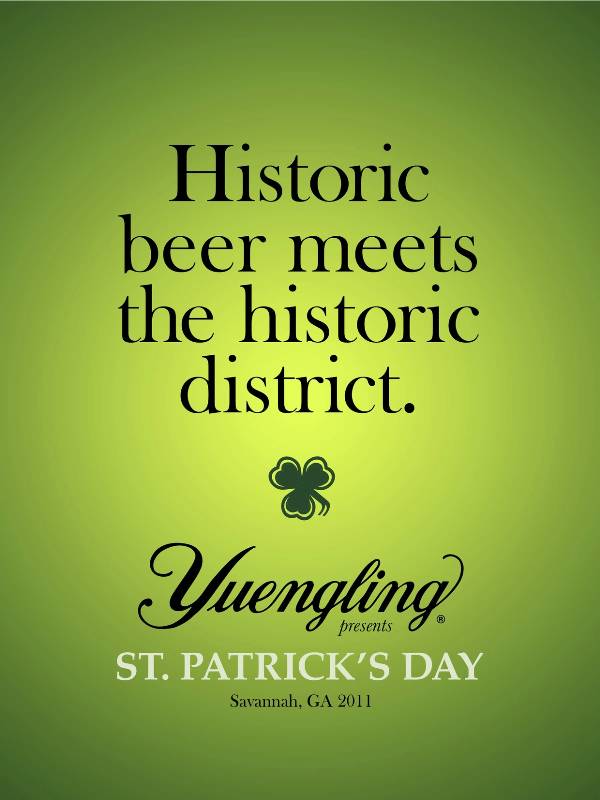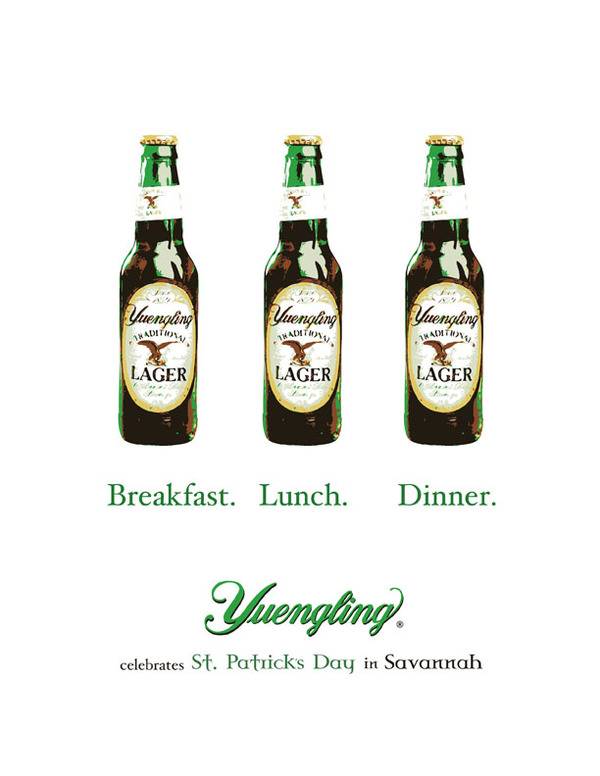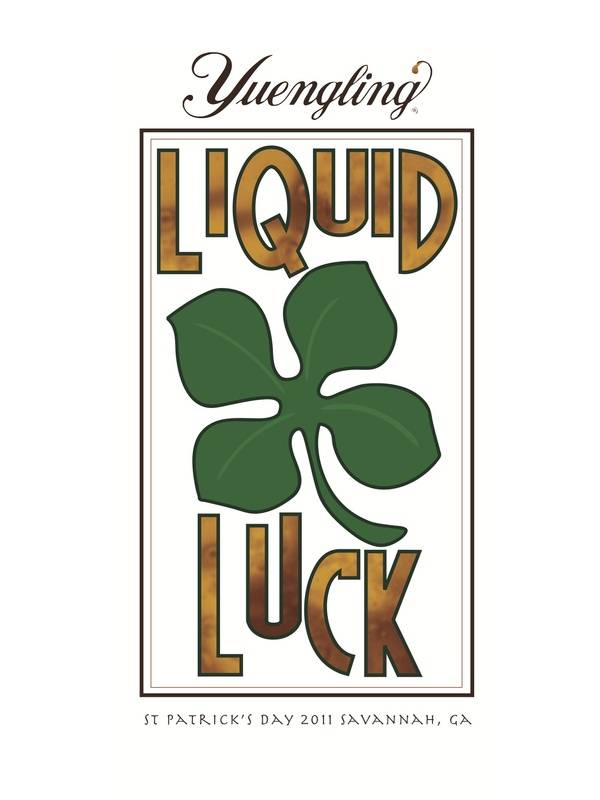 Yuengling enjoys the distinction of being one of the largest and oldest brewing companies in America, which is quite evident in the promotional ads they've run in 2011. Yuengling pairs with Savannah, Georgia, the historic location they've chosen to hold their St. Patrcik's Day advertising. The city has housed some of America's oldest and finest architectures such as the Temple Mickve Israel, First African Baptist Church, and Telfair Academy of Arts and Sciences, to name a few.
What to learn from this campaign: Focus on your identity and never lose sight of it. Yuengling identified itself with a city that has a storied history of its own, which allowed the company to maintain its brand.
Guinness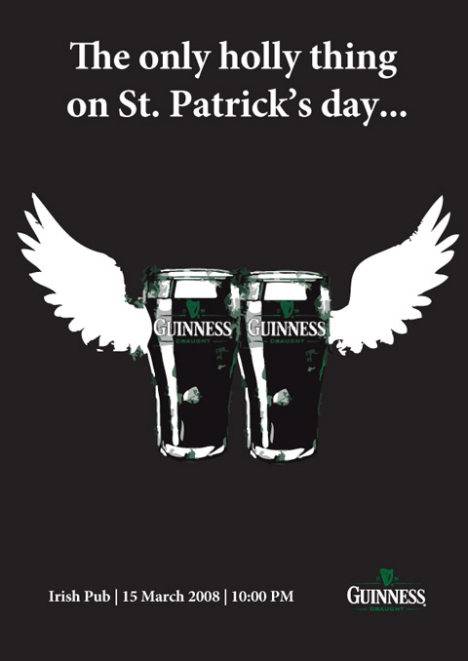 Ireland's own Guinness has released some compelling ads promoting their brand of dry stout. During their St. Paddy's Day advertising in 2008, Guinness was believed to be the preferred alcoholic beverage in Romania, as the slogan, "The pint, the draught, the thirst 119.5 seconds from peace," would attest. Currently, the brewing company are in the works of breaking the world record for the most people celebrating this year's Irish event.They've even supplemented their attempt at history with a humorous viral video involving a sheep dog.
What to learn from this campaign: Be viral – the more engaging your ads more, especially in the age where social media has become a viable medium to market your business, the more chances people would want to join your festivities.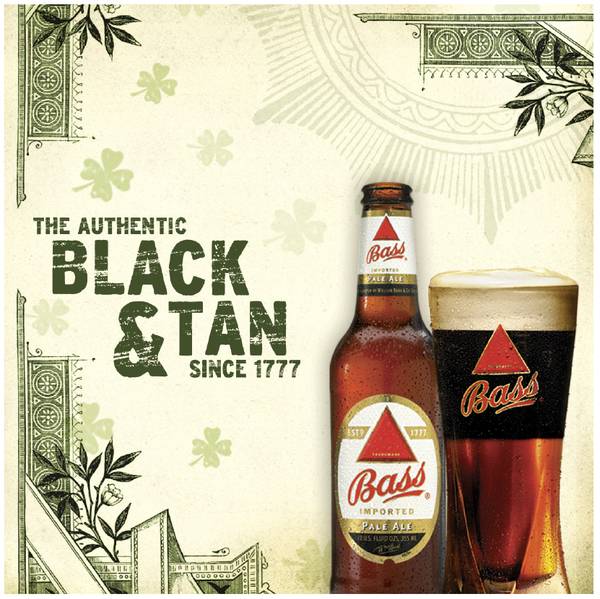 Chalk up another point for the brewing industry with Bass joining in the fun of St. Patrick's Day advertising. The British company makes no bones about its alcoholic beverage by displaying vintage sensibilities in this attractive ad design, perhaps harkening back to their glory days when almost every pub served beer with the the ubiquitous red traingle on the branding.
What to learn from this campaign: If possible, acknowledge your history. People seem to put a lot of trust of brands that have stood the test of time.
Opal Divine's Austin Grill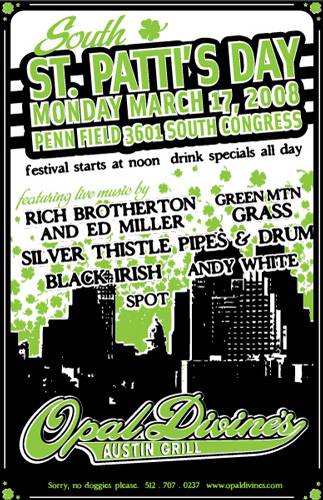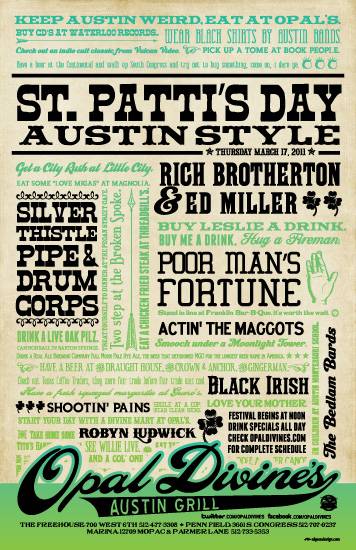 Looking at their site, Opal Divine's Austin Grill has designed some of the better typographic ads this side of the restaurant industry and their posters promoting the Irish celebration are no different. The 2008 poster makes use of graphics on the background while coloring the fonts in black and green to remain consistent with St. Patrick's Day advertising. With their 2011 poster, however, the company has scrapped the use of images by unleashing a full-blown typographic posters filled with words in different typefaces, line lengths, and point sizes.
What to learn from this campaign: There's nothing better than an eye-catching ad design. Opal Divine's simple yet striking approach to marketing their brand has made into exemplary typographic ads that other companies should try to emulate.
World of Beer in North Hills, Raleigh is celebrating its first annual St. Patrick's Day Block Party using this promotional ad that'll make you go green with envy (or luck, depending on what you feel at the moment).
What to learn from this campaign: Be sensitive with the color scheme of your ad design. Green is the color of choice because of its association with the Irish celebration.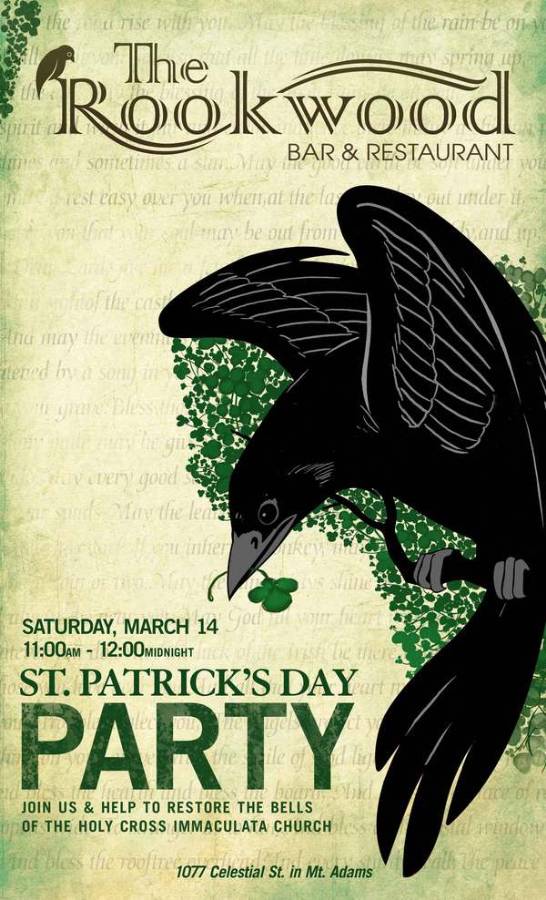 There's nothing much more fulfilling than celebrating St. Paddy's Day for a cause as seen in this poster ad designed for the Rockwood Bar & Restaurant. The party, which kicks off at 11 a.m., serves the greater purpose of restoring the bells of the Holy Cross Immaculata Church. Aside from the large image of a crow biting on a four leaf clover and hanging on a branch, the poster further combines themes of Christianity and the Irish tradition by showing faded verses from the Bible on the background.
What to learn from this campaign: Find a greater purpose for holding an event other than having a good time. For instance, donating the proceeds of the event to charity has always been a popular way of getting people's attention to your event or promotions.
Flannery's Irish Pub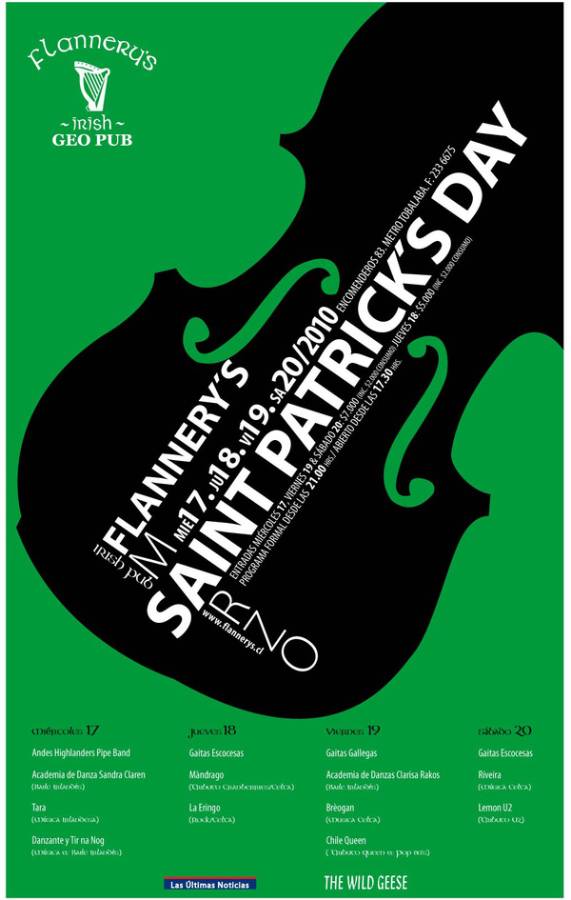 Flannery's Irish Pub in Chile came up with this classy minimalist poster design to promote their St. Patrick's Day advertising in 2010. The violin in black outline and typography add a touch of elegance to this social coterie.
What to learn from this campaign: Design your ads according to the kind of event you're holding. For an elegant musical affair, using the violin – a stringed instrument used to play sophisticated music such as classical and jazz – as part of the ad design is an appropriate choice.
Meet the Robinsons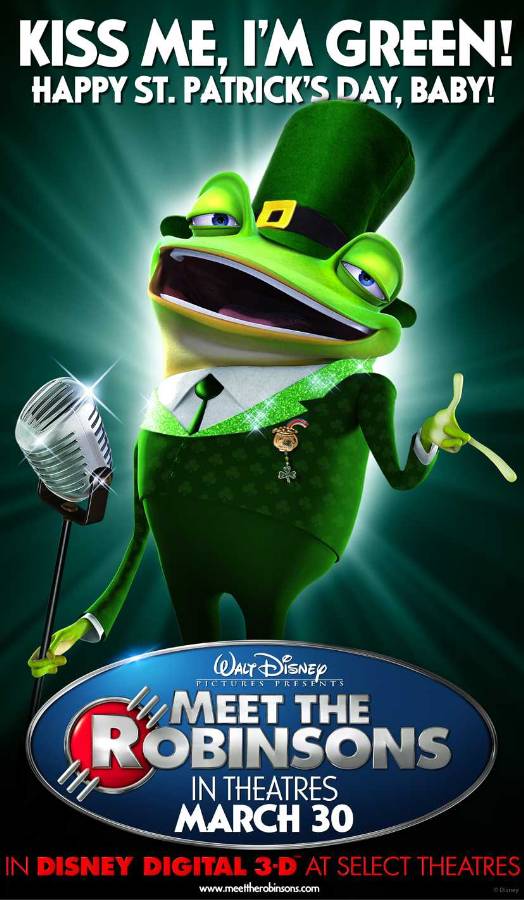 Before its release in theaters, Meet the Robinsons, a 2007 Disney flick, acknowledges St. Patrick's Day by having Frankie the Frog, the Sinatra-inspired crooner in the film, wear a leprechaun's costume.
What to learn from this campaign: Get the extra rub for your existing marketing campaigns by inserting upcoming events or holidays to your promotional materials. This would also allow you to produce ideas off the fly for your ads.
(Visited 1,381 times, 1 visits today)