Although mascots may seem like mere cartoon representations of a company to the public, there's nothing cartoonish about using mascot marketing. Tell that to McDonald's and the way they've used Ronald McDonald seamlessly and effectively in their advertisements throughout the years. Or Kellogg's, a company that touted a bandanna-wearing tiger mascot named Tony, who originally appeared on boxes of the company's own Frosted Flakes, as their current ambassador.
These companies have achieved success not only through increased sales and profit, but also promoting their brand with the help of their mascot. Taking a page from mascot marketing is Life is good®, an apparel retailer company that achieved financial success, thanks to how they were able to forge a meaningful connection with their customers.
Meet Jake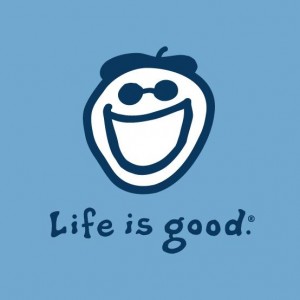 Life is good® founders Bert and John Jacobs have been involved in the apparel business since 1989. However, five years into the industry, they have failed to generate enough profits to turn things over with their business and were still hawking tee shirts on the street.
Despite their difficulties of striking it rich, they fueled their dreams by looking at how Nike and Polo in how both were able to take a symbol (Nike with the "swoosh" and Polo with a man riding a horse) and turn it into something profitable, if not even more. They were successfully selling a lifestyle that catered to a particular market, and Bert and John wanted their own Swoosh sign or man riding a horse to make the money they have dreamed of.
The result was Jake; a sunglass-wearing, beret-strutting, happy-go-lucky stick figure mascot that was drawn during one of the brothers' road trips together. When the drawing was shown to their friends during a keg party they threw upon arriving at Boston on a September, Jake was an instant hit – people reacted positively towards Jake's infectious smile and demeanor. One of their friends mentioned that Jake "has it all figured out," but what made an impression to the brothers were three simple underlined words another one of their friends wrote below the drawing: life is good.
The Jacobs were so inspired with the meaning of the drawing and the phrase when put together that they made exactly 48 t-shirts with Jake and 'life is good' written below. After 45 minutes of selling the shirts on the street, all were purchased.
A staggering increase in product demand, an expansion of product line, and opening up retail stores in different states after, and the rest is history.
The anatomy of a company mascot
What turned the lives of Bert and John Jacobs from being shirt peddlers into owners of a $100-million enterprise is that they were selling a message they believed in. "Life is good" by itself are just a group of words that express a particular disposition, but when attached with the image of Jake, the words take on a different and much more profound meaning. In short, Jake is not only the embodiment of the identity of Life is good®, but also an example of how to make life good.
Despite the seemingly crude drawing by today's standards in graphic artistry, Jake stands tall among other mascots in the industry. Its simplistic design makes an even simpler message much more evident – regardless of what happens to us, life is indeed good. The world is filled with clutter and distractions that mess up our lives, but if only we focus on the things that make us happy, we will see how beautiful life truly is.
Aside from the initial image of Jake that you see on Life is good® products, the people in the company have given him more depth so people can have an even stronger attachment to his character. According to the website of Positively Jake, an official Online Neighborhood Shoppe of Life is good®, below is what they say about Jake:
"Jake has taken his work seriously. His simple message of optimism has been embraced across the country and even around the world by people from all walks of life. With his faithful sidekick Rocket, he shares words of wisdom such as, "Do what you like. Like what you do.®" and "We'll never know all the good a simple smile can do.®"

Jake is quite the Renaissance man as well. He Hikes, he Bikes, and he Kayaks. He plays Guitar and is a prolific Ultimate Disc player. Quite the athlete, he also enjoys a hot Bubble Bath on occasion. One of his favorite pastimes is to hang out with his dog Rocket, tossing around a ball or just sitting around a campfire, roasting hot dogs or marshmallows.

He's a master gardener, a bowler, he loves to golf, and he's often found on a lake or in a stream casting his fishing line. Jake has even gone Organic, staying true to his back to basics philosophy. And of course, he's quite the fashion designer."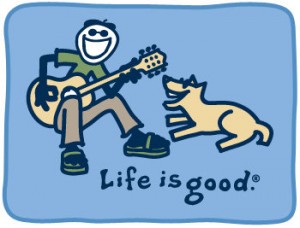 The copy illustrates pleasures drawn from the outdoors. This was probably intended to show not only the beauty that surrounds us, but also how much society has become too attached with the material things preventing them from seeing the whole. Nowadays, people would prefer to be glued in front of their television sets, computers, or their smartphones than go out and have an authentic experience that is stripped from technology.
Life is good® is aiming towards an organic experience revolving around the simple things life has to offer. If only people focused on the things that really matters, just like what Jake is doing, then they'd see themselves smiling more.
Mascot marketing can go a long way.
Although the message of Life is good® by itself is genuine enough for people to take interest in the brand, Jake made it possible for people to clearly see the clutter-free lifestyle being promoted through its products. It is through Jake and his worry-free attitude that allowed people to invest in the brand.
In application to your small business, mascot marketing should not only reflect the values and objectives you have as a company, but also serve as a bridge to make your business much more accessible and comprehensible to the public. Jake's simple yet highly positive outlook in life is what regular Joes and Janes strive for in life, which made Life is good® an instant hit. So the question now is this: what's your Jake?
Have you engaged in mascot marketing? Tell us your story.