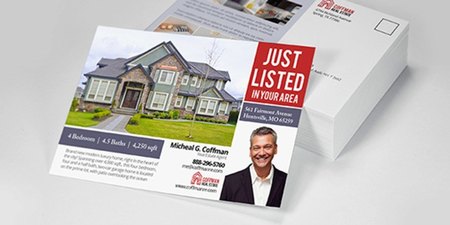 Engage each customer from the comfort of their homes
An affordable, efficient, & effective promotional tool

Durable cardstock options include 13 pt. recycled matte

Choose from several standard, mailable sizes
Product Features
Great Quality

Fade Resistant

Fast Turnaround
Your Prime Choice for Standard Postcard Printing

Looking for a cost effective but impactful promotional tool for your business? Standard postcard printing is friendly to a small budget but does not sacrifice quality, quantity, and reach. You can deliver several or a large quantity of postcards specific customer addresses or give them away as discount coupons in store to make a big announcement.
We can send out these postcards for you via our direct mail services, letting you target regular customers on your database or potential ones according to a preferred demographic. Apart from their obvious marketing application, standard postcards are versatile enough to showcase brand announcements such as a store launch, personalized birthday discount deals, or the service-specific benefits of a small business.
Which Is the Best Size for My Postcard?

Your postcard's impact will also depend on its dimensions and how the design utilizes the available space. It's important to consider how your postcard will be used. Will you be mailing most of your order or will you insert them into bags with every in-store purchase? Here are some of the advantages of our available standard postcard sizes.
4" x 6" is small enough to make a straightforward and easy to read announcement. It's also easy to keep and qualifies as USPS First-Class mail.
5" x 7" stands out against the smaller, standard postcards sent as personal mail. Its width allows for the right balance among several images and compelling copy. Perfect for promoting a new business or product line.
5.5" x 8.5" has more than enough space for an image-heavy or extremely visual design. Recommended for postcards announcing a sale or special deal available in store or under a limited time period.
6" x 9" is the biggest option among the popular postcard sizes. Suitable for postcards with more than three images or the need to relay information in a straightforward, visual manner.

What is the Advantage of Using Direct Mail Services?

Our direct mail postcards service saves you time and lets you do less leg work. Just provide us with your mailing list and the postcards will be dropped right at your customers' doorsteps. For inquiries about direct mail services for postcards, you can call us at 888-296-5760 or use our live chat to talk to our customer service representatives.
You can also opt to have rounded corners on the postcards to give your design a twist and add shrink wrapping to protect your order during shipping or before mailing. Select our free file check option after uploading your file so that the postcard printing is error-free.
Recommended Reading
Direct Mail Works! 11 Steps to Increase Your Sales Using Our Postcard Mailing Services
Best Business Practices for Postcard Marketing
My Business Plan: Nomi's Naturals

Question and Answer
When can I expect to receive my printed postcards?
The printing turnaround times indicate how long it takes to produce your order. Your order can be ready after just 1 or 2 business days. Your order will be shipped to the indicated address the day after the printing turnaround period.
Which is the thickest material available?
The 16 pt. cardstock is our most durable and thickest material available. It has the most substantial weight. It is less prone to bending and folding.
What is the advantage of having rounded corners on your postcard?
Rounded corners eliminate sharp edges and gives your final product a polished look. The postcard is also less likely to snag.
Do you offer direct mailing services?
Yes, we can mail your order straight from our printers to the addresses of your customers. Visit our mailing page to find out more about our fast and affordable direct mailing services.
Download Blank Print Templates
Set up your print file with correct trim and folding lines by downloading a blank template for your preferred design software. 
Rated

5

out of

5
by
drlapp
from
Great experience!
Great quality, value, and fast turnaround! Extremely happy with our new postcards.
Date published: 2020-05-19
Rated

5

out of

5
by
AngryBurro
from
Professional Quality postcards
This was my first experience with designing and ordering postcards. Printrunner was very patient, helpful and accommodating with finalizing my order. The finished product arrived promptly and is nothing less than amazing. Thank you Printrunner!
Date published: 2020-05-16
Rated

5

out of

5
by
Anonymous
from
Great Print Quality
Order was placed for the postcards and they were at my door in a week. I am really impressed with the quality of my postcard.
Date published: 2020-05-08
Rated

5

out of

5
by
Alex From LocalHood
from
Fast shipping and great quality.
Super stoked! checked the proofs and when I had a question online, the customer service was awesome!
Date published: 2020-05-04
Rated

5

out of

5
by
Gnarly Magazine
from
Always happy with my PrintRunner order!
I continue to use PrintRunner for my print jobs because of the quality, the affordable prices, and the speedy delivery! I highly recommend PrintRunner.
Date published: 2020-05-04
Rated

5

out of

5
by
Levendale
from
quick and quality service
orders always arrive sooner than expected and if we've had an issue, it was corrected right away.
Date published: 2020-04-22
Rated

5

out of

5
by
Spud Boy
from
Great quality and excellent cardstock!
Thanks for making my toys look even better! I use these folks to print my header cards for my vinyl toys. They always do a fantastic job and the turn around beats most print services.
Date published: 2020-04-19
Rated

5

out of

5
by
Amber M
from
Fast and good quality
We ordered postcards for pageant 'autograph card' thwy are great !
Date published: 2020-04-15
Rated

5

out of

5
by
Kimj8
from
Great quality!
Ordered post cards for my wedding- amazing quality, great customer service and shipped fast! Thank you!!
Date published: 2020-04-03
Rated

5

out of

5
by
Ufish
from
good quality, fast shipping. Satisfied.
exactly as i wanted. ordering 5th time. and more to go. great price and quality.
Date published: 2020-04-03
Rated

5

out of

5
by
BKPhoto
from
I love the way the cards look and feel!
I am very happy with my order - the price was very nice for the stack of 5x7s I needed. Thank you very much!
Date published: 2020-03-16
Rated

5

out of

5
by
Taunaj
from
Very nice
Post cards were perfect. Fast shipping. Wa very happy.
Date published: 2020-03-04
Rated

5

out of

5
by
Silchu76
from
Bautiful Job
We ordered some post cards for an upcoming event and the results were awsome and they arrive before planned. Great quality.
Date published: 2020-02-28
Rated

5

out of

5
by
Jcashtribute
from
Always Awesome!!
We trust no one else with our printed promo material
Date published: 2020-02-26
Rated

5

out of

5
by
Kathie09
from
Great service and quality
Turnaround time excellent—both with sending me the proofs and then shipping the final product.
Date published: 2020-02-22
Rated

5

out of

5
by
Beachman
from
I have used print runner for several years and the response and quality have been great.
Date published: 2020-01-31
Rated

5

out of

5
by
woody27
from
Great print quality
I am very happy with the purchase of my postcards and how quick they got them shiped to me.
Date published: 2020-01-27
Rated

5

out of

5
by
Divine
from
Great quality and came a week before I expected.
My two orders came 5 days after I submitted my order and the postcard flyers were excellent quality
Date published: 2020-01-26
Rated

5

out of

5
by
Rodney the Magician
from
Really Great Experience ....
I've tried 2 other printing companies and Printrunner was my 3rd. To sum it up, Printrunner is cheaper, faster, and the postcards seem brighter and clearer......I'm a fan!
Date published: 2020-01-26
Rated

5

out of

5
by
bsurge13
from
Great Colors and Quality Postcard Material
Fast delivery. Came out to 5 cents a card. Can't beat the quality for the price!
Date published: 2020-01-20
Rated

5

out of

5
by
Nast
from
Excellent as Always!
I've been coming to Print Runner for over 10 years. As a fine artist, the pre-press as well as the printing needs to be good in order for my work to look good. Several other on-line print resources that I've tried for my printing in the past printed my images below my expectation. After I discovered Print Runner I have been using them ever since because they come through for me with wonderful quality, service, speed and great results!
Date published: 2020-01-15
Rated

5

out of

5
by
SunCoast Comic Con
from
Great print quality ** easy online ordering
Best price so I went with them. 2000 postcard flyers delivered within a week. I used wild color combos, Purple Orange Yellow. They came out perfect
Date published: 2020-01-13
Rated

5

out of

5
by
Maddog
from
Super excited super cheap
I love it super cheap and super good super fast great job
Date published: 2020-01-12
Rated

5

out of

5
by
Matty
from
Wonderful print quality
I ordered the cards near the holidays, and still received them within three weeks. They are of a wonderful quality.
Date published: 2020-01-07
Rated

5

out of

5
by
Melly
from
Super Service!
Print runner helped me fix my design -- even over Christmas! Thanks guys.
Date published: 2019-12-29
Rated

5

out of

5
by
dzovak
from
Great quality, quick service, Inexpensive
This is our second year using PrintRunner for our Christmas Family Postcard and we're just as pleased this year as we were with last. The website was easy to navigate and the DIY options were straight forward to navigate without needing to be a printing professional. However, the postcards look like we hired a professional! Very pleased with PrintRunner. We'll be using them next year as well (if not sooner).
Date published: 2019-12-10
Rated

5

out of

5
by
Robie
from
Always great quality and quick delivery.
Printrunner never disappoints! Came across the company online and used based on price. Great value and quick turn around. Will use again and again.
Date published: 2019-12-09
Rated

5

out of

5
by
BFoxE
from
Quick and Gorgeous!
It was so easy to upload art, type the text, design and print using their web site. And they were delivered a few days before the estimated date! Since these are Holiday cards, time was of the essence.
Date published: 2019-12-06
Rated

5

out of

5
by
Fern15
from
Fantastic print quality!
Ordered these postcards and repurposed them as thank you notes for our product. Great quality at a great price. Will be reordering soon!
Date published: 2019-11-20
Rated

5

out of

5
by
birdlady1
from
The best pricing and great quality!
I order postcards every month for my small business, and find the pricing to be the best I've seen. I like the chance to review/proof my images, and the quality has not disappointed. Shipping is also always faster than predicted, and I Love the text message updates. GREAT!
Date published: 2019-11-17