Though the man was a product of fiction, Dr. Thomas Wayne's words ring true for just about every aspect of existence. Every setback, defeat, or failure we experience has the potential of teaching us a new and valuable lesson, or reinforce the wisdom that we have already acquired but have forgotten to apply.
This holds true for our entrepreneurial efforts, as well. The best of us have encountered obstacles that would seem to spell the end for their dreams of prosperity and success. However, once surpassed, these difficulties serve to become the stepping stones that take them higher than they had even anticipated.
In the hope of inspiring fellow entrepreneurs especially during these challenging economic times, I would like to share some choice examples of individuals who fell hard, but stubbornly got back on their feet to persevere, and eventually triumph.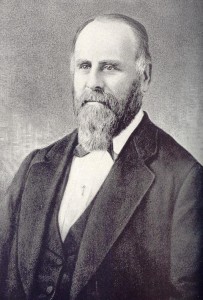 Failing once in a business endeavor can dishearten the weakest among us. Two failures in a row would actually force even the most determined individual to reconsider if they are doing the right thing. How does four or more successive failures sound to you?
Before Macy's was a successful (the first and largest in its time) department store chain, the founder, Rowland Hussey Macy, Sr. had to go through some rough patches in order to establish his business. Way before the iconic Macy's flagship department store in Herald Square in New York (established 1902), he had his share of closed stores and pitifully slow business days.
Mr. Macy exemplifies that persistence can win the day. With CEOs and business leaders falling prey to the distractions that come with the high-profile position, this old school value needs a revival with our modern entrepreneurs.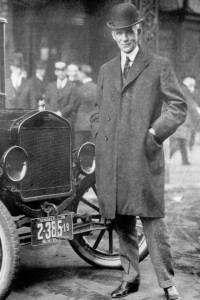 Most great achievements by businessmen didn't come at the first attempt. Henry Ford, in his quest to build a true people's car, went through three distinct automobile-making companies before starting the iconic Ford Motor Company: the Detroit Automobile Company, Henry Ford Company, and Ford & Malcomson, Ltd. Through all of those different collaborations and arrangements, he nurtured his ambitions of providing the common man with a decent automobile. The bad decisions he made and the failed partnerships he tried to grow refined his idea of what an idea company would be.
The Model T was the crowning glory of his achievements, with over half of all automobiles in America being of that model by 1918. It was more than just an inexpensive and easy to drive car; it symbolized two things Henry Ford pioneered: assembly line manufacturing and giving workers more than fair compensation for their labor.
Ford was a shining example of an entrepreneur that had aspirations apart from just making a profit. His efforts produced not only fame and prosperity for himself, but important contributions to his industry, and and humanity as a whole.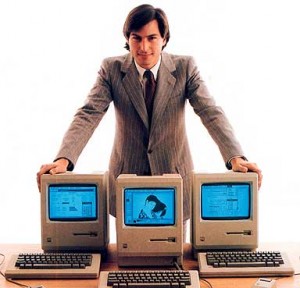 Here's a more modern example of a man that fell before he flew. Steve Jobs had the innate intelligence and determination to make something of himself, and that gave him an advantage at the start. He was less of a technical genius (that Steve Wozniak's domain, his partner when he started Apple) and more of a visionary; he saw value and potential in things way sooner than the rest.
Apple entered the spotlight with the Macintosh, and Steve was on his way to becoming a tech industry superstar, and he acted very much like it. Given to excessive carousing and streaks of irrationality, the very CEO he pirated from Pepsi-Cola, John Sculley, led a coup to take the reins away from his unreliable hands. To be booted out of the board room of the company he started was too much for him, and he left a few months earlier.
"The heaviness of being successful was replaced by the lightness of being a beginner again, less sure about everything. It freed me to enter one of the most creative periods of my life. I'm pretty sure none of this would have happened if I hadn't been fired from Apple. It was awful-tasting medicine, but I guess the patient needed it." – Steve Jobs
The company he started after Apple, NeXT Computer, was the mental playground where he found himself returning to the idea of creating breakthrough systems that positively affected the personal computing sphere. Incidentally, even the World Wide Web was born on a NeXT computer, in the hands of Tim Berners-Lee, then at CERN.
In an almost fairytale-like fashion, Steve found himself back in the first company that he started when Apple bought NeXT in 1996. He applied all the lessons that he learned during his period of exile, and he brought Apple from near-bankruptcy to where it is now, a veritable giant in the computing, music, and mobile phone industries.
It took a hard and humiliating fall from the top to make Jobs realize what he had to do. We best learn from the lessons he has left us and keep our priorities and egos in check, as well as never abandoning the mission and vision we have set for ourselves and our companies.
For these three and many other movers and shakers of commerce and industry, they found that failure became their best teacher, and upon internalizing the lessons, reached heights of success that even they did not foresee. Remember this when you are preparing to your next business incorporation application for your next big entrepreneurial endeavor.
Onward, noble businessmen!
About the Author
Stacey Thompson is a professional writer, marketer, entrepreneur, and a lover of weird little animals. She is based in San Diego, California, and is working towards her own dreams of running her own successful company. Stacey and her close friends maintain a blog, Word Baristas
(Visited 103 times, 1 visits today)