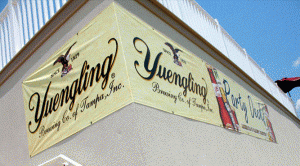 You're having a big sale. You are under new management. A new and exciting product line has arrived. Now, how does your business stimulate interest and generate traffic?  Current customers who frequent your establishment may know about your promotion from those communications they have already received. But getting new customers in the door is a continuous challenge for every business. Custom vinyl banners are a great way to grab attention, and get your message out there to new customers.
What are Custom vinyl banners?
Vinyl banners are one of the most cost-effective methods of advertising. They are durable, reusable and, if hung in a prominent area, they can promote your event 24/7. Banners are easy to display and very hard to ignore.
First, select where you want to hang your banner and order an appropriately sized one for that location. For best results, design a banner to be most eye-catching from a distance. An attractive graphic, bold colors and easy-to-read fonts will capture attention and force shoppers to take notice. Keep in mind only strong, brief messages will be easily read by drive-by traffic.
Better quality vinyl banners are digitally printed using full color, UV-cured inks. Cheaper, inferior inks will soon fade from weather and prolonged sun exposure, minimizing the value of your investment. Banners with grommets can be strung up or hung on a wall or flat surface. Banners with pole pockets would be the better choice for a freestanding display.
With proper care and storage, a high-quality banner can last for years. Always remember to roll banners before storing them away, as folding can cause permanent creases and damage to the material.
If you're not a graphics expert, don't worry. Consider using design resources available at some online printing companies. Printrunner.com has an exceptional team of designers that can create a banner that will turn heads and grow your profits. And their FREE SHIPPING offer throughout the month of April (no minimum purchase!) means you can save big on vinyl banners and many other custom items your business needs