Bikers are often seen as beer-fueled, riot-seekers. While some live up to the reputation, not everyone who enjoys riding a motorbike is part of a gang.
Modern motorcycle enthusiasts are regular folks like the rest of us—with families, jobs, and businesses.
Case in point:
Nikki Gaetano of A.F.E. Cycle Parts. Nikki is one of the founders of an e-commerce store that sells different brands of motorcycle products and apparels.
View this post on Instagram

According to Nikki, one of the biggest misconceptions that people have about bikers is that they are scary.
"Bikers are actually some of the kindest, most sensitive people I've met.  Try talking to them instead of assuming and you'll find that out for yourself."

Not Everyone Fits Into the Mold
The tough guy image of bikers was popular in the 1960s. But today's motorcycle riders are more of the fun-loving kind.
Some motorcycle gang members still ride in the city, but a lot of modern bikers have distanced themselves from the archetypal rebellious image.

In recent years, more women are riding their dressers and cruisers in the name of fun and adventure. According to Motoress, 19% of the motorcycle riders in the United States are female.
Nikki is part of the growing number of women who have swung a leg over a bike for fun. She and her fiancé, Scott Purdy, have been together for three and half years and share a passion for motorcycles.
It didn't take long for the couple to realize that they wanted to run their own business. With their mutual interest in motorcycles and Scott's experience in the motorcycle industry, the couple founded A.F.E. Cycle Parts in October 2018.
Who doesn't want to be their own boss? Thankfully, we were blessed with the opportunity to try it out.
A.F.E. Cycle Parts is special to Nikki because it's a business that she and her fiancé have created out of their love for riding motorcycles.
Their store is a one-stop shop for those motorcycle gears, clothing, and accessories. The brand's most popular product so far is the A.F.E. T-shirt, which customers can purchase at the A.F.E. Cycle Parts website.
In addition to their own merchandise, the company also carries products from popular brands like Biltwell, Imzz, Danny Gray, and TC Bros. Their products range from helmets and t-shirts to handlebars and saddle seats.
The company's selection of products is more focused on functionality—each embodying the personalities and active lifestyles of their customers. According to Nikki, "Everything that we carry, we use or would use ourselves."
Facing the Challenges
As a brand that's rooted in adventure and love for the sport, A.F.E. Cycle Parts appears to have a bright future ahead. But the company is still in its infancy stage, and its owners will have to meet the challenges that all business owners face. The most pressing by far is rising above the competition:
"As a new business, or any business for that matter, you need to find something that will make the consumer choose to buy from you rather than your competitor, and there are MANY competitors.  Especially in this day and age."
View this post on Instagram
Nikki and Scott find their customers mostly through motorcycle shows and social media. While those bring a good number of people to their store, Nikki finds marketing their business a bit tricky.



Marketing the Business
Since A.F.E. Cycle Parts is a relatively new company, Nikki and Scott need to create a buzz around their business.
Posting on social media helps in getting the word out, but the couple decided to give their customers something extra, and that's where PrintRunner comes in:
"Every order receives free stickers!  Once we have some more logos and have more printed, we plan on selling them in sticker packs on our website!"
View this post on Instagram

A.F.E. Cycle Parts is one of many companies that use the power of sticker marketing to promote their business offline. PrintRunner customers have used stickers to build hype, increase brand awareness, and make their product stand out from the rest.
Need custom stickers for your brand? Check out the sticker printing options on the PrintRunner website.
In a competitive marketplace, giving customers a little something makes a difference. Whether it's a handwritten thank you note or an engraved pen, a little surprise makes for a share-worthy experience.
For A.F.E. Cycle Parts, that little something is a cool logo sticker that customers can slap on their bikes, bags, or helmets. It's a simple gesture that will hopefully get people talking about the brand.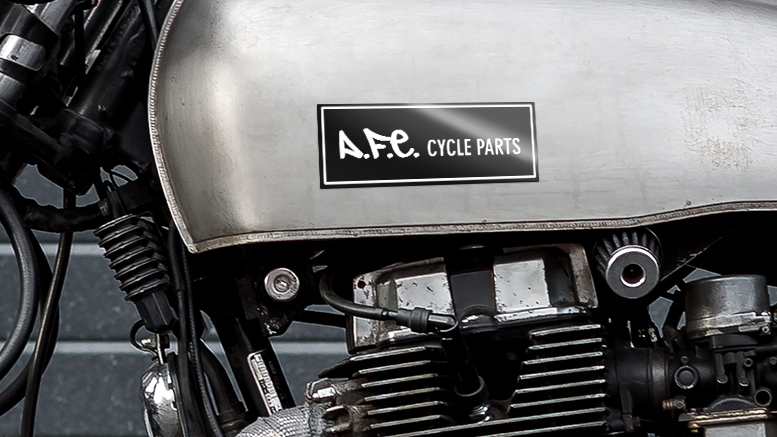 How can something so simple be so effective?
Sticker advertising has been around since the 1800s. This old-school form of advertising helps brands stand out offline.
The cool stickers that Nikki ordered from PrintRunner feature their brand logo. The design is simple, yet it captures the spirit of their customer base: full of fun and adventure.
Get to know A.F.E. Cycle Parts:
Facebook: afecycleparts
Twitter: @afecycleparts
Instagram: @afecycleparts
Website: A.F.E. Cycle Parts
How has PrintRunner helped grow your business? Tell us! Send us an email at blog@printrunner.com.