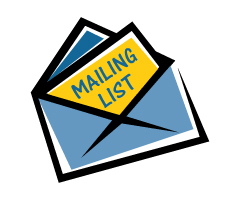 You may have an existing mailing list that needs a facelift; or you may be just starting out. There are some simple ways you can work to build or update your print marketing lists organically to improve response rates and help keep your name top of mind for customers across the spectrum.
Building a mailing list organically refers to making direct contact with your customers and requesting their contact information, as opposed to purchasing a mailing list from a list vendor or other source. It's vital that you offer incentives to the existing and potential customers that you're asking to opt-in.
The incentives you offer to your new and existing mailing list members can be as complex as a frequent buyer/savings card program to something as simple as offering a coupon at sign-up. Other value-add offerings include informative e-mail or print newsletters, other information sent by mail, exclusive list membership benefits, or a free consultation/advice session.
When collecting address data, both physical and electronic, be sure to differentiate between business and home addresses and only send mailings to these addresses when appropriate. This will save you time and money, and will keep your audience from developing negative opinions of your business or brand.
Building a print mailing list organically is a give and take relationship. By offering something of value, though it may be of little or no cost to you, represents something meaningful to your prospect. Providing useful content and materials in exchange for the contact information of your current and future customers is a positive way to start what is hopefully a long-lasting relationship.