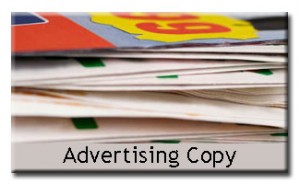 Writing good advertising copy is a skill. Writing great advertising copy is an art form.  When developing brochures, flyers and catalogs for your business, try to appeal to the reader's five senses—Sight, Smell, Sound, Touch and Taste. Here are a few ways to tweak your copy to elicit sensory responses:
SIGHT
ABC Landscaping – Complete landscaping services.
Try instead…
ABC Landscaping – Turn your yard into a lush oasis.
Clients will envision palm trees, flowing ferns and a tropical waterfall with bubbling pools.
SMELL
Romero's Bakery: Homemade Italian Baked Goods
Try instead…
Romero's Bakery: Baking homemade, fresh bread every hour!
Customers will imagine the delicious smell of hot bread, fresh from the oven.
SOUND
Bob's Bird Supply– Carrying a complete line of feeders and seed.
Try instead…
Bob's Bird Supply – Create a feathered symphony right outside your window.
You can almost hear the chirping of birds…..
TASTE
Biase's – Fine Italian food since 1972.
OR
Biase's – Try our homemade pasta and rich, savory sauces.
A professional photo of one of your specialties—served up piping hot—will add to the impact.
TOUCH
Joe's Air Conditioning – Call us to beat the heat
Or
Joe's Air Conditioning – Tired of sticking to the furniture? Call today for a free cooling estimate.
This sensory experience shows your ability to solve the customer's problem.
When customizing your designs at Printrunner.com, incorporate this approach to stimulate the senses—and your bottom line!
Please follow and like us:
Comments
comments