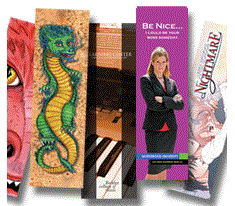 If you're a religious leader or a person responsible for raising money in a non-profit environment, a little thing like a bookmark can be an incredibly powerful marketing tool. The very nature of its purpose makes a bookmark a unique opportunity to deliver an important message over and over again, and repetition is how you to get someone to do something or remember something. Your parishioners or donors can be reminded of your mission every time they resume reading their favorite book (or the Good Book).
Effective Bookmark Marketing
The phrase "form follows function" refers to the idea that the way something looks should be based on its intended use or purpose. A bookmark that's poorly designed is less likely to be used. Bookmarks are typically about two inches wide and about six or seven inches tall, so message brevity is important. A short headline and succinct copy, vibrant colors, and durability are the keys to producing a great-looking bookmark that people will want to keep and use all the time. And remember that bookmarks need to be able to stand up to the ramifications of use.
Many online printing companies offer high quality, low-cost printing for customized bookmarks, and some also offer design. PrintRunner.com offers three different sizes, prints on heavy card stock, and puts a special UV coating on bookmarks to make them sturdy, resistant to fingerprints, and prevent them from yellowing with age. PrintRunner.com's online tools are simple to use, or you can easily contact their in-house consultants for personal service.
(Visited 149 times, 1 visits today)