Direct mail remains one of the best ways to reach out your market. According to the 2012 Channel Preference Survey by ExactTarget, direct mail has the second highest percentage of customer purchases (65%) after people receive the mail, a point shy behind e-mails for the top stop (66%).
If you're looking for ways to increase sales through your promotional strategy, we at PrintRunner offer direct mail services that will design, print, and deliver your mail to your list!
How to use our Postcard Mailing Services
1. Visit Mailing Services page.
2. Click on Postcard Mailing. To get a better idea on how direct mail works and the additional costs that come along with using this service, click on the tabs on the page.
3. Select the postcard specifications and mailing options for your order. By changing the options, notice that the campaign subtotal also changes.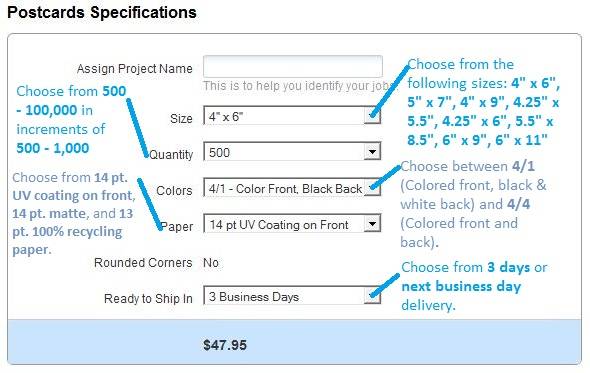 Once you have set the options, click Next.
4. Upload the design file for your postcards.
If you have not prepared your design for the front and back sides of the postcards, use our Free Design Tool to come up with a professional-looking postcard design even without skills on how to use a graphics editing software. You can drag shapes, text, and images to achieve the design you want. When using stock images searched from the design tool page, the initial cost of each image is $1US. The price increases once you resize the image to fit on the postcard.
When designing the back of the postcard, you need to follow the correct placements of the elements in a mailpiece in accordance to the United States Postal Service so that your mail gets sent out to the recipients. Click here to see how the back of your postcard must look like.
If you're not confident with using the tool, we offer Design Services in which our in-house design will come up with the design from you. All you'll have to do with discuss with the designer the concept you have in mind and wait for three days to receive the first proof of your design. If you're not satisfied with the initial design, you have until three revisions to get your postcard redesigned to your liking.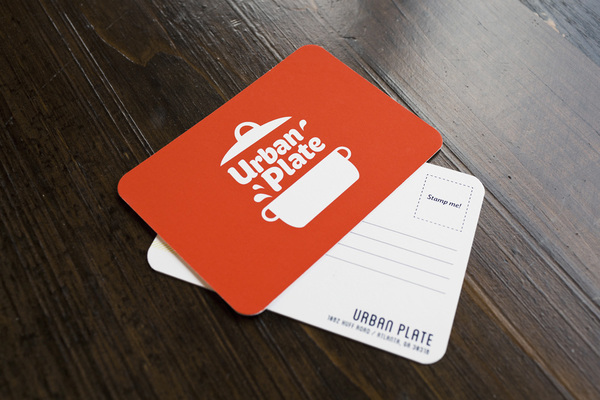 (By Chris Yoon, via Behance)
For inspiration on how you want your postcards to look like, refer to one of our posts titled "Postcard Printing Design – 17 Examples of Promotional Postcards."
5. Check if the uploaded design file is what you want your postcard to appear after print. For extra precaution, our Prepress team will double-check if your postcard design meets the printing standards using our equipment and mailing guidelines.
6. Upload your mailing list that will be used to send out the postcards. You can find on the page the mailing list guidelines and templates on how the list should appear on the spreadsheet before uploading the file. You may skip this step if you have yet to build on a list.
If you have yet to come up with a list, call us at 1-888-PRINT-89 (1-888-774-6889) so we can provide you a list that's specific to your business and contains qualified leads.
7. Submit the design for file checking, also known as "proofing," as conducted by the Prepress team.

For more information regarding our free file checking services, click here.
8. Provide information on how you can be reached by our Prepress team after they are done with the proofing of your file. You can expect to receive a call from us within 12 – 24 hours.
9. Check your e-mail for your proof ID.
10. Once you receive your proofed file, approve the changes made by the Prepress team (assuming that there were changes made) or deny the changes. Regarding the latter, you will have to send an e-mail explaining why you want to print out the file as is without the changes or create a new design if you wish to change the entire thing.
11. Finalize the purchase by checking out your order.
Once you have checked out your item, be sure that you've properly tracked the mail sent to your list as indicated on our "Direct Mail Marketing Basics" e-book. Without properly tracking the postcards you sent out, you will not be able to quantify or validate the progress of your mailing campaign, which is important if you want to figure out what works with using direct mail as a medium for generating leads and sales.
Below are additional information to assist you in integrating direct mail into your marketing strategy and doing it correctly.