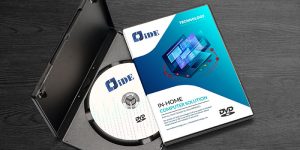 The impact of digital downloads on the musical landscape is hard to deny; however, it would be a serious mistake to say that CDs are officially "over." Many music lovers actually prefer compact discs, cassette tapes and vinyl records to mp3s, making those formats just as viable as they've ever been. And for people who want to share music, CDs remain the gold standard for ease of use and portability. Of course, whether you're giving a special mix to friends or shopping your band's demo around town, simply writing the names of the songs on the CD by hand may make your CDs look cheap or unprofessional. Custom CD labels or custom CD sleeves are an affordable and visually compelling alternative. Do you need custom CD labels? If you fit into one of the following five groups, the answer is yes!
Professionals Who Utilize CDs in Work Presentations
Creating custom CD labels to enhance the presentation of your work-related media indicates an eye for detail and a commitment to turning in the best work possible. Make no mistake – your boss and coworkers will be judging the appearance of your work as well as the content, so why not put forth the effort to make your CDs look impeccable?
Companies Using CDs for Branding Purposes
If you're distributing CDs to customers, whether by hand or as part of a direct mail marketing campaign, you must always keep your company name, logo and motto front and center in order to reinforce your brand in the minds of recipients. Custom labels help ensure that no one will get confused about where the CD came from, and will raise your profile in the marketplace and the community at large.
Newlyweds In Search of an Unorthodox Party Favor for Wedding Guests
There are many ways to say "I love you," but perhaps none more poignant than saying it with a song.
Let your friends and family know how much their presence at your wedding means to you and your spouse by creating CDs – complete with custom labels – that celebrate the story of your romance, courtship and marriage. Make a mix featuring songs that the two of you feel represent your relationship, and don't forget to include the first song you danced to as a married couple at the reception!
Aspiring Musicians
Musicians in every genre and sub-genre imaginable – from rock bands and singer-songwriters to rappers and DJs – require a demo to showcase their work, for fans, fellow musicians and industry heavyweights alike. Printing a custom CD label ensures that your name, website and contact info are easy to read and won't smear or smudge – all qualities that are of key importance whether you're mailing your demo to labels and radio, or simply selling them at shows.
Anyone Who Loves to Give the Gift of Music
If you're fond of expressing your affection by making mixes for your friends, coworkers and romantic prospects, why not elevate your work to the next level with a custom CD label? This low-cost give idea shows creativity and ingenuity, and everyone will love having new music to explore. If you make a lot of mixes, try printing in bulk to help save on cash.