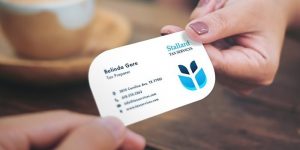 Business cards are the standard form of exchanging information with new and potential clients. In such a small space, you are given the opportunity to encourage people to do business with you and continue your branding process. How your business card looks is a direct reflection of who you are as a business. They are an essential part of your marketing plan, so it makes sense to want them to be the best they can be. But what are the qualities of a great business card design?
Clearly Displayed Contact Information
A business card is created in order to provide contact information: make it easy to find! Clearly marking where certain details are to be found, with bolded headings or fonts, is helpful to many people. Also, you will most likely be listing several ways to contact you. If you prefer the use of email over your business line, for example, you can make that a larger font or list it higher in the design scheme. Furthermore, if you are planning to include an image, you can use both sides of the card so that you do not have competing information. Having a logo and company name on one side, with contact information on the reverse can help eliminate any confusion.
Streamlined Design
It is important to streamline what you plan to include on your business card because there is a limited space for pictures and text. Finding a balance with what you want to include and any design elements you want to incorporate is vital so your card does not end up looking too cluttered. Clutter can end up looking illegible and defeats the purpose of sharing information. Clean lines, legible fonts and only pertinent information makes a business card function properly. If you are unsure of how to best achieve this balance, working with a template for your design can help you eliminate the excess.
An Interesting Design Element
Using a compelling image, an unusual yet legible font, or a unique use of color or shape can help to make your card memorable. Creating a business card that is streamlined and has clearly displayed information does not mean you have to eliminate creativity. In fact, incorporating an interesting design element can help promote interest in the products or services that you are offering. Making your card memorable increases the chances of you being the person that people call over your competition. If pre-made templates leave you wanting more, you can always use the services of a graphic designer.
A business card that combines the above three qualities can create a memorable impression. The idea is to have a card that stands out to the recipient so that the next time they are in need of what you offer, they will think of you before they think of your competition. You are creating "a-ha" moments with your business card. For example, if you are a florist and someone you meet is in need of floral arrangements they will call you because, "A-ha! I met a florist and I know they gave me their card." These types of associations happen when a business card makes an impact. Make sure that yours does!