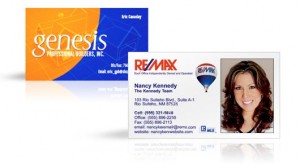 You need business cards – period. Whatever industry or profession you're in, you're going to need a card to serve as a networking and promotional tool. You can hand them out to people you meet to enhance the effectiveness of your networking efforts, display them on your desk, or slip them in customers' bags with every purchase. Business cards are traditionally one-sided – with contact information on the front and a blank backside – but double-sided business cards can actually double your value and make your cards more useful than ever.
Include a Map – or a Picture
One way to make double sided business cards reach their full potential is to include your company name and contact info on the front of the card and a small map or detailed directions to your business, store or office on the back. This will make it easier for your customers to find you again, and will prove especially useful if your business is in an unusual or easy to miss location. Double sided cards also give you the option of featuring a full color photograph on the front of your cards. If you make your living as a photographer, artist, or fashion designer, you can now display an example of your work that will help expand your clientele. Instead of shrinking the image down to a paltry thumbnail, you can now feature the image in all its glory and use the back for your contact info. Double-sided cards can also benefit actors, models, and other performers who need a picture of themselves on the front of their business cards.
Use the Back for Scheduling Appointments
Appointment scheduling is another way in which double sided cards can be used to the utmost. Many doctors and dentists use double sided cards in this manner. One side of the card features the appropriate contact information of the office or clinic, while the other side provides a space in which to write a return date and time for the patient's next appointment. This ensures that the patient will know precisely when and where to return and won't forget about his or her followup appointment. Other professionals who may benefit from using double-sided business cards include personal trainers, hair stylists, makeup artists, veterinarians and pet groomers, personal shoppers, real estate agents, and more.
Double sided business cards allow you to include twice the information as a standard card. If you want to make sure you're really getting the most out of your business cards, double sided cards are the way to go!
(Visited 95 times, 1 visits today)