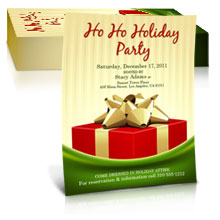 Consider these marketing and design tips to help you generate a better response with your next flyer:
Address a problem.
Use a strong headline like "Need more storage space" that identifies with your target customer.
Solve a problem.
Support your flyer's headline with specific benefits. For instance "Easy, affordable closet solutions", or "$199 Closet Makeover" will grab your clients' attention.
Keep it clean.
Flyers should not contain more than 1 or 2 different fonts. Highlight important text with variation in size, color and formatting styles.
Balancing Act…
Use quality photos to balance out text on your flyer. Captions under images will likely be read first.
Don't be afraid to leave some white-space and use brief phrases instead of dense paragraphs.
PrintRunner.com offers discount deals on high quality, full-color flyers. For a hassle-free process from concept to print, upload your own logos and photos to their professional, pre-designed templates. You can also use a Microsoft Word flyer template to easily create your design.