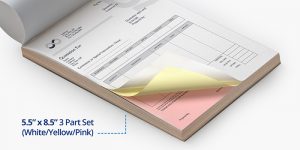 Record keeping and account maintenance are neither the exciting or glamorous side of your business. But next to satisfying your customers, they may be the most important part. The labor of your efforts won't mean much if you can't easily keep track of those customers who have paid and those who still have a balance due.  Maintaining accurate records can be a nightmare when the tedious task begins to eat away at your company's productivity and profitability. Businesses both large and small often struggle to reach their goals because record keeping and billing are inefficient. Any time spent on back-office administration is valuable time that could be spent in front of your customers, generating revenue and profits.
Use NCR Forms
One answer to this problem is the implementation of customized carbonless (NCR) forms. Customized forms not only present a professional image to your customers, they also help you maintain well-organized records that can greatly improve the efficiency of your back office. NCR forms enable timely clearance of invoices, easy and fast product returns, and sustained business growth. Generic forms from the local office supply store can be perceived as unprofessional, and won't provide your business with the same level of credibility as customized forms.
Remember: what works for a plumber probably won't work for an interior designer or a pest control company. Forms should be designed for your business' industry-specific needs. Your logo, address, contact numbers and website should all be prominently displayed on your forms. Online print companies tend to have the lowest prices on customized forms, but if you don't have a marketing coordinator and you're not a graphic designer, ordering items online can be confusing. Printrunner.com has professional designers that can offer advice, answer questions or help you create forms that meet your particular requirements.
 PrintRunner.com's pricing is also hard to beat on customized carbonless NCR forms. In addition, shipping is FREE on all items throughout the month of April with no minimum purchase. This is a tremendous savings on top of their already discounted prices. It's a great time to order everything your business needs to get on the road to better productivity.