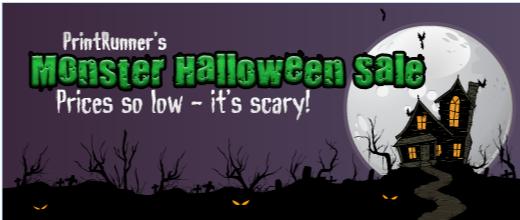 Everyone knows that the holiday season can be a tremendous moneymaker for retail businesses in a variety of different niches. But did you know that Halloween can be nearly as profitable as Christmas? This oft-overlooked autumn celebration has established itself in the American consciousness as more than mere child's play – it's a nationwide phenomenon, and depending on your company (and how you choose to market your products), it could mean a huge boost to your sales revenue. One of the best ways to capture customers' attention and highlight your seasonal offerings is to create a full color Halloween-themed catalog. Just as standard holiday catalogs spread joy and cheer, it's easy to modify the format to create an appealingly spooky look for October. Here are some hints for giving your color catalog a creepy touch without overshadowing your merchandise in the process:
Get creative with color. Since you're investing in full color catalog printing, why not make the most of it? Using Halloween-appropriate colors like orange, black, purple, blood red, ghoulish green and ghostly white will communicate your catalog's theme quickly and effectively. It's particularly important to adhere to your color scheme on the front and back covers, but don't forget to reinforce the colors throughout the body of the catalog.
Choose spooky fonts – but use them sparingly. Novelty fonts are an excellent option for imbuing your catalog with the spirit of Halloween, but be forewarned that they can be difficult to read! Try to reserve novelty fonts for headlines or sub-headers, which are larger and therefore more likely to retain their legibility. Smaller print, like product descriptions and ordering information, should be in a more standard font.
Think "creepy" when it comes to choosing imagery. Of course, one of the best ways to convey to readers that they are holding a Halloween catalog in their hands is to include creepy pictures! Whether you're selling candy or home décor, why not photograph them against black fabric festooned with cobwebs, or in a "mad scientist's laboratory" setting, complete with bubbling beakers and test tubes full of mysterious green goo? If you're marketing costumes or clothing, have your models go trick-or-treating or stage a costume party for the cameras.
Select festive borders for your pages. Borders are subtle and easy to incorporate into your catalog design, but they can have a big impact on readers. Look for borders that feature pumpkins growing on the vine, skulls and bones, or bats and spiders – anything, as long as it calls Halloween to mind!
Above all, remember to have fun with your Halloween catalog layout, and your customers are sure to have fun too.
Check out the PrintRunner coupons & promotions page for more information about PrintRunner's Halloween Sale.  Prices so low – it's scary!
(Visited 93 times, 1 visits today)