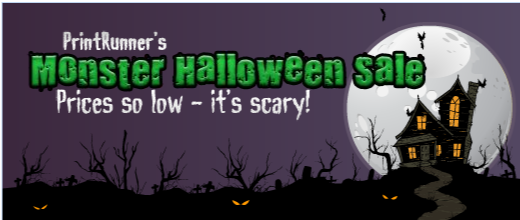 Christmas may get most of the glory, but when it comes to holidays, it's hardly the only game in town. Halloween – in many ways the polar opposite of Christmas – is catching on in a big way, and recent consumer polls have shown that Americans are actually planning to spend more on Halloween this year than last, despite the continued effects of the recession. Perhaps the appeal lies in turning the tables on what scares us; in other words, taking our fears and making them fun. Maybe Halloween appeals to the child within all of us, the child who still remembers the magic and mystery of exploring the neighborhood on a cool autumn night, the uncertainty of never quite knowing who's behind the mask. Or maybe – just maybe – people love their candy! In any case, October promotions can provide a great excuse for getting creative with your print materials, whether you're using them for business or pleasure.
Here are some ideas:
Catalogs. If you sell goods or services, you already know that Christmas catalogs can be huge moneymakers, but are you aware that Halloween-themed catalogs can also be fantastic sales boosters? Retailers that are selling items related to Halloween – from costumes to party decorations to gourmet candies – should absolutely invest in catalog printing this October. But even if your wares have nothing to do with All Hallows Eve, a gleefully ghoulish catalog can still inspire readers to pick up the phone, stop by the store or log on to your website and place an order! Colors, fonts, borders and photographs can all lend your catalog a frightful feel without a ton of extra effort.
Stickers. People of all ages, from the youngest kids to adults, appreciate stickers. They're eye-catching, portable and just plain fun – and the holidays offer a perfect opportunity for creating festive stickers that will give extra appeal to your marketing campaign. Remember to keep it simple and always choose color over black and white. Even if you don't have a business to promote, stickers are great to have on hand if you're a teacher or you work with children. Hand them out as rewards for a job well done – or pass them out on Halloween night in lieu of candy.
Posters. One of the simplest yet most consistently effective ways to promote any event is with posters. Since posters are only one sheet of paper, they're easy to design and affordable to print and distribute. Use Halloween-themed posters to advertise sales, fundraisers, community events, local haunted houses and more!
CD Labels. If you're a musician, creating a scary CD label could help your demo or self-produced recording fly right off your merch table – even better if the disc contains some Halloween-themed tunes! Even if you're not promoting your own music, custom CD labels are great for gifts or party favors.
Business Cards. Finally, why not spice up your standard business cards with a little seasonal magic? Whether you work in a field related to Halloween or you simply want to add a touch of fun to your cards, a bat, pumpkin or ghost lends a whimsical feeling and will surely bring a smile to people's faces.
What are your favorite ways to use print materials for promotions in October?
(Visited 61 times, 1 visits today)