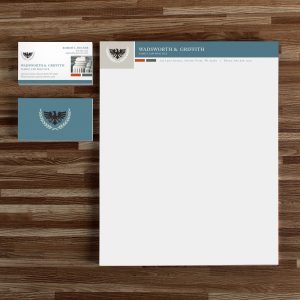 Creating custom letterhead for your company is a key step in the branding process at any time of year, but it's particularly important during the holiday season. The holidays are traditionally a time for correspondence, an opportunity to reconnect with loved ones who you've fallen out of touch with or who have meant a great deal to you over the years. Savvy companies usually take this opportunity to thank their loyal customers with holiday newsletters, coupons and special end-of-year sales offers, while professionals in every industry – not just retail – use the final quarter of the year to strengthen ties with colleagues and clients. Holiday letterheads will help enhance the look of your paper correspondence, whether you're using it in a personal or a professional manner.
Here are a few of the ways in which holiday letterhead can benefit your business:
It adds extra flair!
Just because the end of the year is when most people send out their holiday correspondence doesn't mean you can't set yourself apart from the crowd! Instead of choosing letterhead for the winter holidays, why not tailor it to your favorite day of the year, whether it be St. Patrick's Day, Halloween or the 4th of July? People will get a kick out of your individuality – and everyone will remember your letters!
It give letters a much-need injection of personality.
Custom letterhead printed with a festive holiday design can bring a sense of wonder and joy to even the most jaded recipient. Why? Because it adds that little "something extra" and gives your letter a human touch – and a healthy dose of personality. Everyone loves holidays, and letterhead that celebrates Christmas, Hanukkah, New Year's, Thanksgiving, Easter and more allows your letters to seem fun and festive without overshadowing the content of your message.
It effortlessly communicates your company's professionalism.
A business without custom letterhead that displays the company name, logo and primary contact info hardly appears legitimate in the eyes of customers. No matter what industry you're in, it's important to give your work a professional touch, and sending letters on plain paper just won't cut it. Holiday letterhead gives you a chance to display your commitment to professionalism without abandoning your playful spirit.
No matter what holiday you choose to celebrate with your design, custom holiday letterhead is an affordable way to give your letters extra visual appeal. Email may be easier to use, more affordable and faster to arrive at its destination, but regular "snail mail" letters can still be personalized in ways that online communication cannot. If you have letterhead already – whether for business use or just for fun – why not have some holiday letterhead printed as well? Most online printing companies offer online design assistance, as well as customizable templates for you to choose from, and you can create and place your order from the comfort of your own home. Take the plunge and make this holiday season a memorable one!