JM Fitness is Janine Myers, a full-time fitness trainer working out of Pepperell, MA. Janine is the embodiment of fitness. She has the passion and the attitude people look for in trainers.
If you're stuck in the battle for better health, you want Janine right there with you in the trenches. Janine is also a marketing marvel. She's long discovered the secret to a successful career: self-promotion.
I got the chance to talk to Janine. Let me tell you her amazing story and how she got to where she is today.
Janine the Machine
To those who barely know Janine, she's JM Fitness. But to everyone who has spent time with her, she's better known as Janine the Machine. And that's more than a catchy nickname. She's built quite a reputation to earn it.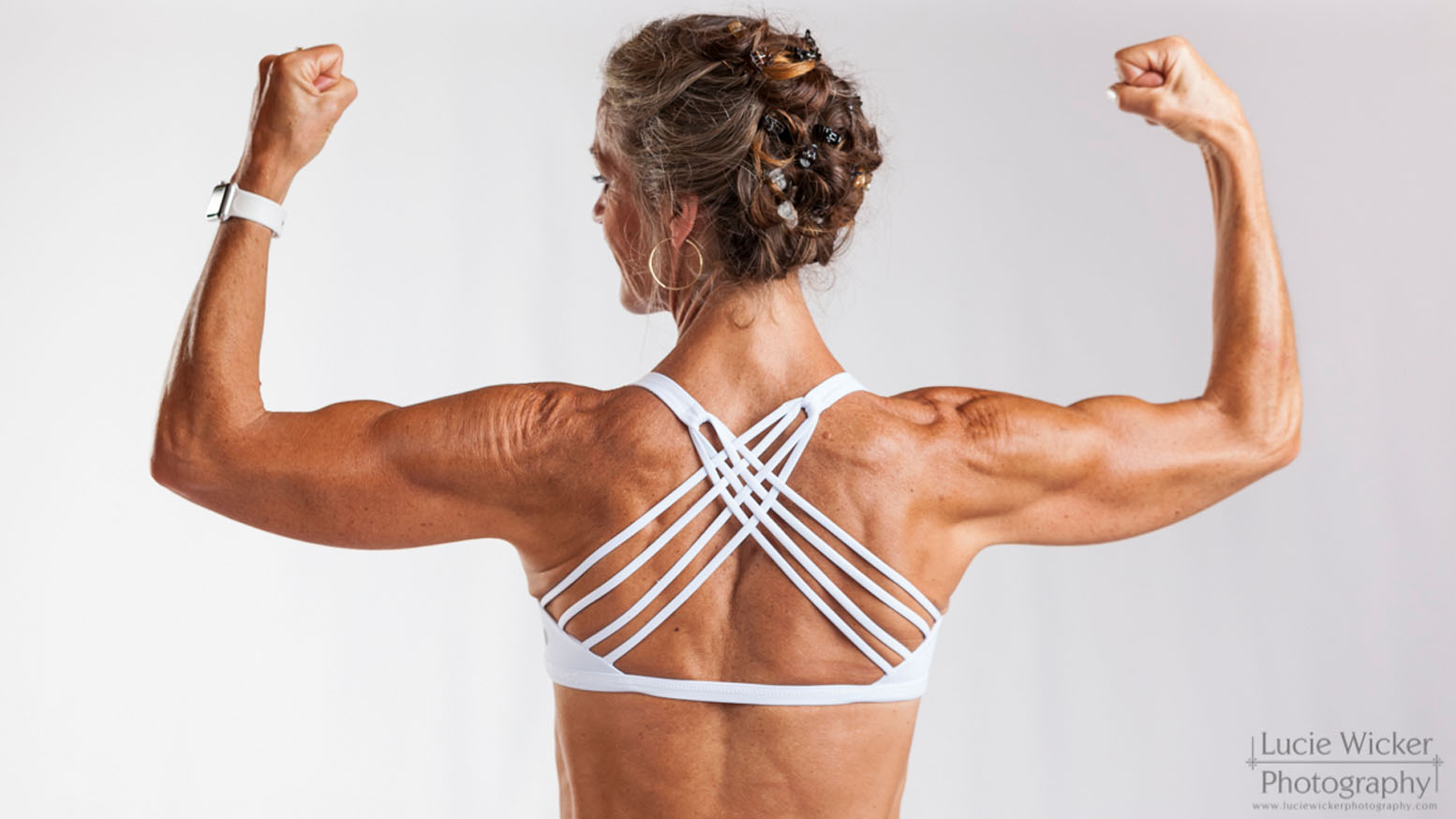 Janine was born and raised in England. As a child, she has struggled with a gland disorder that caused her to gain weight. She spent years on a special naturopathic diet to correct the issue but the journey wasn't easy.
She was bullied at school because of her condition. The daily teasings—among other factors—pushed Janine to focus on health and fitness.
"As you can imagine, health and fitness became very important to me as I got older, recognizing that for me it was an extreme necessity to pay attention to what I ate and how much exercise I got."
Luckily, Janine grew up in a home where organic food was all they ate. Exercise was never a chore but rather an enjoyable activity.
"I thank my Mother in particular for modeling a healthy lifestyle, and teaching me the importance of maintaining health and fitness as a lifelong pursuit."
She has since dipped her toes into the fitness industry over the years and taught in aerobics and ballet classes here and there. It was only eight years ago when Janine started working on JM Fitness on a full-time basis.
Breaking a Sweat
Starting a business is hard work. But both fitness and business have ways of teaching people to commit. You have to go out and give it your all. The road was tough for Janine, especially in the beginning. But she had the right attitude. And she's genuinely in love with her job.
"It was definitely a challenge having super small classes in the beginning. But knowing that [building a business] would take time, some marketing, and patience… was really helpful."
In the end, Janine's hard work has paid off. Today she has a community of clients who enjoy each other's company.
"[It] is super rewarding knowing that I'm building a fitness community among my class members. I watch them come in… and encourage each other… [We] have created a safe place for people where they feel accepted and supported on their fitness journey."
But the most rewarding part, according to Janine, is seeing her clients transform their minds and bodies. They get a sense of how fun physical fitness can be. Not only do her clients get more energy, but they also feel better mentally. "I feel privileged to play a part in improving people's lives on a daily basis", says Janine.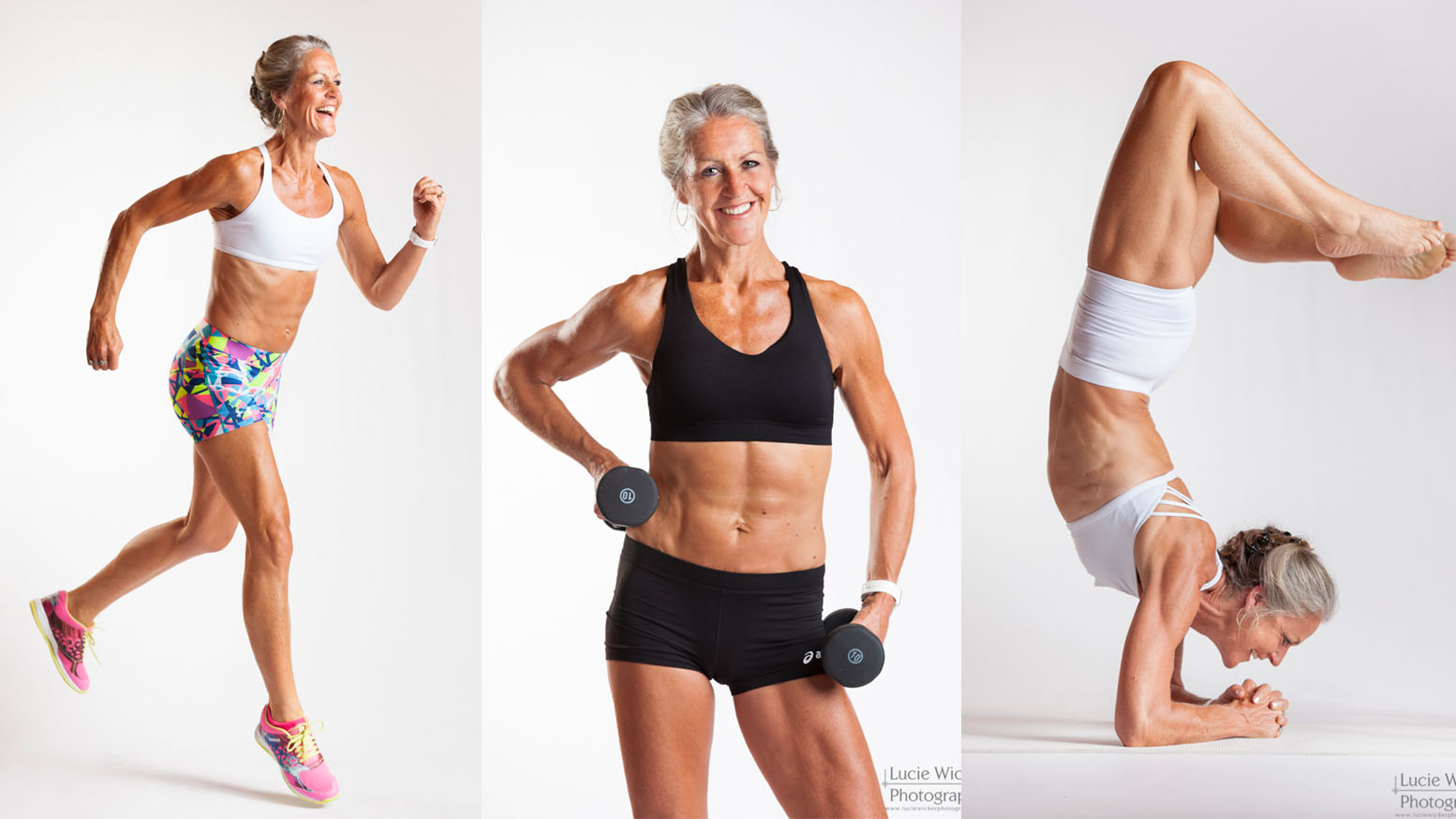 Taking the First Step
Janine explained to me that sometimes people are intimidated when it comes to starting their personal fitness journey. They think they're being judged by their fellow class participants.
In reality, everyone is too busy working on their own fitness goals. But should you need a helping hand, Janine's non-judgemental community will be there to support you.
Fitness Misconceptions
There are several misconceptions surrounding personal fitness. Janine was more than happy demystifying some of these notorious myths.
"[One] misconception is that you need to get in shape to work with a trainer. That is what I'm here for: to get you in shape. I have had many people say 'Once I get a little more in shape, I'll come meet with you!' All my existing clients know that I can give anyone a workout no matter their fitness level."
That's what (personal trainers) are here for – to get you in shape.
Click To Tweet
Janine can work with beginners and professionals alike. She does this by modifying workouts to cater to a client's specific needs. So there's really no excuse. Which brings us to another misconception.
"If you have an injury, you can still work out! As soon as something hurts, people feel as though they need to stop doing all exercise. But generally an injury is only affecting one part of your body and there are still many things you can do to keep the rest of your body in shape while allowing the injury to heal."
And finally, we need to stop exercising specific areas of the body in hopes of decreasing fat in that particular area.
"In reality, we need a balanced workout that equally strengthens our muscles and burns calories that will decrease body fat. Body fat is what is covering those muscles and they will not show until that body fat goes away. You might have a six pack under your belly, but you can only see it if you work to lose overall body fat with diet and exercise."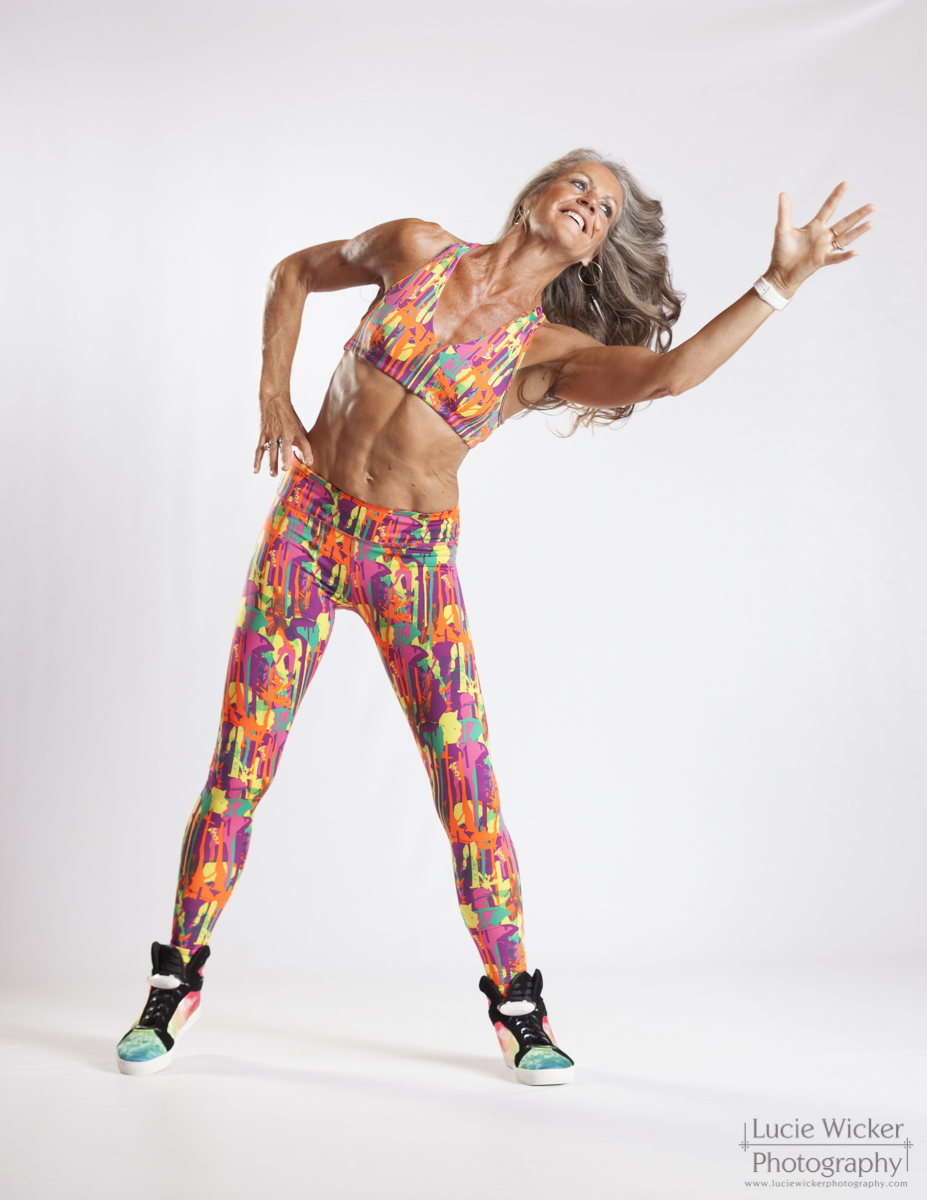 A Lesson in Self Marketing
At the start of Janine's career, she had to promote herself through word of mouth and social media. She worked on her website and began writing articles. It wasn't long before she had her own mailing list.
"The website was a great place to send my clients for recipes, articles, workouts, and the class schedule. I started a Facebook page and began posting on there as well. I created a logo that could be included in all marketing materials and found a catchy web name for myself… Janine The Machine. That name is really more known than JM Fitness."
But over time, Janine realized she needed a more aggressive form of marketing to really get her name out there.
"I send out Every Door Direct Mail (by PrintRunner) twice a year to everyone in my town. Occasionally I'll include one or two routes from a neighboring town as well. I use social media too – Facebook, Instagram, Google. I give all my clients a Christmas gift that has my logo and contact info on it, and I put my beautiful PrintRunner [postcards] around town on the lamp posts and in the stores that allow me to do so."
Janine also goes to local events so people get to see her in person. She also does an annual fundraiser for a local food pantry and teaches in charitable fitness events that take place in her town.
Working with PrintRunner
We're glad that Janine finds PrintRunner a printing partner that's able to live up to her expectations. It really makes us happy to play a small part in Janine's story to success and happiness.
"Working with PrintRunner has been a great experience. The customer service is very helpful, and the flyers were produced quickly and were of very high quality… It's expensive to do Every Door Direct Mail, so keeping the printing cost low is really important for it to be cost-effective."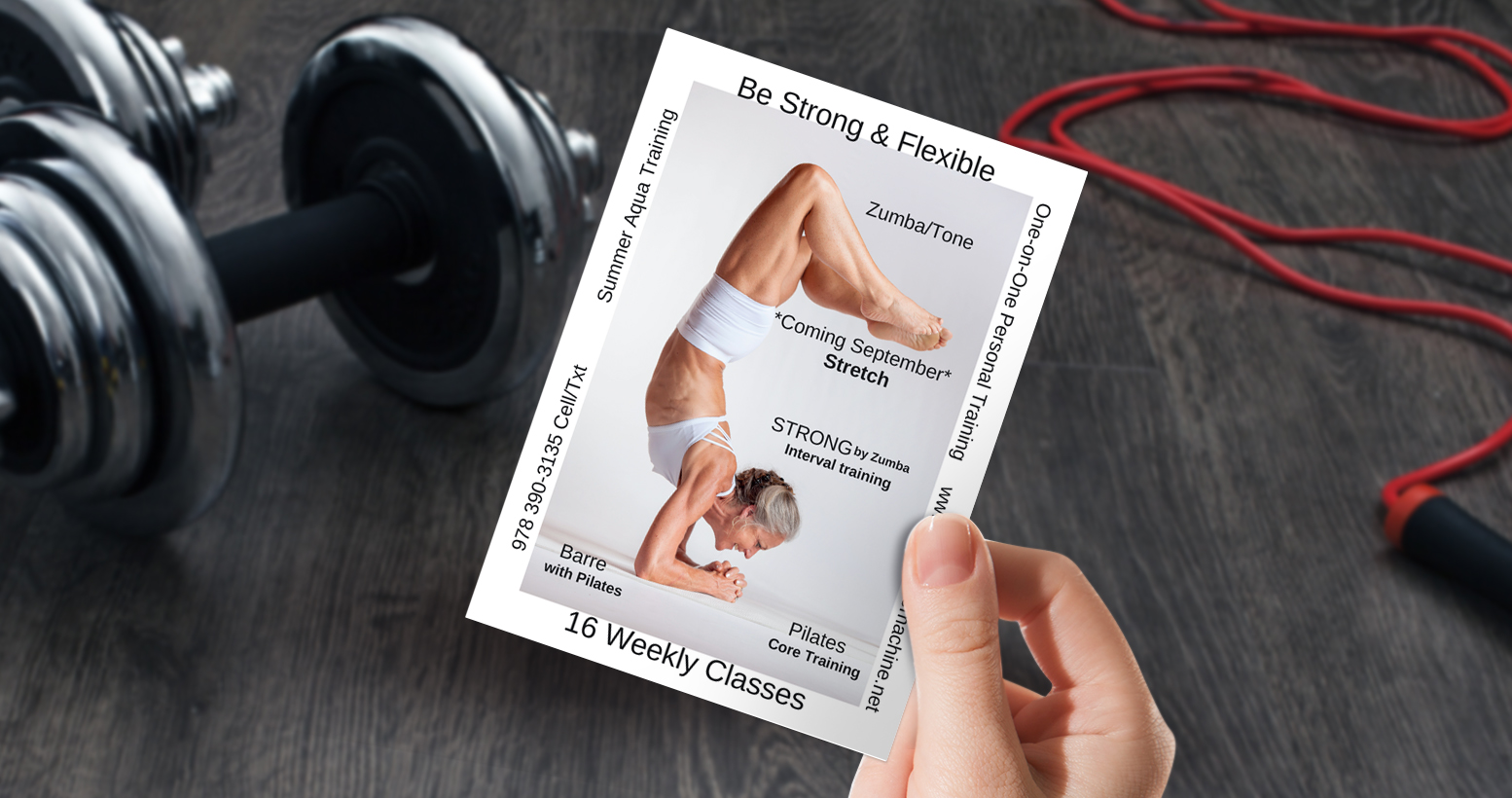 Janine uses her postcards like overgrown business cards.
"I have used my postcards constantly! I keep them in the car… I put them in stores and offices whenever I can. The visual is very important and eye-catching for people, then I list my services and classes on the back side. I really use them in preference to a business card because they have so much information and are great for people to put on the fridge so they remember my class schedule."
Print your own postcards at PrintRunner.
Do What You Love
By pursuing her dreams, Janine was able to make it as a personal trainer and wakes up every day doing the very thing she loves.
"I love what I do. I think being in the fitness industry is one of the most rewarding jobs that you can do. I'm very lucky to have wonderful clients whom I really enjoy spending time with."
I think being in the fitness industry is one of the most rewarding jobs that you can do.
Click To Tweet
Asked if there's anything else she'd like to add, Janine had this to say:
"I think it's super important for a trainer/fitness instructor to be an inspiration and an example to your clients. You have to practice what you preach, and it can't be 'do what I say and not what I do'. You are the person they are going to look at to see what is possible and what happens when you make your overall health and wellness a real priority."
Janine is 54 years young and she still runs 16 classes weekly and runs four to five times a week to stay in shape. She eats and lives healthy. She's doing her best like any other healthy human being.
"It's not that I encourage my clients to try to be like me, but I encourage them to work towards being the best of themselves that they can be."
To learn more about Janine, visit her website or follow her on social media:
Twitter – @janinethemchine
YouTube – Janine Myers
LinkedIn – Janine Myers
How has PrintRunner helped grow your business? Tell us! Send us an email at blog@printrunner.com