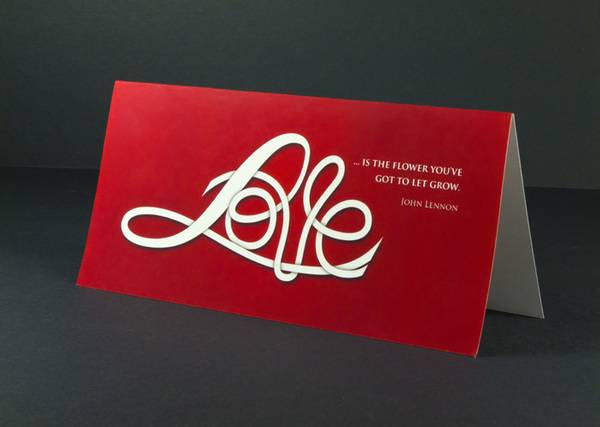 Valentine's Day cards still sell like pancakes every February 14. Your romantic messages can be relayed faster via phone call, text message, or e-mail, but greeting cards provide a more intimate approach in expressing your love and admiration for that special someone. The fact that greeting cards are tangible and can be held with your hands make these print materials a preferred choice for the true romantics out there.
For those running a store and wishing to sell greeting cards this Valentine's Day, one of the problems you may encounter is your lack of design skills to create the perfect card design that captures the spirit of the day and your brand. As a business, you not only want to provide the best products for your target market, but also include your branding on all marketing tools you hand out and campaigns you run. Having the skills to use a graphics editing software lets you create a lovely Valentine's card that your customers will want by incorporating your logo and colors seamlessly into the design.
With PrintRunner, you can make your own Valentine's Day cards online with our easy-to-use online design tool! This feature provides you the basic functions of a graphics editing software (inserting text, shapes, and images from your computer or a stock image site) to create a professional yet personal greeting cards for your customers. Best of all, our online design Tool is free for use!
If you're interested in designing printing out your Valentine's Day greeting cards with us, here's what you need to do:
Visit the Design Your Own File page at PrintRunner.com
Click on 5″ x 7″ Greeting Cards (which is the only size we're currently offering for greeting cards)
Once you're on the page, start designing!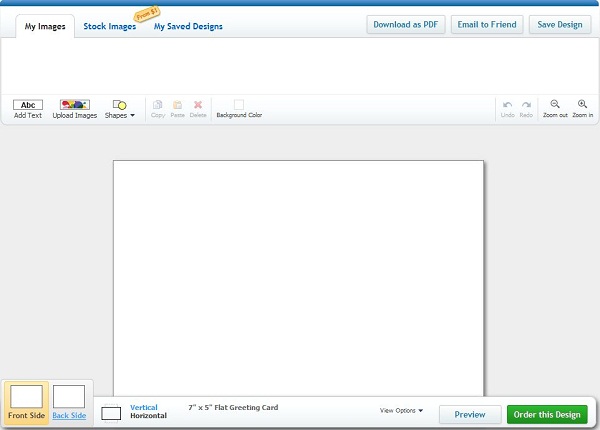 Add Text
Click on this icon to open a text bar on the chosen side of the card (front or back). You can change the font face, size, and color on the menu bar of the online tool.
Images
You can upload images from your hard drive by clicking on the Upload Images icon. If you want to search for high-resolution stock images for your greeting cards, click on the Stock Images tab and search for the keyword of your preferred image. Each image included in your card design costs at least $1US. Please be aware that the cost of the stock image depends on its size – a larger version of the stock image will cost more than its smaller version.
Shapes
Choose from common shapes (rectangle, line, circle, etc.) to insert in your design for added.
TIPS:
Change the background to a color that fits your design.
Design the front and back side of your greeting card accordingly. You can also change the orientation of the card by choosing from horizontal and vertical.
Make sure that the images being uploaded have high-resolution so that when you expand the images, they won't look pixelated and blurry once printed out.
If you're not done with your design, you can save your design on your account so you can edit it upon logging in again.

4. Once you're done, you can download the design in PDF and send it to our Free File Check. This ensures that your design meets the standard requirements for printing it correctly and helps avoid technical errors to be committed by the printing company.
To use this feature from the site, click here to enter the page and indicate Greeting Cards as your product to be checked. Select "5" x 7″ – Flat" as size. As for the color, choose "4/0" if you only designed the front side and "4/4" if you have full-color design on both sides. Select the Paper and Envelope Choices of your liking. Upload the design file and proceed to get your file proofed, which takes up to 12 hours at most before you receive the reviewed file in your e-mail.
Note: When downloading your design as PDF file, please be aware that the stock images you used will appear in low resolution. This is because you have to purchase the images first to clear them for proper use – the watermark on the image is proof that you must buy them first.  Therefore, if you place an order for your design without paying for the unpaid images, you will end up with greeting cards made up of pixelated images with watermarks on them.
To avoid this from happening, you must run your design through our free file check. This way, the team will alert you of the stock images that need to be purchased. With your approval, we can buy the images on your behalf. You can also call us at 1-888-PRINT-89 (1-888-774-6889) so you can correspond with the customer support team regarding this matter and solve the matter immediately.
If you're satisfied with the finished product and feel that you won't need to send your file for proofing, proceed to ordering your design. You will select the specs for your greeting cards (Quantity,  Paper Type, Envelope Choices, Shipping Time) to finalize the order and proceed to the cart.
Once again, keep in mind that these Valentine's Day cards should not only help your customers send out their love during the holiday, but also remind them of your brand with the hopes of turning them into a lead, if not a regular client. This is made easier using PrintRunner's comprehensive printing services, from the design down to their full-color production!
Disclaimer: We at PrintRunner have posted images on this post mainly for design inspiration purposes. Click on the image to view their source page. Also, we may not be able to produce the exact options and material used on the featured product. Call 1-888-774-6889 to learn what design choices you can select for your print order.