"Every child is an artist. The problem is how to remain an artist once he grows up." The quote is credited to Pablo Picasso, Spanish painter, sculptor, poet, and overall creative genius. And he's right. After all, to a child, the world is a big canvas.
Some kids outgrow their creative hobbies. But some are determined to carry their artistic pursuits into adulthood and put in the effort to make their passion work.
We know someone who can attest to this.
An Artist Now and Then
We first came across Jindra Noewi through a tagged post on Instagram. It was a snap of her postcards with the most adorable dog art designs. Jindra included a short but sweet shoutout for us and since then, we were hooked.
We asked Jindra how she started out as an artist, and guess what she said?
"As a little kid."
At only two years old, Jindra already had her work printed in a kid's magazine, which her mom keeps a copy of. "It was a human figure," she fondly recalls. "But not just a simple stick figure, it had a hat and if I remember correctly, even a face."
She went on to share how much she enjoyed drawing as a child, starting with art instructions then into attending art classes for seven years. She adds how she found inspiration from her art teacher and wanted to draw as good as he did.
From drawings as a child to painting as an adult, Jindra has since progressed to creating nudes and pets in realistic style paintings, as well as illustrations. Although she studied fashion design in college, she has never worked in the fashion industry.
When she's not painting, Jindra works for Splat Paint, a company that does artistic wall finishes including murals, faux finishes, plasters, stencils, gliding, and more.
Four-Legged Muses
If you check out Jindra's Instagram account, you will find her feed filled with dog illustrations, artworks, and photos. It's easy to guess what her favorite subject is, but we wanted to know the story behind the inspiration.
"I started painting a lot of dogs after my first dog passed away. He was a bull terrier. I am on my third bull terrier since then. Her name is Leena and she's a rescue."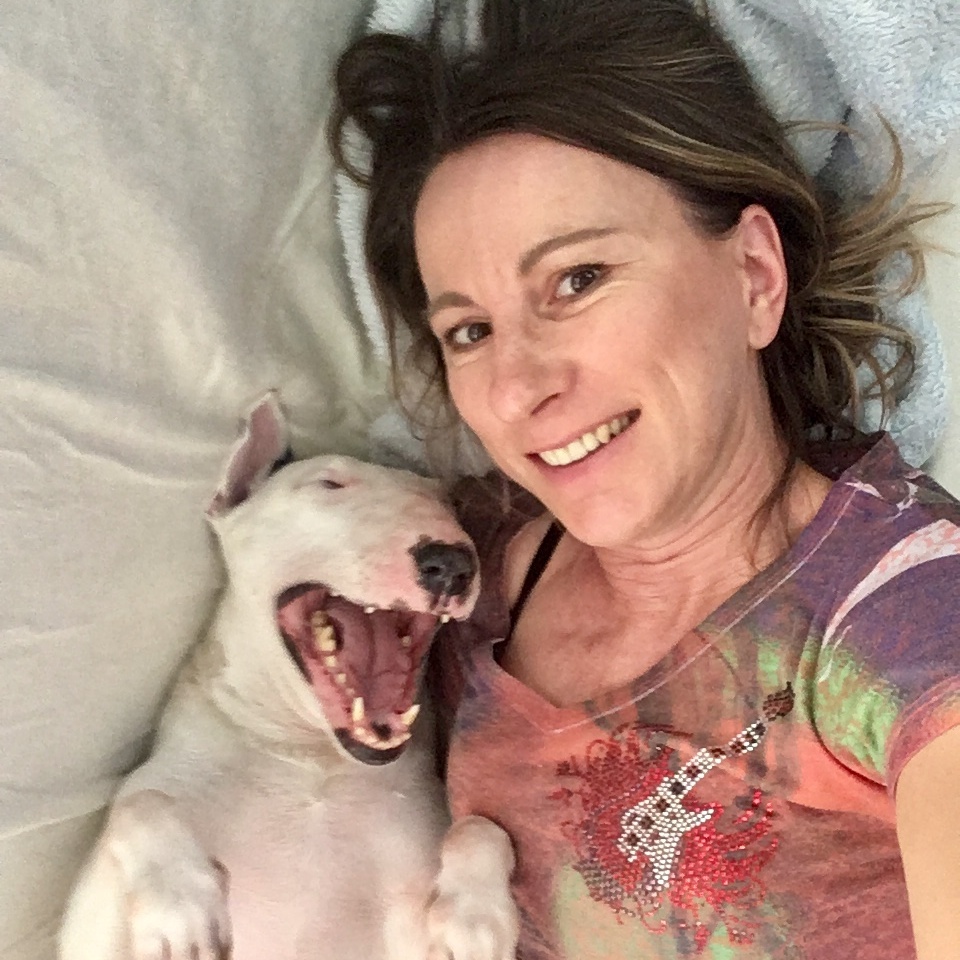 After the death of her first dog, Jindra got involved in a Facebook group that helps rescue bull terriers. Helping Bull Terriers Worldwide/Save Our Siblings (HBTW/SOS) provides financial help for dogs in need of medical attention.
Jindra does her part by donating her paintings to help them raise money to fund the rescue dogs' needs.
Creating Connections Through Art
Having a full-time job keeps Jindra from fully engaging in the art community. But she doesn't let that get in the way. She focuses on channels where she can make an impact through her work and connect with people who share her passion, both from the art world and from the animal advocates.
She shares how her painting videos resonate with a lot of her online followers. She sometimes paints dogs that have passed away for clients who want to hold on to something more than the memory of their beloved furry friends.
She also paints commissioned artworks featuring companion animals who are their human's ray of sunshine.
"I think they love it. People love watching videos of how I paint the dogs."
Juggling her job and her art is a tough act to balance and Jindra sees this as one of the most challenging aspects in what she wants to accomplish.
"My full-time job is also artistic, so the challenge is to find the time and energy to do my own art, which I mostly do on the weekends. Balancing personal fun time and art time is tough. Plus, finding the time to promote myself… it's like having two jobs."
Self-Promotion Through Postcards and Business Cards
Jindra shares how the HBTW/SOS Facebook group is her main source of visibility as an artist. She is grateful for the exposure as it connects her to potential clients.
To make use of every opportunity for self-promotion, she sends out her artworks with a Thank You postcard and a magnetic business card that she printed from PrintRunner.
"When I ship out my artwork, I ship it with the Thank You card and magnetic business card that I printed with you. It gives me more chances to get commissioned dog portrait in the future."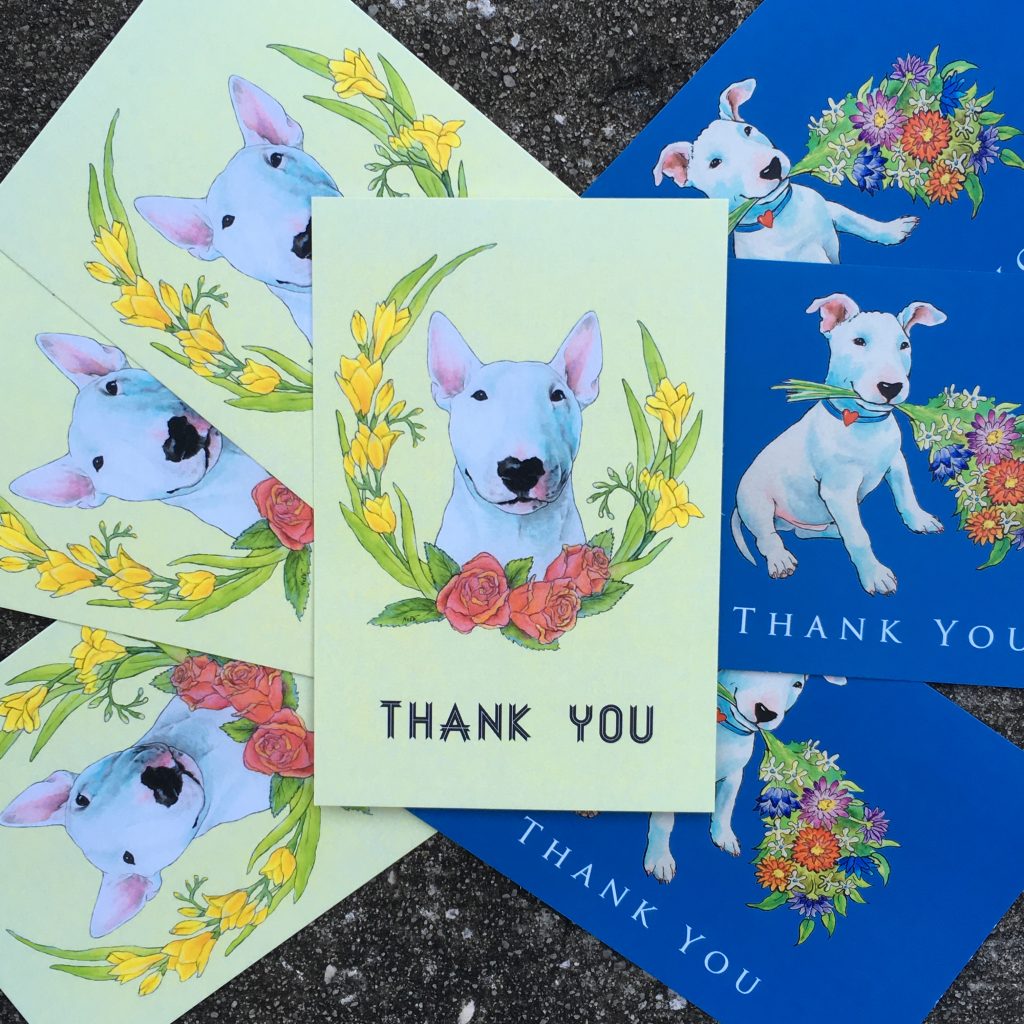 Thankful for the trust, we asked Jindra how her experience was with us.
"My experience with your company was always positive and I was always happy with the products. Thank you for doing a great job!"
Click To Tweet
Jindra is a woman of few words. True to this, she leaves this advice to anyone who wants to pursue their passion but are held back by self-doubt and uncertainty.
"Paint what you are passionate about. It shows in the art that it was made with love."
Catch the latest art by Jindra by following her on Facebook and Instagram.
How has PrintRunner helped you and your business?
Tell your story at blog@printrunner.com.