Change is good. Just ask Kevin Caron. This artist is a great example of how transitioning from real metal sculpting to 3D printing can become a sweeter success.  
Kevin Caron is an inspiration. As someone who appreciates art and enjoys creating them, I am drawn to his story and his unique take on art, life, and overcoming challenges. Here's how he made it work.
Creating Sparks by Melding Modern With Tradition
Kevin is a self-trained sculptor whose medium was fabricated metal before going into large format 3D printing. He is well-known for his welded, large scale metal pieces using found and used metal objects as his medium. His sculptures are unique pieces that evoke sensuality, contoured illusions, and confounding compositions.
Today, he has about 50 private and public commissioned works under his belt which are on display across the United States.
An Accidental Start in the Arts
His start in the art world was purely by accident. One day, he made a privacy screen from a piece of a steel conveyor belt for his lawn. People loved it. He then made a fountain in the same material and got more compliments. Soon, people were requesting more fabricated pieces from him, so he then began creating fountains, bells, and sculptures part-time.
During this time, he drove an 18-wheeler full time for several years before going full time as a sculptor in 2006.
A Seamless Transition
Kevin was already using CAD (Computer Aided Design) when designing his metal sculptures, especially for his commissioned works. He became interested in 3D printing when his brother-in-law sent him a small 3D-printed hand. He was hooked from that day onward. The transition was seamless. It helped a lot that he already knew CAD, which is the tool needed to create the files for 3D printing.  
He started exploring 3D resin printing, trying to bring to life the concepts in his mind using technology. For Kevin, the creative process for 3D printing is no different than what he uses for sculpting metal.
"It's all about the form, proportion and, if it's site specific, the location. If it's a commission, the people also often influence a design, all of which is true whether I am making a metal sculpture or a 3D-printed one."
In 2016, he had his first exhibit featuring a 3D printed sculpture, "Endless Lines: 3-D Printed Work of Kevin Caron," that was held at the Walter Art Gallery in Scottsdale, AZ.
After that, it has been a series of success for him. From selling his monumental sculpture Wherever You Go, There You Are, which is now displayed in front of Whitaker Center for Science and the Arts in Harrisburg, Pennsylvania, to being featured in a national ABC TV special. And in 2018, Kevin was named Phoenix Mayor Visual Artist of the Year.
Marketing Metal With Paper
Kevin's road to success was built from hard work, inspiration, and courage with some marketing savvy sprinkled in. His work became famous through word of mouth, but he also stepped up to the plate to promote his work through social media and print marketing. Kevin Caron's YouTube channel has garnered more than 18 million views with 67,000 subscribers, and the videos he created has inspired countless people all over the world.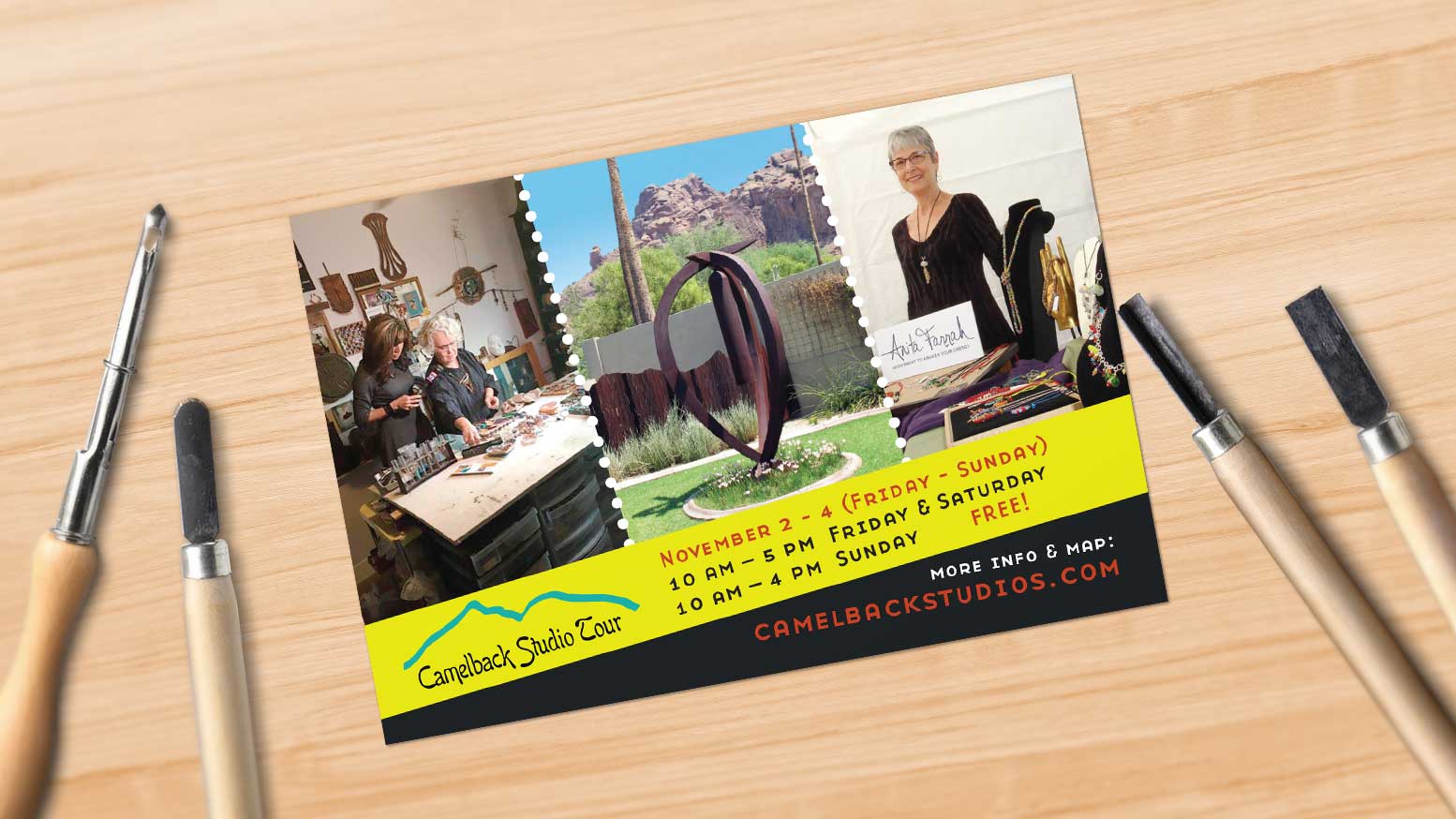 PrintRunner printed postcards for the Camelback Studio Tours. Aside from that, he uses print to reach out to his clients and the community. He says,
"Some people say print is dead, but that is definitely not true! I use my postcards to promote shows, and they really work!"
Kevin knows that the postcards that his designer ordered from PrintRunner are effective because people have something physical to hold onto when they want to come to one of his shows.
"Social media is great, but having something arrive in the mail really seems to make a difference for some people."
His custom-designed postcards have helped spread the word about his upcoming art shows and tours that resulted in hit after hit. He says that PrintRunner is his best choice for print marketing because of their fantastic service and quality.
"It is super easy to upload the designs, proof them, and then get them in the mail amazingly quickly. I'm so glad our designer introduced me to PrintRunner." - Kevin Caron, sculptor
Click To Tweet
 Print your own postcards at PrintRunner.
A Shiny Future Ahead
Kevin Caron is a great example of someone who took a chance to follow his passion and came out a champion. And I think it boils down to his outlook on life and in what he does, despite the challenges he has faced and dealt with.
"Seeing the things in my head come to life is incredibly exciting… It always helps when people "get" what you are doing. When things are rocky, I remember who believes in me and know that I am not alone in my work and thinking." -Kevin Caron
But the most amazing thing about this talented and successful artist is that he isn't done yet. He is currently tinkering with more exotic 3D-printing filaments like copper and PETG, which he has found challenging but very exciting.
"At this point in their development, 3D printers are still pretty quirky, so I'm looking forward to getting these exotic filaments to print properly!"
And when asked what advice he can give to those who are just starting out in life, he said
"Follow your heart. Figure out what makes you happy and make that part of your life, if it's for work or personal."
Click To Tweet
Learn more about Kevin Caron and his art by following him on social media:
Website: http://www.kevincaron.com
YouTube: http://www.youtube.com/kevincaron
Facebook: http://www.facebook.com/kevincaronstudios
Instagram: http://www.instagram.com/kevincaronart