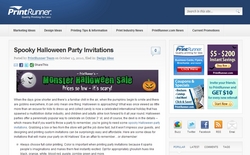 Los Angeles, CA (PRWEB) October 21, 2010
Southern California's own PrintRunner.com, an industry leader in high-quality yet affordable online printing services, has launched their official company blog in order to keep readers up to date on the latest news within the company, as well as trends and developments in the world of commercial printing at large.
The PrintRunner Blog, which is located at https://www.printrunner.com/blog, offers insider perspective on the changing face of the printing industry, in addition to information about how the company is making its practices more environmentally friendly. Detailed design tips and distribution strategies are also posted in an effort to help customers make more effective use of their printed materials in both professional and personal applications.
Mike Zaya, CEO of PrintRunner.com and one of the blog's contributors, states that "This blog will help us connect with our customers in unprecedented ways. We are excited to present readers with a wealth of invaluable information, in addition to extending discounts, giveaways and other exclusive offers that can't be found anywhere else."
Read the entire press release on PRWeb
(Visited 60 times, 1 visits today)