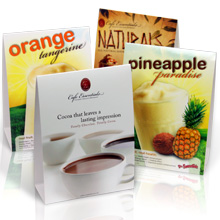 When seated at a casual restaurant, do you pick up the table tent while waiting for your server to arrive? Restaurants use table tents to advertise everything from drink specials to desserts to special events. They act like little billboards, sitting right in front of the customers who have already decided to visit a particular establishment. If they have a good experience, they will likely make a return visit. Restaurants, bars and coffee shops use them all the time, but table tents can be powerful advertising mediums for many types of businesses.
Retailers can create table tents to draw customers to display tables or shelves.  Highlight selling features of your products to convert passing interest into sales. Salons and spas can use table tents to list available services or treatments, or even to promote buying spa certificates as gifts. Dentists and physicians can display them in waiting areas to advertise general info, services offered at that location, or even to highlight health tips for specific conditions.
Table tents are multi-purpose, inexpensive ways to make your message the center of attention in a variety of different selling environments.  Order high quality Table Tents from PrintRunner.com and pay as low as $1.60 each.
(Visited 172 times, 1 visits today)