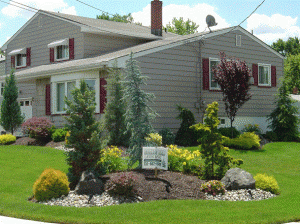 What's the best way to show potential customers what you can do as a landscaper? Sure, there are trade shows, photographs, and showrooms. But why not let passers-by know you're proud of each and every job with a well-placed yard sign that advertises your landscaping business?
There are a few benefits to yard signs. They act as a word-of-mouth endorsement from the home or business owners who agree to let you advertise on their property, and they also offer very low-cost advertising that has the potential to be seen by many people, whether by car or on foot.
How to Promote With Yard Signs
You may have seen yard signs used before in landscaping, either by competitors or even your own company. But there are some ways to stand out from the pack.
Use yard signs to send your potential customers a more personal message, and tell them what's in it for them. Some memorable and pithy copy on your yard sign advertisement, like "This side made greener by XYZ Landscaping", or "Property value boosted by XYZ Landscaping" can go a long way in making your yard sign express more than just contact information. While your work may be great, don't rely on it to speak for itself. Let your yard sign do a little of the talking.
Be selective: only ask to place them on jobs that have more of a "wow" factor—this lets you be selective with your sign placement and increases the likelihood that it will garner responses. If it was a job that was challenging to you or a particular highlight, you'll have more to say about it (and more enthusiasm) when potential customers call to inquire.
Position your signs in places that are most visible during all hours of the day. You can use features like outdoor lighting to your advantage for some free night time advertising, too. This might sound like a no-brainer, but we've seen plenty of signs that disappear in afternoon shade or are placed too far away from the road to read.
Maintain your signs like you maintain your clients' outdoor spaces. Keep a record of where your signs are placed and be sure to check on them, and remove them from the yards of clients who are no longer using your services. This ensures you'll avoid bad press when lawns get overgrown or unkempt – a look you don't want associated with your business.
Full color yard sign printing is available from PrintRunner.com and represents a highly cost effective marketing opportunity for your landscaping business, especially now that the growing season is kicking into high gear.
(Visited 292 times, 1 visits today)