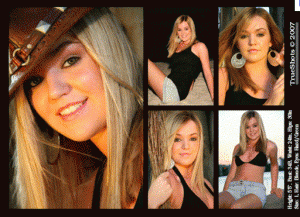 Whether you want to be strutting down the runway during fashion week, or pitching baby formula in a print ad, the modeling tool that you'll need to get these opportunities is your Comp Card (Zed card if you're out West).  Your Comp Card is literally your ticket in the door.
What are comp cards?
A Comp Card is a promotional tool models use to showcase their look, physical stats and contact information. It should also display the different looks the model can portray.
Many modeling agencies will have racks of Comp Cards for clients to look through. Photographers and art directors also keep files of cards for quick access to select talent for their clients' projects.
What makes a good Comp Card?
Make sure to put an eye-catching headshot on the front. You may only have a few seconds to grab the attention of the casting agent who often filters through hundreds of models' cards before making a selection. A professional photographer should take your photos—poor quality photos will not project a professional image.
Your headshot and name should be on the front. The reverse side can include a few more photographs (3-5 additional images is standard). You may want to include full body shots and unique poses that showcase your look both in a studio and outdoors. The back should also include your full contact information in addition to your basic physical attributes. Your height, weight, and measurements (For women: include bust, waist, hips and dress size; For men include chest, neck, pant and suit size), shoe size, hair and eye color.
Creating the Comp Card
Years ago, creating comp cards were expensive and printing options were few. Now, online printing companies make the process surprisingly affordable and nearly effortless. Printrunner.com is an online printing company with great prices on full color postcards, and they have design specialists who can help you create your Comp Card using the latest graphic design and printing techniques. Aspiring models can print 500 professional 6 x 9 postcards for around .75 cents each, which offers an affordable opportunity to print several different versions for different types of modeling jobs.
You're cleared for take off down the fashion runway!