Events have been canceled, employees are working from home, and public venues are officially closed. To maintain "social distancing" during the coronavirus outbreak, health experts and governments have mandated closures across the country, and restaurants are experiencing major declines in patronage. Because citizens are encouraged to stay home and self-quarantine, the industries that rely on people visiting their establishments are most at risk. 
Online reservation service OpenTable has seen a large drop in restaurant visitors from February to March. 
Amid all the uncertainty, companies in the food industry are changing the way they work to stop the spread of the virus – and keep their business afloat. 
The Shift to

 Take Out and Delivery

 Services
Delivery companies like Uber Eats and Grub Hub waived delivery and commission fees on orders from independent restaurants across the U.S. Online grocery DoorDash and Instacart recently announced drop-off options for their customers. Fine dining restaurants have temporarily closed their locations and turned to deliver quality food straight to people's homes. 
By offering no-contact delivery options, the transmission rates of COVID-19 should ease significantly. This also helps provide continued support for local, independent restaurants that are struggling during these closures. 
How to Stay Connected 

With

 Customers
It's a different set of rules, but the game isn't over. If you are in the restaurant business, consider printed products like take–out menus, vinyl banners, and sticker printing to communicate your ongoing operations. These are some of the most effective ways for you to engage potential customers and let them know you can do take–outs and deliveries. 
Take

–

out menus
A well-designed menu will not only encourage customers to order more, but it will compel them to pick up the phone and order again. Use take-out menus as inserts for all your deliveries. It's important to make your design stand out from the stack. Include key selling points such as local, organic ingredients, and highlight convenience by listing all your partner delivery companies.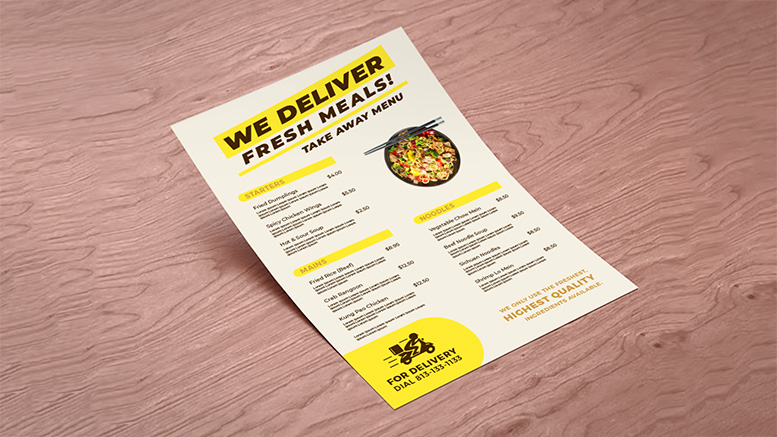 Vinyl banners 

 
People may not be able to dine inside your restaurant, but driving by and seeing an announcement about ongoing operations will help them remember you the next time they need to order in. Use a bold, eye-catching headline on your vinyl banners so they can spot your message even from afar. Include your phone number and delivery information so customers will know how to reach you. There's plenty of weatherproof vinyl options for you to hang your banners outside where everyone can see.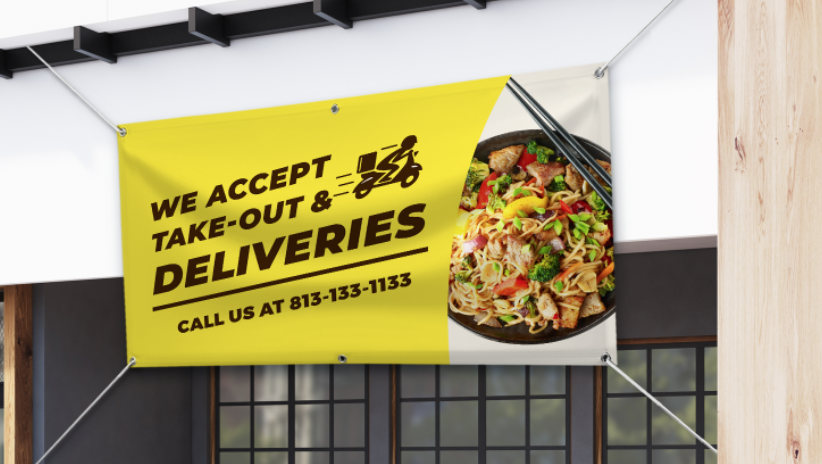 Window Clings
Like banners, you can send your message loud and clear with adhesive window clings. These are great for utilizing unused space on your store fronts. Window clings are made of static vinyl, which can stick to any smooth surface like glass, plastic, or metal. If you plan to use window cling on a glass window, it's best to use bright, light colors for better visibility.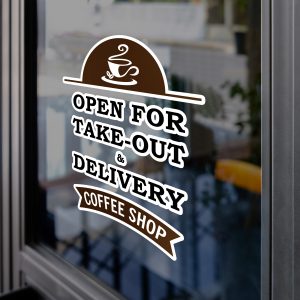 Stickers and Labels

 
Sticker printing can do more than just label your products. They can be used as added branding and include more information about your business. Add your website, delivery partners, and social media channels. Label printing can also be used for words of encouragement and positivity. A simple "thank you" to customers for continuing to support you during these times can go a long way.  
Show Your Support Even 

From

 Home
What about customers? Aside from buying local, what can you do as a consumer? 
Promote. Recommend your local businesses to everyone you know. Post on social media, share their official pages and encourage your friends to order. The more likes and followers they get will increase their online presence and help boost sales. 
Leave a review. A short, positive comment about their food and service can be the tipping point of another buyer's decision. Getting great reviews will give any business owner some hope and confidence in this uncertain time. 
Purchase a gift card. This can provide local businesses with some funding to sustain their operations in the coming months. If they don't offer gift cards, try giving a call to ask how you can make a purchase and redeem it some other time. 
Lastly, don't forget to tip generously. All your efforts, big or small, are equally significant in assisting our local businesses, their workers, and sustaining the economy.  
The day-to-day has changed for many of us, but we want our customers to know that PrintRunner is fully operational and ready to support your printing needs. If you have questions or need help with your order, we have temporarily changed our customer service hours to 5 AM until 7 PM Pacific Time (Monday – Friday). We appreciate your understanding.