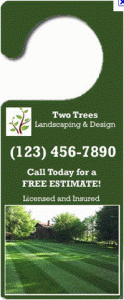 Warmer weather is the perfect opportunity for landscapers, lawn care services, paving companies, roofers, painters and contractors to identify residential properties that could use a little sprucing up around the exterior.
What Makes Door Hangers Effective
Door hangers are a great way to talk to prospective customers about the services you offer, and how your company can help them with spring landscaping or other home improvement projects. They don't arrive in the mailbox surrounded by competing offers and junk mail, so they are impossible to miss.
Keep your colors bright with big, dramatic text to grab attention. Ask questions that make homeowners take a closer look at the condition of their house, driveway or yard. For instance, a tree service might use this message: "Are old or dangerous tree limbs putting your home at risk? Call us for a free tree inspection."
You can also include coupons or special savings on specific services, or provide a special code they can enter on your website in exchange for an exclusive offer.  It's also a great idea to feature testimonial(s) from other residents in the neighborhood who have utilized your company in the past.
Distribution is relatively easy, and cost is minimal to employ a person to place door hangers in your targeted neighborhoods. Or, give a bunch of them to a group of friends and ask them to divide and conquer, inviting them back to your house for a pizza party afterwards.
Door hangers are easy to produce, and their low cost makes them the perfect fit for any size campaign. PrintRunner.com can print custom door hangers on durable 100lb gloss cover stock or 13 pt.
(Visited 360 times, 1 visits today)