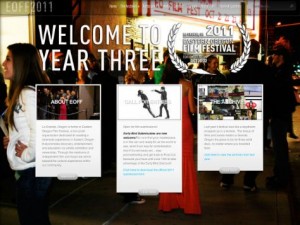 Print marketing can be a great way to spread the word about summer movies, from film festivals to outdoor screenings and big-time blockbuster premieres. Full color photo posters, for example, make great limited edition keepsake items for fans, collectors, and film buffs.
If you're planning a film fest, informative flyers that feature eye-catching designs are a great way to attract attention and spread the word. In tandem with event posters, flyers can function as both a way of communicating with your audience, and later as memorabilia if you've chosen an artistically pleasing design. Make your flyer form and function all-in-one for maximum impact.
Marketing an indie flick? Be sure to include information on your print pieces that lets your audience know where they can go to buy your movie (such as directive copy that instructs them to look for you on iTunes), learn more about the cast and director, and interact online or off. Offering this kind of information will extend the length of time they engage with the movie, and provide the opportunity to share it with others.
Finally, consider ways to make your movie event stand-out. Summer is a popular time for watching the silver screen, so if you can make the experience unique, go for it. If you're screening a cult favorite, invite the audience to dress as their favorite characters. If it's an outdoor show, offer family games or a fireworks display to attract a bigger crowd. There are endless possibilities and tie-ins.
Leverage print marketing integrated with online efforts to get the word out, and, of course, encourage attendees to invite their friends and family. Offering value, like limited edition posters, a practical yet artsy flyer from PrintRunner.com, or extra activities at your movie event will attract a great crowd.