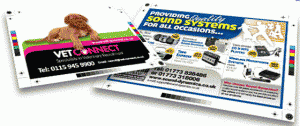 There are many tips about designing and laying out a brochure. While this article will not get into that area, it will discuss technical tips you need for brochure printing
Brochure Printing Technical Tips
Print Bleed is a safety feature for you. Your brochure is printed in sheets and then sliced individually for you. As this cutting process occurs time and time again even the most precise machines will go slightly off-kilter. By extending your design an 1/8th of an inch you will have a security zone to ensure perfect printing every time.
Paper choice is important. Will you use 80 pound paper, 100 pound or something else entirely. Cost is always a factor, but the quality difference in the weight and feel of paper can be substantial for a slight cost difference. Will you want a glossy varnish added or a more subdued matte finish? Will you be hand delivering your brochure or mailing it? If you are mailing make sure your size and weight choices allow you to meet postal restrictions and keep your delivery costs within reason.
Finally remember what you see on your computer screen will not be what you will see when you get your final brochure. Your computer displays in RGB (Red, Green and Blue) while presses are CYMK (Cyan, Magenta, Yellow and Black). You must make sure you can use your design software to switch to CYMK mode to create your PDF file for the printer. Also remember that your screen resolution is only 72 DPI (dots per inch) and your printer needs at least 300 DPI to print sharp images.
You and your printer must be on the same page (forgive the pun). If you need any help with your brochure then please contact the experts at PrintRunner.com. They will guide you every step of the way to make sure you get the great product you deserve.
(Visited 94 times, 1 visits today)