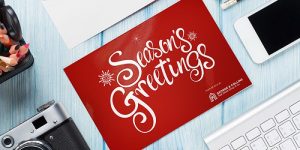 It's only September, but the holidays will be upon us in no time – and if you own or manage a business, you need to ask yourself whether your current marketing materials are up to snuff. Once the the last three months of the year roll around, Americans are ready to spend, on everything from gifts and greeting cards to home decor and food. There are many ways to effectively market your products via print advertising, but if you have a good deal of inventory to display, a holiday catalog could be just what you need to boost sales and attract new customers. Of course, your holiday catalog is only as effective as its design, so it pays to put forth the extra effort in order to create something that will appeal specifically to your intended audience. Here are some tips for designing a holiday catalog that will do your company justice:
First, ask yourself what your goals are with your catalog this holiday season. Are you hoping to establish a brand identity for a newer company? Revamp the image of a struggling store? Promote your new merchandise to existing customers? Whatever your goals may be, you need to make sure that you – and everyone else who is working on the design and content of the catalog – are focused on realizing them.
Next, decide which products you want to feature in your catalog. Depending on the size of your business, this could be everything you have to offer, or only a small portion of your inventory. The items you choose could be specifically related to the holiday season, or they could be great gift ideas for any time of year. It's all up to you.
Once the products have been chosen, you're going to need product descriptions – and for that, you're going to need the services of a professional copywriter. Although you may be tempted to save a few bucks by hiring an amateur, do not take a chance with the success of your catalog by handing this responsibility over to someone who is not a professional writer! Copywriters know how to create descriptions that are evocative and alluring while at the same time avoiding words that have negative connotations to potential buyers. They also have a handle on time-tested marketing techniques, such as inserting explicit "calls to action" at several points throughout the catalog.
As with any design, keep it simple! Catalogs are long, multi-page affairs, but that doesn't mean you should fill every square inch of each page with pictures and text. Instead, leave some white space in order to give readers' eyes a break and call attention to the products showcased. You should also pick just one or two different fonts and use them throughout the entire catalog. Having too many fonts will give your catalog a cluttered, unprofessional look.
Now that your catalog design is complete, it's time to find a printing company to finish the job. Look for a catalog printing company with fast turnaround times and attentive customer service, and always review your proofs carefully before giving the final go-ahead.
Are you ready for a profitable fourth quarter? Then get to work on your holiday catalog today!