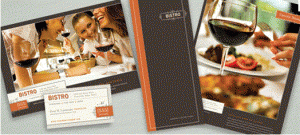 Consumers are tentative to spend their disposable income on entertainment.  Instead of expensive nights out in the big city, people are now seeking out local venues or events that tend to be easier on the wallet. With a creative print marketing strategy, a bar, restaurant or café can use this opportunity to corral local dollars to light up that "off" night and turn on the profits.
Print Marketing Strategies
Musicians, comedians, and singers want added exposure and are always seeking out venues to perform. Hiring these artists can be surprisingly affordable—or even free—and your business can target the performer's fan base or following with special events. Host an "Open Mic" night on a weekday evening to help boost sales on what would typically be a slower night. Offer free admission when patrons spend a minimum dollar amount on food, cocktails, coffee or desserts.  Use this as an opportunity to preview the talent that receives a warm response, and feature them at your establishment to draw crowds in the future.
Family-oriented entertainment can also boost business during the day.  Host a "family activity" brunch on a Saturday or Sunday morning that features special activities just for kids. Hire a face painter or balloon artist, offer free photographs with a popular costumed character or superhero, have sing-a-longs, or even sponsor a hands-on educational session sponsored by a local zoo, library or museum. It's a perfect day out for parents and kids alike.
Create a calendar of events for your location, so your customers can make plans in advance. Print the calendars on table tents and display them throughout your establishment. You can even feature special menu items or specials that you'll offer on those days. Utilize your customer mailing lists and send out calendar postcards to announce upcoming shows, a custom banner hanging outside is also a great way to publicize your event(s) and draw a crowd. With quick turnaround and discount pricing on postcards, banners, table tents and more, an online printing company like Printrunner.com can help you create exactly what you need to promote your events. Printrunner.com is also offering free shipping on ANY ORDER site wide for the entire month of April. This adds up to savings you can't afford to miss.