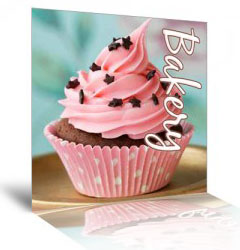 Everyone is familiar with the ubiquitous business card. For the most part, these pocket-sized marketing staples aren't too exciting. Business cards were initially designed as a point of reference for wallets and a desktop rolodex. But today's electronic address books and mobile contacts let businesses break the 2" x 3.5" mold and "think outside of the box" with square business cards.
PrintRunner.com now offers two-inch square business cards that are out of the ordinary and definitely an innovative way to display your logo, name and contact information. Handing out square business cards will grab extra attention as clients scan its unique design. And at conferences or trade shows, square business cards will stand out among dozens of other cards the attendees will gather. Square business cards can also add chic, sophisticated flair to businesses offering creative products or services (salons, spas, bakeries boutiques, etc.)
For just pennies more than standard-sized cards, square business cards will generate more impact and brand recognition. Right now, 500 full-color 2" square business cards are just $18.00 at PrintRunner.com.