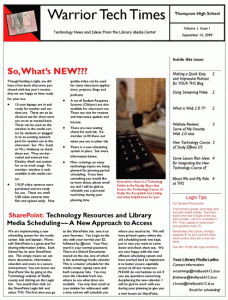 A newsletter is quite simply a letter about news. It is usually sent directly to a select list of clients that have requested it. The secret to success with a newsletter is that it must be short, packed with valuable information and easy to read. It must add value to the people that receive it or it will just be thrown out and all your time and money will have been wasted.
To make sure it is of value to your clients you must be clear on why you are sending out a newsletter in the first place.
What is the goal of your newsletter?
Is it to teach a client a new skill associated with your product?
Is it to advertise add-on modules or to help up-sell your client?
Is it to inspire or just add a smile to your client's day?
As long as your goal for the newsletter is aligned with the goal of the client that receives it you will have conquered the first step in a valuable process.
Newsletters have special strengths as a marketing tool. If you play to those strengths you will help ensure the newsletter becomes something that your clients look forward too. Some of the strengths include:
Time sensitive information: You can let your clients know about your latest updates and special offers
Technical information: You can alert your clients to new product advances
Exclusive information: You can inform dealers of special wholesale pricing or clients of specific deals
With a very targeted approach and a commitment to delivering valuable information your newsletter can become a potent tool for both connecting with your client and maximizing your profit with them.  PrintRunner.com has helped many clients with their newsletters and would be happy to assist you in developing a truly great one for both you and your clients.