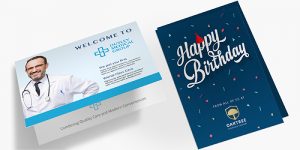 Everyone likes to be remembered on his or her birthday. Getting a card for your birthday is nice. Getting a gift is even better! Your customers feel the same way. Sending your customers an offer—one intended exclusively for them—in honor of their special day can help drive additional sales.  No matter what line of business you are in, a birthday marketing program is sure to make your customer feel special and appreciated.  And programs like this are easy and inexpensive for any business owner to coordinate.
Your day-to-day interactions with your customers are valuable opportunities to gather information that you can transform into incremental sales. Have a guest book at the point of sale where you can gather basic information from your customers. Ask them to provide their name, address, email address, and the dates of birthdays or anniversaries. If customers hesitate to provide personal information, reassure them you use the list to send exclusive promotions and offers available only to your mailing list.
Follow up throughout the year with cards or postcards that send birthday greetings or honor an anniversary. Cards should include an exclusive and generous offer that can be redeemed during that month. This type of promotion works for any business, large or small, in just about any industry. A florist, for instance, can offer a free rose. A spa or salon might offer a free manicure when another service is purchased. Dentists or physicians can even offer free consultations and a special offer on a cosmetic procedure. If you own a restaurant, customers can receive a complimentary dessert. Even an electrician, pest control company or auto repair shop can give a birthday gift of a free home or auto inspection. Your customer will appreciate the personal touch, and you earn the opportunity to make a sale. By brightening their day, you may brighten your bottom line!
Custom-printed greeting cards are easy and economical to create, and a professionally designed postcard can also be used recognize your customer's special day. An online print company like Printrunner.com allows you to upload your own custom design, in addition to offering comprehensive creative design services.