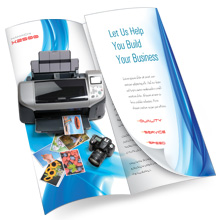 Brochures are one of the most effective promotional tools used to advertise products and services. People hand these out to gain impression and attract customers for their respective businesses. Having the knowledge of printing the right brochure is necessary for the success of your advertising campaigns.
You can choose from different types of brochures that will suit your marketing strategy. Here is a list of some of the most popular brochures that you can use:
Supplementary Brochures
These are known as supporting materials inside press kits or other promotional tools. These full color brochures provide additional information about a product or service. They are used to inform target market about the business. Support brochures are common in project presentations or seminars. These are small and handy enough to carry around anywhere, anytime.
Tri fold and bi fold brochures are perfect for letting your customers know about your brands or newly launched product or service.
Direct Mail Brochures
This type of printed brochure is sent right at the doorstep of people on your mailing list. These would go along with catalogs, postcards, and other promotional items that could be mailed.
Z fold brochures are perfect for when you need to send out prints with short instructions or as simple manuals. A french fold brochure, on the other hand, are great for direct mail pieces that include maps. If your direct mails need to have fill-up form, a double parallel fold brochure will be perfect.
Before sending out your direct mail brochures, you need to compile a list of your chosen clients, whether these be your loyal customers or first-time shoppers who would want to know more about your offers.
Promotional Brochures
Promotional brochures are often part of giveaway items. They are often used to announce huge sale or discount offers. Some marketers also leave a coupon or contact details on the color brochures for customer's reference.
There are still other types of custom brochures that could fit your need. Check out the ideal type of brochures you can use for your chosen campaign and distribute them to your target customers.