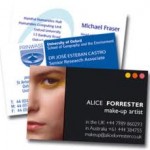 Business card marketing involves a step-by-step process to ensure that your cards are properly designed and given away to the right people within your market. Although the guide provided below is not the be-all-end-all of business card marketing, these "commandments" should give you a better idea on how to implement a well-planned marketing strategy using this type of marketing tool.
1. Strip down to its essentials
Your business card must feature your name, job title, organization, and contact details (which serves as your call to action) as your main parts along with its design and layout. Anything more than these parts may lead to a cluttered and unattractive business card design. Simply put, keeping things simple will help maximize the results of your business card marketing at minimum effort, saving you time and energy.
For design inspiration of stripped-down business cards, check out this previous post of ours entitled "Functional and Clean Business Cards – 14 Inspiring Images."
2. Know your style for your business card marketing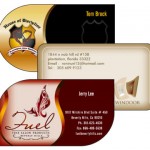 The use of business cards is determined by their shape. Outside the standard 2″ x 3.5″ business cards, there are other shapes and styles to choose from for your cards such as square, slim, and leaf. Although they are not any different from standard business cards in terms of function, the uniqueness of the shapes makes for more attention-grabbing cards that separate your marketing tool from the rest and increase your branding. These shapes for your card would be of great help to start-ups and relatively new companies that have yet to make an impression to their target audience.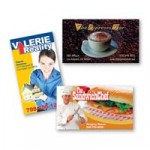 Magnet business cards take the shape of a standard card but have a magnetic backing that allows the cards to be placed on refrigerator doors, whiteboards, and other metals with smooth surfaces where important messages and reminders can be seen. Dentists, doctors, and event organizers use this as save the date magnets to remind patients, clients, or guests of their upcoming appointment or occasion to attend to. Restaurants give out magnet cards to customers so they can feature their delivery number in case customers want to order from them in the future.
3. Draw elements from the best designs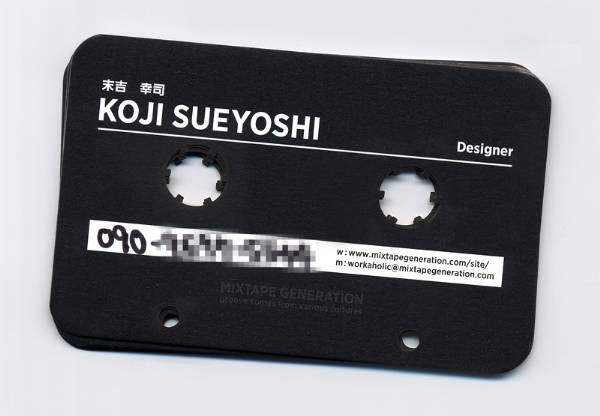 When coming up with a design for your business cards, draw inspiration from some of the best card designs online. These should help you come up with a design concept that matches your brand. Below are links to design inspiration pages of different business card designs.
If you are not design-savvy or have little or no skill in using graphics editor software, you can design your business cards using the Online Design Tool at PrintRunner. Simply drag and drop text, shapes, and images to be printed on the front and back side of the card. For more information using our tool, read our step-by-step guide entitled "How to Design Business Cards Using Our Online Design Tool."
4. Include a compelling call to action
Business cards as marketing tools need to stand out to grab the attention of your target market. Once you have them eating from the palm of your hands by their appearance, you must make a concerted effort to lead them to an action that benefits your business. Therefore, encourage recipients of your card to perform an action by including your e-mail address, website, or telephone number on the design.
Aside from the suggested calls to action above, read "Make Your Business Cards Stand Out" for more CTA ideas.
5. Don't listen to this guy!
In your search for business card marketing resources, you may have encountered this viral video on Youtube by "infotainer" Joel Bauer claiming that his business card is the most impressive one he's ever seen after having blasted all the cards he has on his hands.
The clip was taken from a 30-minute documentary entitled "The Pitch, Poker, and the Public" directed by Chris Zubryd. Bauer stated in an interview with Greg Gutfeld from The Daily Gut that he merely played a character drawn from his trade shows for the video, so everything viewers see from Bauer is an exaggeration of what he actually is in real life.
The business card, however, is no exaggeration.
Bauer was on to something at the beginning of the video by criticizing the poor stock and lack of information indicated on the business cards he's holding. Then, everything went out the window when he featured his bulky, trifold, die-cut, and foil stamped pop-up card.
Although it may effectively sell your products and services to your market by making it appear exciting and interactive, the business card is a classic case of going for a lot and getting a little bit too much in return. As mentioned in the first commandment, simplicity and brevity is the heart of every effective marketing tool. Bauer does make legitimate points as to what makes a persuasive print material, but his business card, compelling as it is, is too cluttered for comfort.
6. Wisely choose printing company
The printing company that you ordered your business cards from will ultimately determine the finished product. Your attractive card design won't matter if you get this printed at a store that offers flimsy stock and poor quality for your business cards.
To find out which company to go for your business card needs, search for online reviews at sites like Yelp to see how high (or low) the users have rated the different print companies to choose from. Also, check  out their social media profiles on Facebook and Twitter to see how the companies handle complaints and inquiries from their customers or prospective clients.
To know the important factors that make a great printing company, refer to our previous blog post entitled "4 Business Card Printing Questions You Need to Ask Yourself."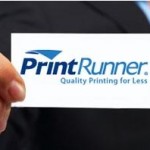 If you need full color
business card printing
without the fuzz, then we at
Print
Runner 
will be more than happy to take your order! Choose from six different styles printed on either 13 or 14 pt. card stock with glossy or matte finish. Most importantly, the
PrintRunner Guarantee
compels us to reprint your orders for any technical oversights we have committed on the finished product.
Click here to order our business cards now!
7. Always have some cards with you before you leave
Opportunity strikes even at inopportune times. To ensure that you can capitalize on building connections with people in your market, never forget to bring business cards with you at every place you go.
TIP: To make sure that you have more than enough left to give out to prospective clients, always order in bulk (around 1,000 copies). This not only lets you hand out cards to a lot of people before running out, but you also get to save money in the process, since bulk orders come out cheaper.
8. Keep inside card holders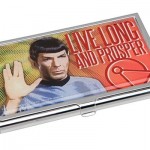 In relation to the previous commandment, you must store your business cards inside card holders. These come in different designs to suit your personality, as well as materials ranging from aluminum to leather. These should protect your cards from developing creases on the sides or accumulating dirt when placed inside your pockets. Also, card holders give off an impression to your prospective clients that you take marketing your business seriously.
Check out Amazon for their selection of business card holders on sale.
9. Observe proper business etiquette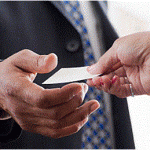 Business card marketing is not as simple as simply handing out your cards to people and going about your business. The process of holding the card and giving it to your potential business partner is crucial in making a sale. By observing the appropriate etiquette when handing out business cards, you are showing utmost respect and undivided attention reserved to your future customer. Below are essential tips that you must follow in your business card marketing.
Whip out your cards only when they ask for it
Do not hand them out like paper tissues at a diner. Also, do not force them to take your card when they have respectfully and reasonably declined your offer.
Take time to read their card upon receiving theirs
Learn their names, job titles, and respective companies they work for on the spot by browsing their cards. Tucking the cards inside your holder immediately upon receiving them shows that you don't care for your prospective customer and is deemed offensive.
When dealing with foreign businessmen, research about their respective etiquette
Americans follow a set of etiquette in their business card marketing. For instance, it is common practice to leave out your cards on the table during meetings so people can just get a copy afterwards. However, business card etiquette in other countries, particularly in Asia, are much different – the aforementioned American business card practice is unacceptable to some Asian businessmen.
Japan has pretty much set the standards of the ethical guidelines when exchanging business cards with Asian businessmen. Click here to read this article from Boing Boing about the business card etiquette in Japan.
10. Network, network, network!
The best way to acquire qualified leads for your business is to expose yourself to the public. Reach out to your target market by attending conferences and trade shows relevant to your industry. This allows you to connect with people genuinely interested in your business for great chances of forming business partners or closing in on transactions. If possible, also set up booths to increase your marketing reach with the use of other print materials such as brochures, flyers, and banners.
For business owners, check out the schedule of the upcoming business seminars and conferences here.
Are there any more "commandments" we may have missed out regarding business card marketing? What for you is the most important thing to consider when preparing and handing out your business cards to people? Share your thoughts by commenting below!