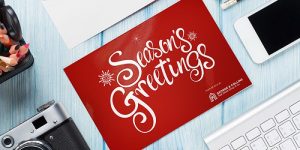 It is an annual tradition that most people participate in: Sending holiday greetings through the mail. It is the one time of year that friends and family get back in touch, send well wishes for the upcoming year – and, unfortunately, spend a lot of time and money doing so. Mailing holiday greeting cards can be time consuming, and if you are trying to send Christmas cards to hundreds of people on your list, the cost of buying cards really adds up. If you are considering forgoing this Christmas tradition in order to save some money this year and you are feeling a little guilty about it, it is time to alleviate some of that guilt. Sending personalized holiday greetings is still affordable when you decide to send Christmas postcards instead.
Why Christmas Postcards?
They are easy to design…Printing postcards is one of the most economical ways to send holiday greetings. Not only are they relatively inexpensive when compared to traditional greeting cards, but they are also a product that is easy to produce. Your printing company will have design templates available to help you creatively. You can also personalize postcards easily by uploading your own family picture for the artwork. If you want to make your Christmas postcards really unique, you could even work with the in-house graphic design team so that you really make an impact. Whichever design route you take, you are sure to create a personal and beautiful postcard easily and quickly.
They are easy to mail…Perhaps one of the biggest advantages to sending Christmas postcards instead of Christmas greeting cards is the postage factor. Postage for postcards is cheaper, at nearly half the stamp price. And since you can just put the stamp directly on the postcard, you eliminate the need for envelopes too! You can end up saving about a dollar per card, and if you are sending cards out to a large group, that really adds up to big savings.
They are good for businesses, too…It is not just individuals that want to send out greetings to their loved ones. Businesses often want to show their customers that they are thinking of them during this time of year. It is a perfect time to send your mailing list a gift of appreciation for their loyalty throughout the year, and it's easy to do with postcards. If you want to send your customers a special discount or deal, you can have the offer printed right on the postcard. Whether it is through a barcode printed on the design or an offer code that they can bring in and redeem in the store, your customers are sure to appreciate the sentiment. As an added bonus, your Christmas postcards will act as an advertisement, and you can track the success of your mailing by observing how many coupons from the postcards are redeemed.
When it comes to planning your holiday mailings this year, consider sending Christmas postcards instead of greeting cards. They can save you time and money while still expressing the same spirit of joy and gratitude.