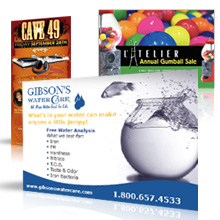 Some businesses may be focused entirely on acquisition, but what can really seal the fate of a company is its customer retention over the long term. Retaining customers requires a commitment to providing quality and service, and it also means building a relationship with your customers. Printed postcards are a great way to communicate and keep your business top-of-mind.
Postcards and Customer Retention
Postcards are ideal for customer retention for several reasons:
Postcards can be personalized with a customer's name and information that pertains to them (such as a reminder for an oil change)
They're cost effective, especially if you're able to automate your mailing list
Postcards cost less to mail
They can feature a coupon or event information that encourages a customer to save the card
There are many situations in which a printed postcard is appropriate for your marketing efforts. As we mentioned earlier, you can use them to remind customers in a more personal way of an upcoming service they might require. You can also use postcards to quickly and effectively announce a new product, service, or sale event. Postcards can and should include a call to action that lets your customers know what to do next – maybe you want them to visit your website or call to make an appointment.
Postcards are highly accessible to your customer base as well, in that they require no opening of an envelope or flipping through a folded brochure or catalog to see your key message. All your customers need to do is take the postcard out of their mailbox and glance at it to see your communication.
PrintRunner.com offers many options for postcard printing and can even handle your mailing for you.
Comments
comments