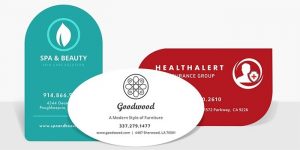 Business cards are one of the most popular items to print. They are also one of the most important tools to have as a professional. Make them more effective with these five design tips:
The Power of A Picture
Whether it is a picture of yourself, of your services or of your leading product, a picture creates an immediate association to what you have to offer as a business contact. With the amount of business cards that are handed out on a daily basis, you want to be sure that yours creates a lasting impression. Choose a picture that is customized to sell your particular business.
Keep Networking
Smart marketers are providing genuine value to their online community by offering exclusive deals through social networks and savvy consumers are seeking out these advantages. If you have a presence in social networks, make sure that your new contacts know where to find you online. Including well known icons on your business cards will let people know if you have a fan page or if your company can be followed. Social networking is one of the most valuable ways to continue a connection beyond an initial meeting.
The Importance of Web Addresses
Your business card is just the beginning of a connection for many people. In fact, most people will research new contacts through search engines soon after meeting them. By listing your website on your business card, you save people the hassle of searching for you online. You can also help drive them to the information that you want them to know about. Including your web address on your business cards is oftentimes more important than including a physical address to your store.
Make a Solid Impression
A business card is a reflection of you and your business. When choosing a paper stock for your business card, be conscious of how the weight of a business card can be perceived. If you were to receive a business card that was flimsy and poorly constructed, what would you think of the person who gave that card to you? Would you think that they cut corners and maybe they will cut corners when working with you? Now see if the reverse is true: Are you impressed when someone hands you a business card that is on thicker paper stock? A business card that literally carries weight is often regarded as more professional.
Branding with Your Business Card Design
Your business card is part of an overall marketing concept and therefore it should match the rest of your marketing materials. To enforce brand awareness, all of your printed materials should carry a common look and feel. Whether that is through your logo or through the colors you use, your business cards, letterhead, envelopes and any other printed business item should all look like they are from the same place. You never know when you'll meet someone who will recognize you or your company because of the logo on your business card. Creating associations is all part of the branding process.