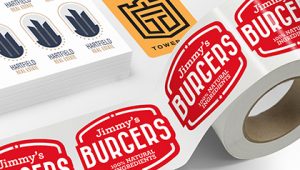 If you want to get – and keep – a customer's attention, sticker marketing is a very effective yet inexpensive way to do it.
Stickers can be printed in many different sizes and colors, and you can use them to call attention to practically anything you can think of. Update existing signs and packaging, add special messages to sales materials, demonstrate patriotism, express team loyalty. Stickers will stick to almost any surface – and their messages will stick with your customers or constituents.
Get Noticed
The term "guerilla marketing" refers to unusual, low-cost marketing techniques that can potentially deliver big results. The basic idea is to attract attention by employing simple but unusual marketing strategies, and stickers are a widely used guerilla marketing tactic. Strategically posted stickers are often used by guerilla marketers to promote special events like concerts, announce locations for pop-up stores, show support for a cause, emphasize a deadline.
Online printing companies like PrintRunner.com produce full-color, high-quality and attention-grabbing stickers. They offer crack-and-peel sticker paper, strong adhesives for permanent placement, different shapes and sizes, and coating options to make them durable and/or easy to write on if you need that option.
PrintRunner.com is a creative, one-stop shop for all kinds of marketing and promotional needs; their website is a great resource for both getting ideas and getting started. In fact, you should check their website often for special coupons and deals on marketing materials you probably use all the time. PrintRunner.com has very user-friendly, do-it-yourself online tools, or you can easily contact extremely knowledgeable in-house customer service representatives if you prefer personal service.