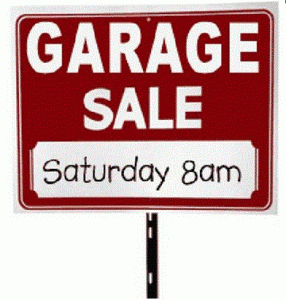 The snow has melted. The grass is getting greener. The first pitch of baseball season is about to fly for little leaguers with big league dreams. School carnivals and car washes will be popping up in neighborhoods everywhere. And, treasure-seeking shoppers will be hitting the garage sale circuit. Yes, spring has finally sprung, and if you are hosting an event it's the perfect time to take advantage of those looking to cure their wintery cabin fever. But without good advertising, a truly great event can be missed simply because people didn't know about it.  The success of your sale or event depends on how you get your message out there.
Jumpstart Your Event!
Create a buzz a week or two before the event with posts to free online bulletin boards. Use a catchy headline to improve your chance of your post getting read, and re-post frequently to keep your message near the top of the listing. Check with your local newspaper—some publications have an events calendar you can submit to. Space can fill up quickly, so inquire several weeks in advance.
Strategize and Publicize!
Get the word out and about with signs placed in high traffic areas of your neighborhood, leading people to your event location. Bolder, brighter professional looking signs will attract the most response.
Keep the message brief — someone in a moving car won't be able to see more than a sentence or two. (i.e., "HUGE Yard Sale Saturday" or "CARNIVAL SATURDAY 12-8PM", and add a simple street address.)
Before you run out to the craft store to buy magic markers, poster board and duct tape, think about this: How many times have you seen a paper sign curled over with a message that is impossible to read, or has lettering smeared from rain or humidity? Consider creating high-quality yard signs with an online printer. Printrunner.com makes full color, corrugated plastic signs that will withstand the elements and draw the crowds—all for about the same price you'd spend on craft supplies. The return on your investment will certainly put a spring in your step!