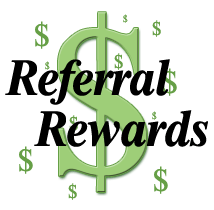 In just about any industry, Word of Mouth has consistently proved to be one of the most powerful forms of advertising. But with consumer studies concluding that an negative experience is nearly eight times more likely to be publicized than a positive one, it is important for businesses to motivate satisfied customers to share their favorable opinions with friends and peers. Implementing a "Referral Rewards" program can help you convert customer goodwill into increased sales.
Say Thanks
Sending a custom designed Thank You card with a brief handwritten note is an excellent way to let your customers know how much you value their patronage. In the design of the card include a referral incentive your customer can pass on to a friend. Offer both of them a discount on their next purchase. Not only have you reaffirmed how much you appreciate your current customer, you have also given them a financial stake in generating business for you.
Referral Cards
Distribute "Referral Cards" at your point of sale or checkout counter. Design a business card with a special offer that customers can take and give to a friend.  Use the back of the card to provide a space where your current customer can write their name and contact information so they get credit for their effort.
Share the Savings
In your next flyer mailing, instead of including a single coupon offer, consider designing the piece with two offers—one for the recipient, and one for a friend. A valuable deal is one worth sharing, and this quick and easy tactic actually multiplies the distribution of your direct mail effort.
In addition, they have all the tools you need to create referral cards, full color flyers, business cards and more. PrintRunner.com is easy to use and you don't need design experience to easily navigate and personalize a huge assortment of print materials and promotional items.
With your referral program in place, you'll be spreading the word (and maybe the wealth!)
(Visited 394 times, 1 visits today)