Club Card Flyers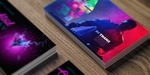 Increase event attendance with full color club card flyers
Various custom sizes to suit your needs
Printed on thick, sturdy cardstock
Next business day printing option
Product Features
Great Quality

Fade Resistant

Best Prices

Custom Size

Fast Turnaround
How do you want to continue?

Design Your File Online from your desktop

You will receive a link to design your file online using the specifications you created here.
Link Sent
Check your inbox for the link so you can get started on your design project. Good luck!
Club Flyers Make Any Event a Smashing Success
Club flyers will get everyone talking about your big event. They are great supplements for your event's banners, posters, and promotional tools. Grow your audience and customer base with high-quality flyer printing. Hand them out on the street and spread the word on your next album launch, weekend music jam, or product launch. Custom flyers can also be used as event invitations, ticket passes, or party souvenirs.
Make club flyer printing more personalized by adding enticing images or graphics. Don't forget to include important event details such as the club location and entertainment.
Even if you're not an event promoter, custom flyers are one of the most effective ways to spread your message to a specific demographic. Other businesses use custom flyers to introduce new products, services, and special discounts.
Upload your artwork to get started or use our free online design tool. PrintRunner lets you customize club flyers in a wide variety of sizes and high-quality materials. Order today and we can have your flyers ready for shipping in 24 hours.
Sizzling Sizes to Suit You
How do you know which club flyer printing size is perfect for you? Here's a quick guide for you:


4" x 6" is the standard size available. This postcard-size flyer is great for bulk invitations on product launches or sale events.
2" x 3.5" is the smallest of the bunch. This makes it an ideal promotional ticket to get in exclusive parties or VIP nightclubs.
5.5" x 8.5" is half the size of a letter-sized paper and is the most economical. The larger size makes it easy to distribute on the streets, in the mall, or inside establishments.
8.5" x 11" is the popular size for event flyers. It has ample space for larger images or graphic-heavy messages for better readability.
11" x 17" is the largest, and the best size if you want to use it as a poster to promote club events.
Tried and Tested Thickness
Our party flyers are printed in various cardstock options. Here's what you need to know about them:


14 pt. cardstock has a thick and sturdy feel that is similar to a business card. This comes in matte, gloss, high gloss UV, and uncoated finish.
16 pt. cardstock in matte or glossy finish is slightly thicker than a business card and is a great choice for a premium feel.
Coatings That Cover All Bases
Here's the lowdown on how to choose the right finish for your club flyer printing:


Matte has a satin-like appearance that exudes a luxurious feel. This flat finish makes reading easy even for lengthier or smaller text.
Gloss offers the right amount of shine that gets the attention but your text and images are still legible.
High gloss UV features a shiny reflective coating that shows off the vibrant colors of your printed artwork.
Uncoated cardstock has a dull finish that gives off an understated and elegant look.
Question and Answer
What is the printing turnaround time?
Printing turnaround time is the length of time it takes to produce your club flyers. You can choose from 1 or 3 business days for your printing order. This does not include weekends, holidays, and shipping time.
Shipping time will depend on the type of shipping you choose in the product calculator upon order.
Do I see a proof before printing my flyers?
Yes, we offer free file reviews and proofing to our customers. This ensures that your design is print-ready. We will send you a PDF proof for approval. PDF proofs of the file being uploaded are sent out within 24 hours and are sent to the email address indicated in the order.
What kind of cardstock should I choose?
If you are printing standard and budget flyers, 14 pt. cardstock is a popular choice because they're lightweight and flexible. If you want thicker and more durable flyers, 16 pt. cardstock is known for its premium look and feel.
Paper and Cardstock for Your Club Flyers
A popular choice for flyers
Sustainably sourced
Stiffer than regular paper, more flexible than paper board
Sleek, fade resistant coating with a soft shine
Writability limited to some pens and permanent markers
A popular choice for flyers
Great quality, sturdy enough for printing on both sides
Sustainably sourced
Smooth, matte coating prevents fading
Writable surface
14 pt. High Gloss UV Front, Glossy Back Cardstock
A popular choice for flyers
Sustainably sourced
Slick, high gloss coating adds protection from scuffs and scratches
Writability limited to some pens and permanent markers
14 pt. Uncoated Cardstock
Popular choice for flyers
Sustainably sourced
Uncoated surface provides a smooth feel
Easy to write on with any pen
Slightly thicker than 14 pt. cardstock
Sustainably sourced
Substantial weight protects from folds and creases
Sleek, fade resistant coating with a soft shine
Writability limited to some pens and permanent markers
Slightly thicker than 14 pt. cardstock
Sustainably sourced
Substantial weight protects from folds and creases
Matte coating creates a smooth and subdued effect
Easy to write on with any pen
Download Blank Club Flyers Print Templates
Set up your print file with the correct trim and folding lines by downloading a blank template for your preferred design software.
Final Dimensions
Description
Download
Reviews
5 Star

(55)

4 Star

(6)

3 Star

(1)

2 Star

(0)

1 Star

(1)
97%
of customers that buy this product give it a 4 or 5-Star rating.
May 10, 2020
by Demi
( OR )
"I ordered "club flyers" for my thank you cards and I absolutely love them. I will definitely be using Print Runner again!"
March 2, 2020
by JandP Jerky
"The flyers came out great. Very pleased about everything from the ordering to how fast delivery was."
February 28, 2020
by Jbarrett357
"They work with you on your order. Thet dinner print until you're absolutely satisfied with the proof.."
"I looked at so many companies before finding Print Runner. They had the best prices and options for the flyers I wanted, which was a high quality matte, uncoated flyer. They meet my expectations and then some. Also, my shipment arrived 5 days early, and it was free!!! After a negative experience with a major competitor, I'm happy to say that I will be doing business with Print Runner in the future."
September 7, 2019
by Drejah
"I absolutely love this place. All orders have came out great for such a reasonable price. Shipping is also quite fast!"
Browse by Category
Featured Products