Communicate Your Presence
Let customers know you are ready to support their needs.
Promise Product Safety
Prints to help you communicate your product guarantee.
Connect with your Customers
Build trust and credibility by checking in with your customers.
Affordable, Quality Printing for 

Small Businesses
Building a business is not easy. From daily expenses and budgeting, to taking care of employees and attracting new customers, small business owners have more than enough on their plates. Lately, the question on everyone's mind is how are businesses managing during the coronavirus pandemic?
PrintRunner stands by its promise to deliver quality and affordable printing to small business owners during this uncertain time. We aim to support our customers so you can continue running your business for those who need it.
Our vinyl printing and
window clings
can get a lot of attention and promote your ongoing services to others. To stay on top of mind, we also produce take out menus and refrigerator magnets for our customers.
Brochure printing
and
business flyers
will help you reach as many people as possible without breaking the bank. Staying at home right now is highly encouraged, and these tools along with postcard printing can help you reach your customers, wherever they are.
Custom stickers
are also a versatile marketing tool. Print food labels to assure consumers that your products are safe or create
business stickers
with messages of hope. Everyone is affected by the COVID-19 pandemic, so sharing words of encouragement could mean everything to your patrons.
Our business essentials for the workplace, such as
carbonless forms
and
product labels
are still available. You can use these labels to promote hand-washing and proper hygiene for your employees.
Get started by uploading your design on the website. If you don't have a design yet, create one with our easy-to-use online design tool. We also have free downloadable COVID-19 design templates, proof-ready and ready to print.
Shop your business printing essentials today.
Free CDC Poster Templates
For a list of availble free poster templates, check
here
30 Days to Slow the Spread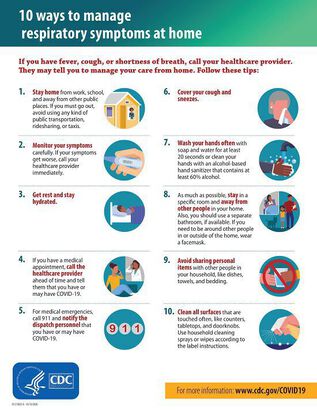 10 Ways to Manage Respiratory Symptoms at Home
Stay Healthy Wash Your Hands
Frequently Asked Questions

Does your printing turnaround time include the shipping window?  
Printing turnaround only covers the time it takes to have your order printed and ready for shipping. This begins once your print-ready artwork has been uploaded and your payment has been confirmed. If you have requested a PDF file proof, turnaround will begin once you've approved the file. Printing turnaround does not cover weekends, holidays, and delivery times. 
Can I still order in bulk? 
Yes, you can. We encourage bulk printing because it easier to produce and much cheaper. Given the current situation, we have an ample supply of materials in all our facilities to print orders for the coming months. We have multiple facilities across the nation which enables us to have redundancies. If there are facility closures, we will route your orders to open facilities. The contingency plans we have in place ensure that our employees are safe and secure while serving the needs of our customers. 
Will my order be on time? 
We will do our best to deliver your order on time based on the estimated delivery date. Our teams are working hard to ensure that all orders arrive on schedule. We will continue to follow applicable government orders based on our locations and respond swiftly to any necessary changes. 
How are you minimizing the spread of the novel coronavirus (COVID-19) in your facilities? 
We are closely following the safety guidelines from public health organizations, particularly the Center for Disease Control (CDC) and the World Health Organization (WHO). We are also working hard to ensure our facilities are taking strict preventive measures to minimize any potential spread of the virus. 
How do I contact customer service? 
Due to health safety restrictions and mandatory lockdowns, we have temporarily changed our customer service hours. Please call 888-296-5760, Monday to Friday, 5 a.m. to 7 p.m. Pacific Time or contact us through Live Chat. 
Learn more about how PrintRunner is addressing COVID-19's impact on customers, orders, and employees here.
Browse by Category
Related Products